Film for Learning - Year One Evaluation Report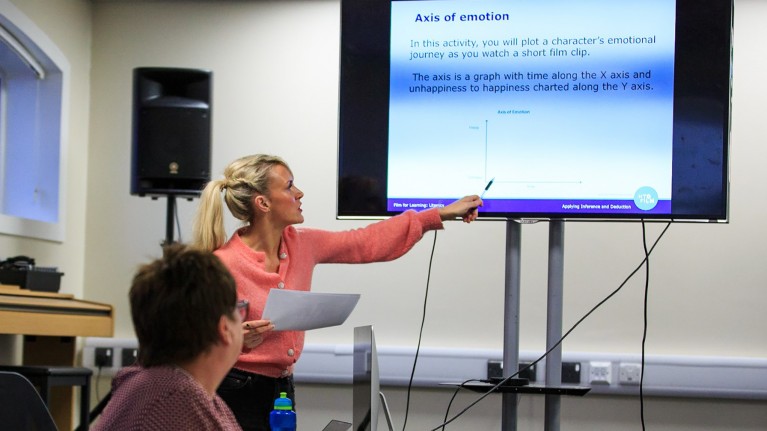 Film for Learning - Year One Evaluation Report
Read this evaluation report now.
A 2020-21 independent evaluation report for Film for Learning, Into Film's Paul Hamlyn Foundation funded research project. The project develops teachers and senior leaders through a programme of film literacy and filmmaking training and support, the project aims to have a positive impact on pupils' literacy and 21st century literacy skills by embedding film in the primary curriculum.
Into Film in Education Research Summary 2018
This summary of research brings together the findings from several years of working with film in an educational context. Summarising our findings since 2013, this document is a source of evidence and inspiration in the use of film to motivate, inspire, engage and help pupils to achieve their full potential within schools context.
Full Steam Ahead Yr 1 2016-17 Evaluation
Independent evaluation of Into Film and Nerve Centre's collaboration in the delivery of Full STEAM Ahead - a one year, Paul Hamlyn Foundation funded Teacher Development Programme, focused on improving literacy and numeracy outcomes through the use of film and filmmaking.
Full Steam Ahead Yr 2 2017-18 Evaluation
Following on from Into Film's Paul Hamlyn Foundation funded pilot programme, Full STEAM Ahead, Into Film received further funding for consolidation and development of the Literacy and Numeracy programme. This independent report focuses on the development of teachers and senior leaders as agents for whole school change and impact, through the use of film for learning.
Welsh Media Literacy Project 2016
Independent evaluation report on Into Film's research into the impact of film in literacy learning, conducted in Wales in collaboration with Into Film partners Bradford Media Literacy.
Enhancing Primary Literacy Learning Through Film 2013-14
Enhancing Primary Literacy Learning through the use of Film
Read this case study of our Bradford Film Literacy project and its findings
Summary of Dr. Franzi Florack's PhD research, conducted in collaboration with Into Film partners Bradford Media Literacy, on the impact of film in Primary Literacy Learning.
Into Film Moving Minds Report 2019
Evaluation of the ICAP-funded mental health focused filmmaking project involving 200 young people from London and the South East.
Moving Minds 2 Report
An evaluation of the second edition of Into Film's Moving Minds project, funded by ICAP Charity Day and supported by the Pinewood Studios Group, which gave young people aged 11-19 the opportunity to work with professional filmmakers to make short films around the subject of mental health.
Spring Screenings Evaluation 2019
An evaluation of our UK-wide screening programme in association with BFI Film Audience Network venues.
Into Film Festival Report 2019
Key data and evaluation findings from the annual Into Film Festival - the biggest free film festival for young people in the world.
Young Audiences Research 2019 - 11-15s
Primary research commissioned by Into Film and conducted by industry analyst Stephen Follows on the cinema-going behaviours of 11-15-year olds.
Explore More