We are delighted to report that we've been awarded new funding as part of the BFI's National Lottery Funding Strategy 2023-2033. This will ensure that the National Lottery's 'good cause' funding will have the greatest positive impact on educational outcomes for UK children and young people aged 5-18.
This funding will enable us to support young people to develop a stronger relationship with screen culture. It will ensure more school-aged pupils understand how to express their creativity through stories on screen, provide clear routes into the screen industries as a career, and focus on opening routes into the wider screen industries for those currently under-represented, so they have access to the careers and skills support they need.
To achieve this, we will focus on three key, educational programme areas:
BFI National Lottery Teaching with Film
The 'Teaching with Film' programme will seek to ensure UK educators are equipped to capitalise on the expansive power of film and the moving image as a learning tool, so it can be utilised across the entire curriculum, encouraging engagement with a range of screen culture while supporting wider learning outcomes.
It will also focus on supporting teachers to deliver a range of film and moving image related courses for 14-18-year-olds, ensuring students gain the necessary skills to meaningfully pursue careers in the screen industries.
BFI National Lottery Careers and Progression 
The 'Careers and Progression' programme will ensure 11-18-year-olds have access to expert careers information, guidance, and advice on entering the screen industries. 
Proactive and rapid upskilling of school careers leads will give them the insight, tools and resources to explore the vast range of job and career opportunities available. Accurate and up to date careers information will also enable them to guide young people to the next steps in further/higher education, training, or entry level employment. 
Finally, we will use our social media channels to directly target 11-18-year-olds and show how much potential the sector has for them.
BFI National Lottery Young Creatives
We will work collaboratively with the National Saturday Club to introduce a new UK-wide, community-based programme for 11-16 year-olds to be introduced to the breadth of the film and screen sector. With a focus on those living in educationally, culturally and socially disadvantaged areas, the programme will galvanise local organisations to deliver entry level practical filmmaking training outside of the curriculum.
'Young Creatives' will build on both our extensive network of successful Into Film Clubs, and National Saturday Club's established nationwide programme of extracurricular activity. Building partnerships with higher and future education establishments, the programme will unlock access to their facilities and expertise, bringing young people together to discover and develop practical filmmaking skills. They will gain transferable skills, plus an understanding of the job and career opportunities available in the screen industry, with a focus on local educational pathways.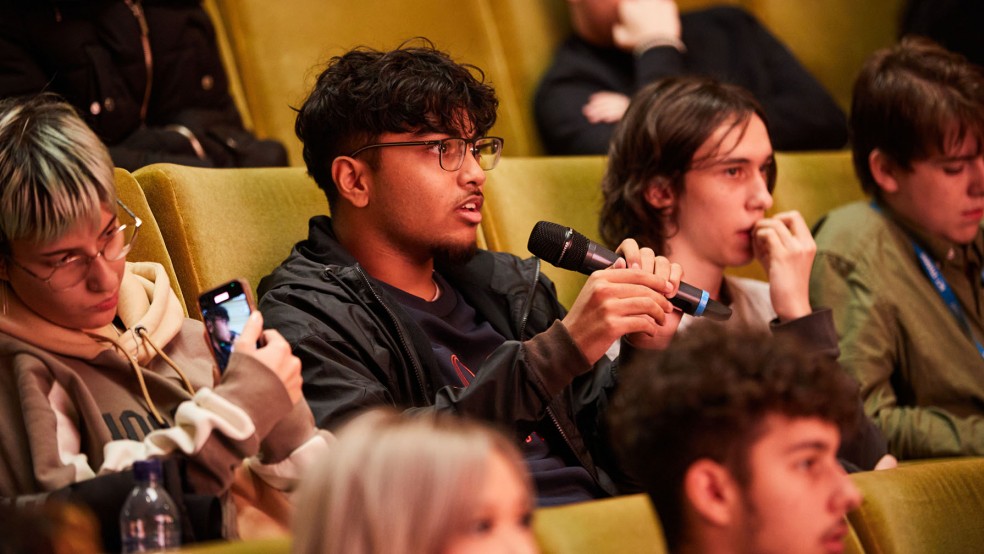 Into Film has built a solid foundation for film in education over the past nine years thanks to support from the BFI, awarding National Lottery funding. This has been invested across a range of projects, which has seen us successfully work with schools, children and young people aged 5-18 across the breadth of the UK. As a result, Into Film implements film for learning at the core of its work and has successfully embedded film and the moving image in teaching and learning in thousands of schools, contributing to children's and young people's educational development and deepening their knowledge of screen culture.
A partner on the BFI's outgoing National Lottery strategy, BFI2022, Into Film key project-based outputs over that period (2013-2022) include:
More than 1.2 million Into Film teaching resources downloaded
2.6 million children and young people accessed the Into Film Festival for free
More than 334,000 film reviews submitted by children and young people
44,000 children and young people engaged in practical filmmaking activity
30,000 pupils engaged with in-school industry visits
68,000 educators trained
Into Film CEO, Paul Reeve said: 
"It is a huge privilege to have been entrusted with lead responsibility for the development and delivery of three programmes that share one common goal: to fully realise the transformative cultural, educational, and social power of moving image storytelling in the lives, learning and future employment aspirations of children and young people across the UK. We look forward to working with the BFI, and screen and education sector colleagues, to achieve it, building on the positive impact and unparalleled level of school engagement that Into Film has achieved over the last nine years".
Into Film is supported by the BFI through National Lottery Funding, thanks to National Lottery players and by the UK film industry through Cinema First. Since the very first National Lottery draw in 1994, public support, raised directly through National Lottery ticket sales, has funded more than 670,000 projects, raising more than £46 billion for good causes.