Young Reporter Rashaan recently attended a special presentation of Solo: A Star Wars Story at BFI Southbank, after which the BFI and Lucasfilm announced the next round of the BFI Film Academy Future Skills programme.
The second round follows a successful pilot of the Future Skills programme with Lucasfilm on Solo: A Star Wars Story in 2017, which placed 28 trainees in production roles ranging from Sound and Lighting to Art Department and Camera. Watch the video above to hear from both the professional cast and crew of Solo, as well as those BFI Film Academy graduates that worked on the film as part of the programme.
The Future Skills scheme is designed to give opportunities for a career in film to under-represented young people from all over the UK. It will have places for 30 young people - mostly graduates from the BFI Film Academy - to work as paid trainees in a variety of craft and technical roles on the next Star Wars film, Episode IX, in production at Pinewood from July 2018.
Roles will include Production, Art Department, Camera, Costume, Hair & Make-up, Sound, Video DIT, Visual Effects (VFX), Grips, Script, Accounts and Special Effects (SFX).
Some of the trainees discussed their experiences on stage at the special presentation event with Solo cast members Phoebe Waller-Bridge, Thandie Newton, Producer Simon Emanuel and Ben Roberts, Director of the BFI Film Fund.
Since completing Future Skills, many of the trainees have worked on other productions including Artemis Fowl, Wonder Woman 2, Blinded by the Light, Men in Black, Dr Doolittle, Mary Poppins, Pinocchio and Star Wars Episode IX.
The programme offers progression, experience and networking opportunities for all the trainees that participate.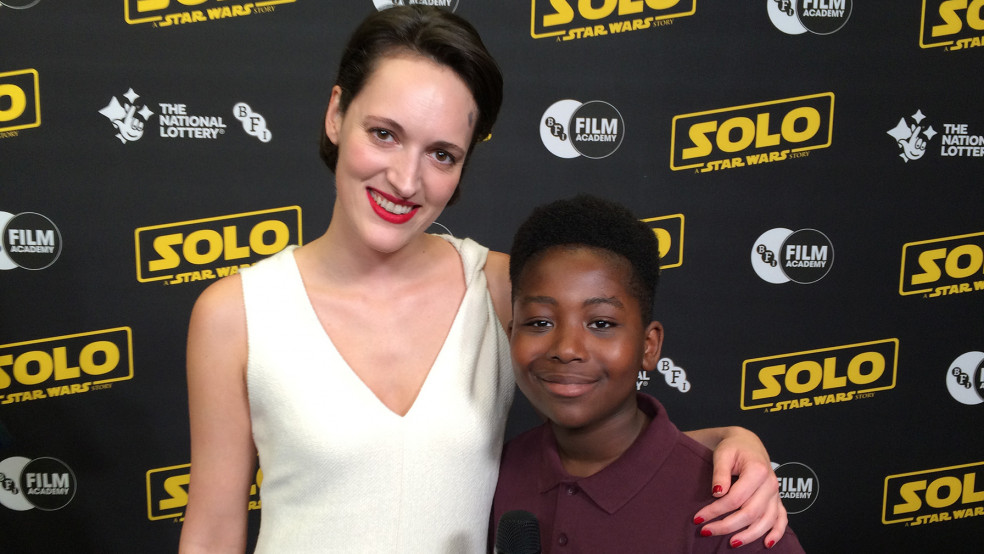 Future Skills Trainee Case Studies
Maria Moss, Manchester
Maria took part in the regional BFI Film Academy at HOME, Manchester, followed by the Craft Skills residential course at the National Film and Television School (NFTS). Maria was an Assistant Director (AD) trainee on Solo: A Star Wars Story and went on to work on Pokemon and has a confirmed AD position on Wonder Woman 2, shooting this summer.
Nathan Lloyd, Birmingham
Nathan attended the BFI Film Academy at The Company (Birmingham). He was selected as a Camera trainee on Solo: A Star Wars Story. He has since gone on to work on the Sky TV Drama Bulletproof shooting in Liverpool and Gurinder Chadha's Blinded by the Light.
Jordan Feemster, Colchester
Jordan attended the regional BFI Film Academy at Signals Film Essex followed by the Craft Skills residential at the NFTS. Jordan was a Sound trainee on Solo: A Star Wars Story. He has since worked as a Sound Assistant on Amazon Prime's hit show Outlander in Glasgow and is going on to work on the next Men in Black film on Sound 2nd unit.