Going to the cinema is perhaps one of our first exposures to arts and culture, and many of us can remember our first visit to the cinema, the films we watched, the venue we went to and who we went with.
These first experiences are wonderful things as we make memories watching films and films help us to relive those memories. All we have to do is re-watch those childhood movies or return to that venue, and we can be transported back to some truly special and formative early memories.
People have now been heading to the cinema for over 125 years and the first UK public film showings to a paying audience took place in London in 1896. As cinemas begin to reopen, we spoke to several people who work in some of the oldest cinemas in the UK about the history of their cinemas, what role those venues play in their communities, how they support schools and young people and what their own first memories of going the cinema were. May is also Local and Community History month, so an even more perfect opportunity to explore historic cinemas and the communities that hold them up.
Please tell us about your cinema and its history
Petra Mansour-Moffatt - Curzon Clevedon Cinema and Arts
I work at a one-screen cinema in Clevedon named the Curzon (but not part of the chain). Until Covid hit, we could boast to be the longest, purpose-built, continuously running independent cinema. We had screened films every single day since being built in 1912, surviving two world wars, the advent of TV and then the age of online streaming. Covid has been a bump in the road but is hopefully now just another part of our rich history, much of which is archived, as we also house an extensive collection of film and cinema memorabilia. Our building is a fantastic example of cinema heritage, with the most notable feature being its beautiful pressed tin panelling that lines the auditorium; the only other known example of this being in American cinemas.
Alison Strauss - Hippodrome Cinema Bo'ness
The Hippodrome holds a unique place as Scotland's oldest purpose-built cinema, first opened in 1912. The beautiful midnight-blue, star-studded domed ceiling, hung with a contemporary chandelier always draws gasps of awe from first-time visitors, whilst the rare instance of a balcony, red-velvet seats, original wooden panelling, and red velvet curtains attracts audiences keen to recapture early cinema going experiences. Like many cinemas, the Hippodrome suffered decline and closure in the mid-seventies, first turning into a bingo hall and then falling into decline and disrepair. In 2009 following a major restoration, the Hippodrome was re-opened and restored, recreating the golden age of cinema going. In March each year it is home to the Hippodrome Silent Film Festival.
Sylvia Barber - Hyde Park Picture House, Leeds
The Hyde Park Picture House is a friendly, local, independent cinema, established in 1914 in Hyde Park in Leeds. Our historic venue is the only gas-lit cinema in the UK and also houses original Edwardian plasterwork and two 1960s Cinemeccanica projectors. In recent years, visitors have enjoyed independent, world and art-house film in a unique historic venue that celebrates the earliest days of cinema. The cinema is also embarking on an exciting new chapter and we are closed for renovation in order to preserve our historic features whilst also building a more sustainable, comfortable and accessible building.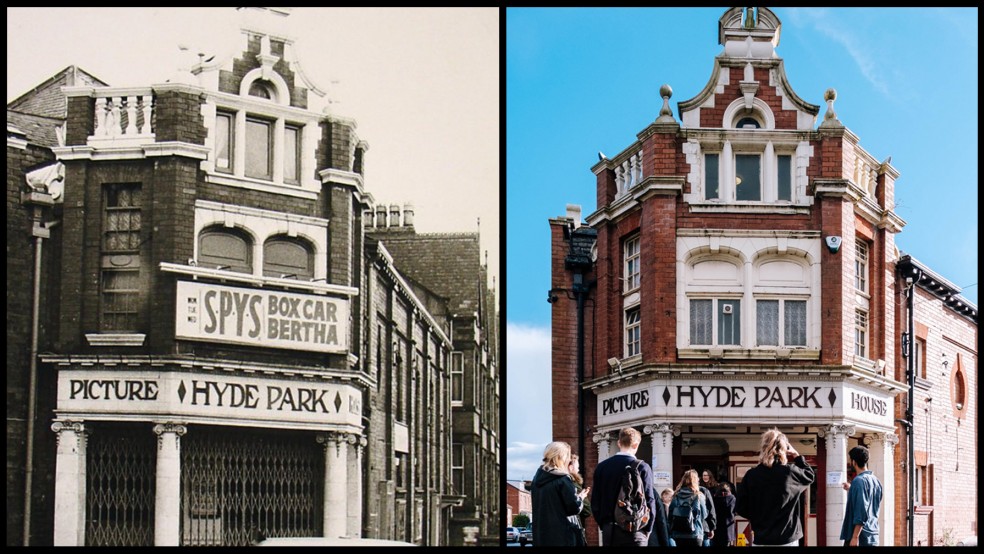 How important is your cinema to the local community?
Petra Mansour-Moffatt - Curzon Clevedon Cinema and Arts
Support for the Curzon within our local community forms a core part of who and what we are. In 1996, the cinema and building were to be sold off but the cinema was saved by the local community (under the leadership of Jon Webber who was responsible for saving the Rio in Dalston) who raised enough funds to purchase the Curzon and turn it into a charity. The community came together to save us again last year, helping raise over £100,000 towards the vital renovation of our roof, which was leaking so badly that the building was in jeopardy. Coupled with grants from charitable trusts and £320,000 from the National Lottery Heritage Fund, we have been able to complete our renovations during lockdown.
Alison Strauss - Hippodrome Cinema Bo'ness
The Hippodrome is located literally in the heart of Bo'ness and is a source of pride to many people in the local community. The cinema is still affectionately known as 'Dickson's in honour of the original proprietor and many older people in the town grew up coming here with their family, had their first date here, and now come as adults with their own children. An independent survey of our audience, commissioned by Regional Screen Scotland, found that almost half of those surveyed experienced feelings of pride in who they are and where they come from as a result of attending Hippodrome screenings. The cinema gives a vital boost to the local economy of Bo'ness, especially during the annual Hippodrome Silent Film Festival when audiences travel from across Scotland, the rest of the UK as well as from California, Toronto, Paris, Bologna and Beijing.
Sylvia Barber - Hyde Park Picture House, Leeds
The Hyde Park Picture House is one of the few earliest community picture houses to still function as a cinema. The cinema has continued to support the local community, through screenings, activities and events for schools, charities, local groups and more. Following our current renovation, we will be better able to serve our local community and continue our mission as a progressive cultural organisation.
What is your offer to schools and young people?
Petra Mansour-Moffatt - Curzon Clevedon Cinema and Arts
We always take part in the Into Film Festival and are now an Arts Award Centre. For Under 25s we have a fixed price of £5 tickets for all films and we run Curzon Kids as an arts and crafts activity after family films. Meanwhile, primary age children regularly come to the cinema on school trips, which accommodate a film, an activity, and a tour. Every month we hold Autism/sensory processing spectrum friendly screenings as well as weekly hard-of hearing friendly screenings. Students are also able to volunteer as part of the Duke of Edinburgh award at the Curzon.
Alison Strauss - Hippodrome Cinema Bo'ness
As well as offering free schools screenings every year during the Into Film festival we offer termly school screenings linking in with the Curriculum for Excellence or sometimes just for fun! We have worked in partnership with the Discovery Film Festival too, offering foreign language lessons through French, German and Spanish film. During HippFest we deliver a schools workshop programme and the unique New Found Sound project for young musicians to compose, conduct and perform live music for silent film from the National Library of Scotland's Moving Image Archive.
Over the 11 years since the cinema was reopened I believe we have welcomed every single young person in Bo'ness through the doors of the Hippodrome at some point. One of our most popular programme slots each week is the Reel Saturday screening of family friendly films and every quarter we revive the tradition of a Saturday morning jeely jar screening, when a clean jeely (jam) jar gives you two tickets for the price of one.
What is your first memory of going to the cinema?
Petra Mansour-Moffatt - Curzon Clevedon Cinema and Arts
When I was 6 years old, I visited my grandparents in Leeds and went to the local Odeon. I had never been to the cinema before and the whole experience had a huge impact on me. I was handed what seemed like an incredibly huge bag of pick-n-mix, the lights dimmed, and a hush fell over the auditorium. The film was 101 Dalmatians, with Cruella De Ville in her horrible magnificence. I think I just sat in awe the whole way through and it totally silenced me! When I was old enough (about 12) my friends and I started going to the Tivoli every weekend - it was our first taste of true freedom.
Alison Strauss - Hippodrome Cinema Bo'ness
I think the most powerful, earliest cinema memory I have is of being 13 and being completely swept away by the opening sequence of Raiders of the Lost Ark…what a white-knuckle ride that was! When Indy finally made it to the plane, I felt like I had been holding my breath for ten minutes. Our local cinema was the Rialto in Raynes Park and I loved the magic I felt as a little girl going in, buying the ticket and a cup of orange from the kiosk, punching a hole in the top with the straw and finding a seat in the balcony, looking expectantly at the ruffled yellow cinema curtains that seemed to draw themselves up like a petticoat just in time for the Pearl and Dean theme tune.
Sylvia Barber - Hyde Park Picture House, Leeds
I went to see Jurassic Park at the Warner Brothers Theatre at Meadowhall, Sheffield in 1993 when it first opened and I was 7. I watched the entirety of the film through my fingers and only caught mere terrifying glimpses of raptors and prehistoric carnage. Fortunately, I was not put off for too long.
What was your first memory of going to the cinema? What is the first film you'll go and see once cinemas reopen? Have you got an old cinema near where you live? What's you local cinema and when is that reopening? Why not give us a tweet on @intofilm_edu telling us how excited you are about going back to the cinema and remember to use the #LoveCinema hashtag.
Hippodrome Cinema and Curzon Clevedon Cinema reopen from the 17 May. Hyde Park Picture House will reopen after refurbishment but their cinema programme will run from the 17 May at City Varieties Music Hall, Leeds in the meantime.