To celebrate the release of Coco, reporter Rashaan joined the press tour to spend some time with the director Lee Unkrich and producer Darla K. Anderson. Find out what they had to share about creating the famous Pixar Easter eggs, recreating the Land of the Dead for this amazing new animation and what it takes to get a job creating animations for Pixar.
Watch our video above to find out what Rashaan got up to in the interview.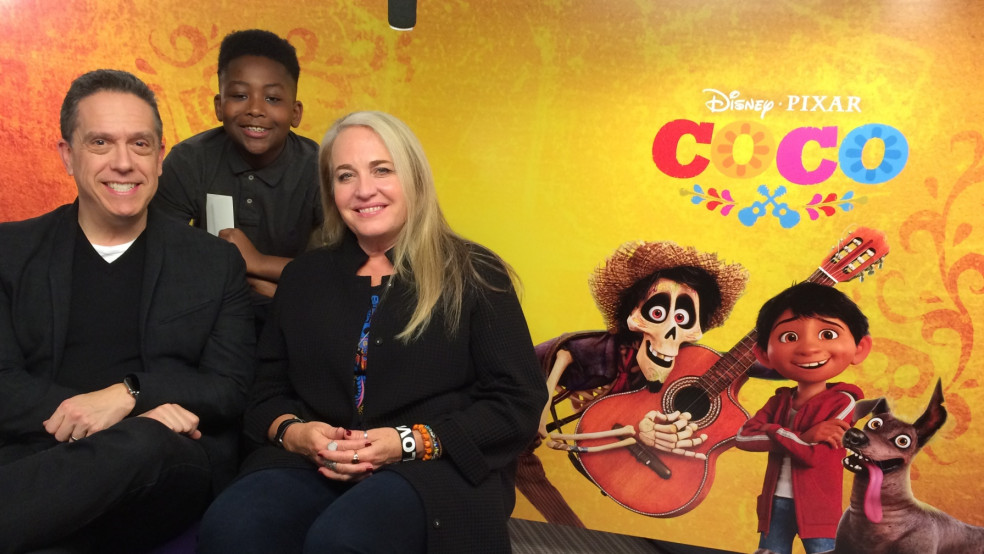 Despite his family's baffling generations-old ban on music, Miguel (voiced by newcomer Anthony Gonzalez) dreams of becoming an accomplished musician like his idol, Ernesto de la Cruz (Benjamin Bratt). Desperate to prove his talent, Miguel finds himself in the stunning and colorful Land of the Dead following a mysterious chain of events. Along the way, he meets charming trickster Hector (Gael García Bernal), and together, they set off on an extraordinary journey to unlock the real story behind Miguel's family history.
Visit FindAnyFilm to find screenings near you, and discover more about Pixar by visiting our Get Into Film Channel.
Coco is out in cinemas 19 January.
Rashaan's review
From Finding Nemo to Monsters Inc, Lee Unkrich and Adrian Molina are back at it again with yet another Disney Pixar cinematic masterpiece. Movie star Benjamin Bratt, Anthony Gonzalez and award winner Gael Garcia Bernal are all cast in this amazing movie.
Coco teaches about how important it is to not forget about your loved ones, whilst taking you on a jam-packed adventure to a completely whole new world. The reference to culture (Day of the Dead) makes the movie feel quite realistic and adds a sense of maturity to Pixar's storytelling along with their beautiful animation throughout the entire film. The fresh Mariachi themed soundtrack sets a positive upbeat mood for the whole audience. Personally I think you should not hesitate to watch this in the cinema as it's 100% worth it and is just another reminder that Disney Pixar have not lost their touch when it comes to movies and maybe never will. When watching this film it makes you feel as though you are part of the story by triggering all the necessary emotions for different scenes. Parents! Do not make plans to doze off during this film as the pace of the action starts straight away and will definitely keep you on the very edge of your seat with Coco's intriguing storyline and energetic and enthusiastic characters.
Overall this has joined my list of best Disney Pixar movies so far and I would probably watch it a second time, not just due to its great features, but simply because of its originality, uniqueness and honesty as I firmly believe that nothing like this has ever been created or done before in a Disney Pixar movie. I can also assure you that the aesthetics in Coco are no less beautiful than the computer assisted stitching in classics like Toy Story or the fur detail in Brave as I find that Disney Pixar movies are all equal and balanced when it comes to effort animation and story plot.