We're delighted to reveal the three talented young people who have been selected as our Ones to Watch for 2019. Confirmed at the Into Film Awards, our Ones to Watch award (Sponsored by Eon Productions) highlights three phenomenal individuals who have already achieved an incredible amount in the world of film, and who we believe will go on to even greater things in the years to come. Their awards were presented by actor Nico Mirallegro and Camilla Thurlow.
The award is an official partnership between Into Film and the BFI Film Academy, and as part of that, each winner is assigned a BFI mentor to guide them through the next steps on their journey into the film industry.
Huge congratulations to...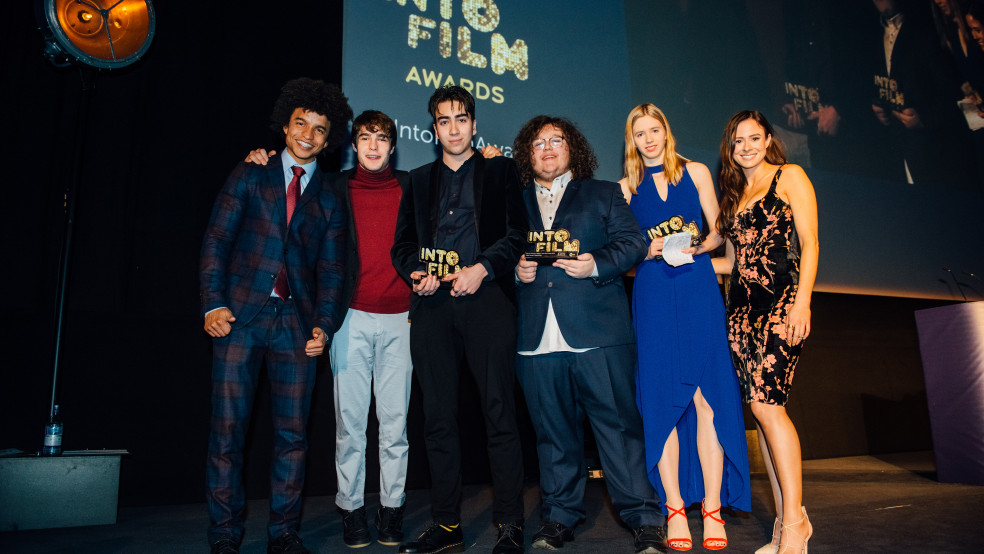 Oisin-Tomas O Raghallaigh, from County Tyrone in Northern Ireland, who directed his first short film, Attraction in 2016, premiering at Cardiff Mini Film Festival, and has continued to develop his skills since. His most recent directing project - Hindsight - was created as part of the NFTS and BFI Film Academy, and was an official selection at The Richard Harris International Film Festival, Kerry Film Festival and at 17 others so far. It has garnered eight wins and six nominations, including at the Gold Movie Awards and Leigh Short Film Festival, where he won the Best Young Filmmaker award. He also produced a 35-minute film titled Grapevines for release in 2019, and is writing, directing and producing a short film called Grounding which is supported by Northern Ireland Screen.
It's a real privilege to be identified as a One to Watch by Into Film and to be recognised alongside many talented young people at the Into Film Awards 2019. It definitely fills me with confidence as I seek future opportunities in the industry.

Oisin-Tomas O Raghallaigh, Into Film Ones to Watch 2019
Emilija Morrison, from Fife, Scotland, who has studied filmmaking and has had one of her scripts funded after being judged by the likes of Irvine Welsh. Emilija is a Young Programmer at the Edinburgh International Film Festival, and serves as an Into Film Reporter, as well being a BFI Screenwriting Residential alumni.
I hope that my day at the ODEON Luxe Leicester Square - the home of many historic film premieres - will be a stepping stone onto further opportunities. Being surrounded by all these inspiring filmmakers and actors will encourage me to keep on going - to not give up on my film ambitions.

Emilijia Morrison, Into Film Ones to Watch 2019
Ruda Santos, from London, England, a Brazilian director who is both a BFI and NFTS Film Academy alumni. Ruda has directed content for Channel 4, Adult Swim and Nowness. His narratives often centre around interrelated characters and youth culture.
Making a film can be a lovely collaborative process, but it can also feel quite lonely at times so it's really great that there is an award dedicated to young filmmakers, that recognises their efforts and drives them forward. It is an honour to be among the nominees this year.

Ruda Santos, Into Film Ones to Watch 2019
Searching all across the UK for 16-19-year-old filmmaking talent, the three winners were formally recognised at this year's Into Film Awards ceremony in London on 4 March, with the Awards presented by Tom Davis and Sir Kevin Barron. Each winner will receive bespoke mentoring from film industry professionals throughout 2019, to help further develop their career prospects and skill sets.