Congratulations to the young people at the Pauline Quirke Academy in Wickford, Essex, whose film Food Fight has won Best Film - 12-15 (sponsored by Paramount Pictures) at the 2022 Into Film Awards. The award was presented by TV presenter Stacey Dooley.
When a food fight breaks out in the school canteen, it's every child for themselves - and if the snack-based weaponry doesn't get you, the deadly food puns surely will! A total of 24 students were involved in Food Fight, from devising the script to acting in the film, while teacher Teri Levett oversaw the project and "helped to temper some of the more overly-ambitious ideas".
This is the first time we have been nominated at the Into Film Awards and we feel extremely privileged. We had so much fun making 'Food Fight'. We hope you enjoy watching it.

Teri Levett, supporting filmmaker for 'Food Fight'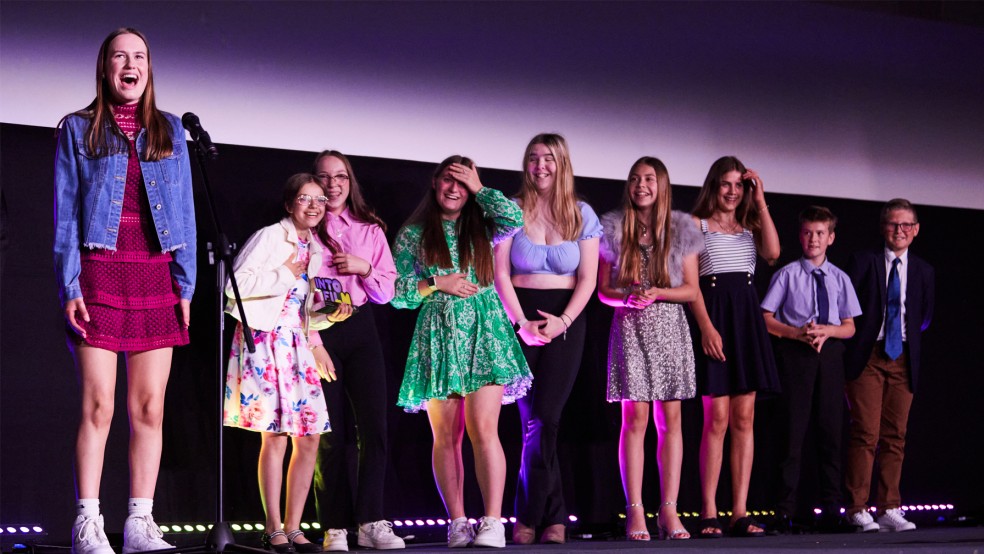 "When students weren't acting, they took turns to operate the equipment and direct", Levett explains. "The students stunned us with their punning ability. They learned especially about continuity in this project - and the importance of throwing fruit accurately, after a few near misses!"
The students involved with Food Fight had just finished a serious short film about bullying and mental health, so wanted their next project to be fun. They spent two or three weeks coming up with ideas and settled on the food fight one.
"We also have direct access to a canteen at our venue, which made it easy to set, and the students realised it wouldn't be too difficult to clean up the mess afterwards. They were divided into groups to come up with their own battles within the film and storyboard them. Every week the students added a little more to the story until they felt they had enough. We also had a week where the entire lesson was devoted to food-related puns which was great fun."