While the 2018 Into Film Festival may be fast approaching (7-23 Nov), there's plenty of time for you to get involved and be a part of it! There are still many free tickets available across our programme of nearly 3,000 screenings and special events for 5-19 year olds, taking place in 550 venues across the UK. So what are you waiting? Book your free places today and join us at the world's biggest free youth film festival!
Below is a list of some of the particularly exciting screenings that still have availability - many of which are previews of films ahead of their cinema release, or that include talks and Q&As with relevant organisations and professions to further enhance the experience. 
Please note that the majority of events listed below are for Secondary age young people.
An Inconvenient Sequel: Truth to Power
After the success of his first climate change documentary, Al Gore returns to reiterate the global need to take renewable energy seriously. Screenings of An Inconvenient Sequel will be followed by a post-screening talk from the Climate Reality Leadership Corps.
Screenings in Redditch, Crawley, Leeds and Cambridge still have availability.
Shoplifters
Set in Tokyo, a family living in poverty gather every evening in their one-bedroom flat after finishing work and the illegal daily tasks they must undertake to make ends meet - including shoplifting. Winner of the Palme D'or at Cannes Film Festival, this intimate and beautiful depiction of family and relationships deals with moral questions around crime alongside the experiences of those on low incomes, complicating the notion of right or wrong.
A brilliant chance to see this film before it's released in cinemas, Shoplifters still has availability in Sheffield, London, North Wales, Edinburgh and Belfast.
Human Flow
Documentary by artist Ai Weiwei about the global refugee crisis of the 21st century. An Oxfam representative will discuss the film and it's themes following each of these screenings, and there will also be an opportunity for young people to take part in Oxfam's 'Home Is...' action, which involves writing a brief solidarity message for refugees.
Human Flow still has availability in Swansea, Conwy, Cardiff, London, Manchester, Edinburgh and Sheffield.
The Rape of Recy Taylor
Documentary exploring the quest for justice after the rape of an African-American woman - a quest led by the NAACP (National Association for the Advancement of Colored People)'s chief, Rosa Parks.
This London screening of The Rape of Recy Taylor is to be followed by a panel discussion where students will get the opportunity to ask questions on the issues raised in the film.
Marvel workshop with the BBFC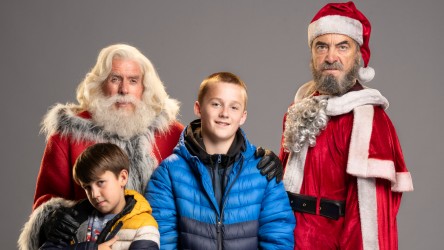 Special Event & Preview - The Heist Before Christmas with Q&A with the writer Ronan Blaney (suitable for 12 years +)
Cineworld Belfast
The Heist Before Christmas Twelve-year-old Mikey Collins, who's dirt-poor and hates Christmas, finds two Santa Clauses in the woods. One has
Remaining places176
DateFri 24 Nov
Time10:00 - 12:00
During these special one-hour workshops in London, a member of BBFC staff with day-to-day experience of age rating films will lead a fascinating session looking at how Marvel films are classified for cinema. Using clips and trailers from vintage and contemporary documentaries the workshop will explore how issues like threat, violence, horror, theme and discrimination have been tacked in documentaries, the different responses from different audiences to 'real life' footage in documentaries, and what criteria the BBFC use. Students will be able to ask questions during the session. 
Please note: due to the content of this workshop this event is only suitable for young people aged 15 and over.
Ghost Stories
Taking place in Leeds, this screening of Ghost Stories - a playful British horror in which a sceptical professor investigates three unsolved cases involving the paranormal - will be followed by a talk with the film's director, Jeremy Dyson, who will discuss his work on the film and his wider career.
Lean on Pete
This Birmingham screening of Lean on Pete - in which a teenager finds work at a local racetrack caring for one of the older horses, and embarks on a life-changing journey - is supported by Oska Bright Film Festival, which was founded in 2004 by a group of learning disabled filmmakers frustrated at having nowhere to show their work. filmmakers, the festival has since grown hugely in size and impact. 
The screening of Lean on Pete will be introduced by filmmakers Ray Jacobs and Mervyn Bradbury, who will also screen their short film The Sea Reminds Me, which they entered into the Oska Bright Film Festival.
In 2017 the Into Film Festival welcomed 487,000 young people from all backgrounds and corners of the UK and engages youngsters in all aspects of filmmaking, from the popular Review Writing Competition, which keeps the Festival experience alive and encourages literacy and critical thinking, to learning about careers in the film industry with industry experts lifting the lid on a vast range of topics including VFX; Directing; Screenwriting; Foley Artistry and Sound Design; Prop Making; Costume Design; Audio Describing; Copywriting, Film Classification and Acting, to name a few.