This year has been a very unusual one for everyone, to say the least, and film festivals around the world have also found themselves in new territory. With social restrictions limiting the amount of in-person attendees, festivals have had to adapt to ever-changing measures to allow audiences and films to find each other and fall in love once again.
Here in the United Kingdom, the BFI London Film Festival will showcase new and diverse films the world over from October 7-18. and will be accessible to the public as a hybrid of online screenings and limited in-person screenings for those wanting the full cinema experience. Excitingly, these screenings will be occurring all over the country, giving many audiences the chance to see previews of big releases without having to travel to the capital. For more information on venues and tickets for these screenings, check out the festival website here.
At Into Film, the curation team have selected their most anticipated films in the 2020 edition for both young audiences and educators to dig into. More information about any of these films can be found in the links provided. We begin with the opening film of the festival from one of Britain's foremost filmmakers.
Mangrove
The first of five-part series by acclaimed British director Steve McQueen for the BBC, Mangrove depicts a monumental moment in British history that revealed racism and harassment by the Metropolitan Police. Taking its name from a West London restaurant where Black Londoners met to discuss ideas and plan actions in protest to the issues faced by their communities, the film spans the 55-day trial that followed the wrongful arrest of nine activists accused on inciting a riot. The film is a necessary look at the rich history of Black resistance in the UK, rendered by great performances from a cast of rising talent that includes Letitia Wright, Malachi Kirby and Into Film ambassador Jack Lowden. Lovers Rock, another film from McQueen's Small Axe anthology will also be screened at the festival.
More information on screenings of Mangrove can be found here
One Night in Miami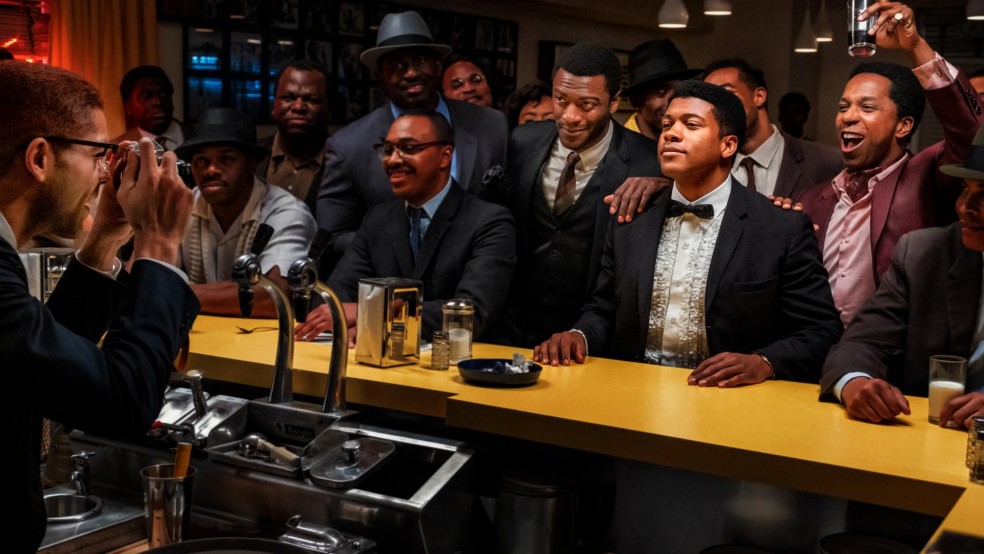 American actor Regina King has been one of the most underappreciated yet impressive performers in cinema and television for nearly two decades now, winning her first Academy Award® in 2019 for her powerhouse performance in If Beale Street Could Talk. Now, with One Night in Miami, she makes her directorial debut by adapting the award-winning play written by Kemp Powers, based on a true evening that brought together four prominent Black icons of the 1960s in a Miami hotel room. The film imagines what boxer Muhammad Ali (Eli Goree), activist Malcolm X (Kingsley Ben-Adir), soul singer Sam Cooke (Leslie Odom Jr.) and NFL footballer Jim Brown (Aldis Hodge) discussed and debated during a pivotal time in American history and promises fireworks and charisma alongside amazing performances.
Wolfwalkers
After producing the wonderfully unique and accessible animated films Song of the Sea and The Secret of Kells, any new project from Irish studio Cartoon Saloon is music to our ears at Into Film. The mystical story at the heart of Wolfwalkers concerns a young apprentice hunter who sets off with her father to wipe out the last wolfpack but, after befriending one of the titular Wolfwalkers, becomes torn between her family and the very creatures she set out to destroy. This gorgeous animation seems to be another excellent addition to the Cartoon Saloon catalogue, revisiting familiar themes such as magic, Irish folklore, adventure and familial bonds through a fresh, enchanting narrative.
Soul
Soul, one of two key animations which make up the Family strand of this year's festival (along with Wolfwalkers), is the latest original feature from Pixar. Co-directed by Pete Docter who has previously made Monsters, Inc., Up and Inside Out for the studio and Kemp Powers (who also co-wrote the aforementioned One Night in Miami and makes his debut in the hot seat here), the plot follows Joe, a musician who has lost his passion for music. Jamie Foxx voices Pixar's first Black protagonist who, after being transported out of his body into the soul world, must find his way back to it with the aid of a new friend simply known as '22'. Any new, original idea from Pixar is always a tremendously exciting moment in the film calendar - it's the second of the year after Onward - and Soul promises to be no exception.
Time
Directed by Garrett Bradley, whose short film America received praise across festivals and screened at last year's LFF, Time continues her exploration of archive footage and the lives of Black Americans. Intricately edited, the film spans two decades in the life of a mother of six boys as she tirelessly campaigns for the release of her husband who is serving a 60-year service for a robbery they both committed long ago in a moment of desperation. Including some of the family's home footage, the film intimately depicts the family's strong connection and resilience as well as the devastating toll incarceration and unjust systems take on the lives of Black citizens. Backed by a beautiful original soundtrack and shot in striking black and white the film asks many questions about how lives are affected by structural oppression and how one American family find ways to endure.
For additional information on both the online and in-person screenings, as well as the free industry talks, that will be taking place during the festival, head to the BFI London Film Festival 2020 homepage.