2020 is rapidly coming to a close, and we all certainly need a bit of cheering up after what must be one of the most challenging years ever for teachers and our Into Film club leaders. So, we were delighted to reward one of our London-based Into Film clubs with a very special and exclusive end of term treat last week.
It has been such a hard year for children and teachers, and it brought a bit of magic into our lives.

Teacher at Soho Parish Primary
Thanks to the National Lottery and the National Lottery players who support Into Film through BFI funding, we were able to invite a group of pupils and their teachers from Soho Parish Primary to an exciting trip to the London Palladium to see a performance of Pantoland which has received some of the longest standing ovations witnessed in theatre.
The London Palladium and its staff went to great lengths to make the venue feel Covid-19 secure. Timed ticket entry, temperature checks and distanced seating were all in place alongside the audience wearing masks throughout. The empty seats were paid for by The National Lottery to make it financially viable for the show to take place as theatres are facing such testing times. All in all, Pantoland at the Palladium injected a little bit of magic into the end of this depressing year.
One of the teachers at Soho Parish Primary wrote to us after the performance:
"Thank you so much to you all at Into Film and the National Lottery for allowing us to attend the pantomine. It has been such a hard year for children and teachers, and it brought a bit of magic into our lives. The red-carpet experience was amazing and when Santa gave out presents to all the children at the end it was truly spectacular to see their huge smiles.
When Prince William appeared on stage there were tears all around - it was amazing to be appreciated that way. The pantomine itself was non-stop laughs. Julian Clary and all the cast members made us smile for two hours and forget all about what was going on outside.
Thank you so much again. I have attached below a letter from a year 3 pupil who went and found it truly amazing too. Her mum who also works in the school was crying at the end when Santa gave out all the toys."
One pupil, Seraphine, also had this to say about her experience:
"I really loved going to the Pantomime. I felt so happy. It was my first time going to a real pantomime. My favourite part was when the Dame's wig fell off. I also loved my present. I'm so grateful I got a chance to go. Thank you."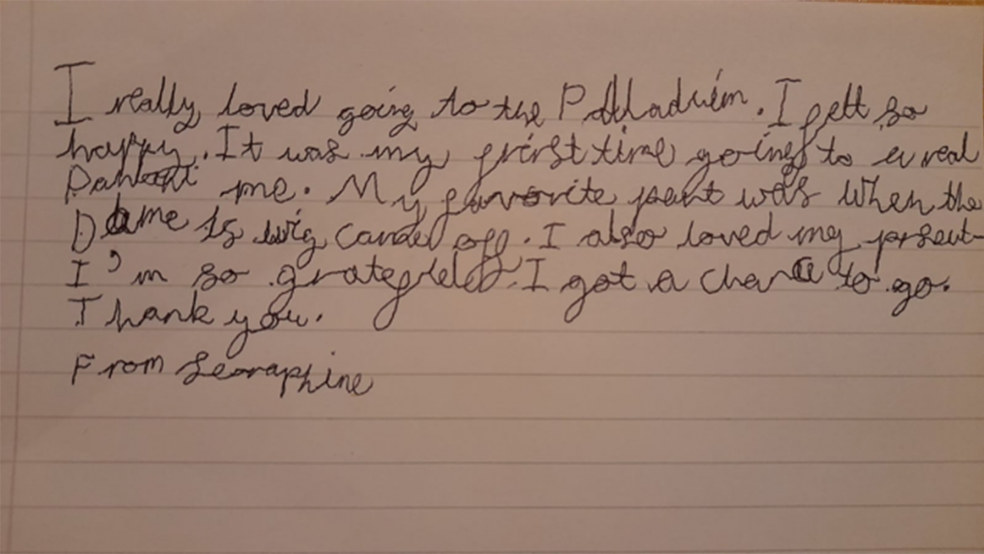 Hats off to the National Lottery from all of us at Into Film as well as our Into Film Awards 2020 host, David Walliams!
Thanks to National Lottery players, up to £600 million of funding has been made available to support communities across the UK during the Coronavirus crisis. The National Lottery is playing a critical role in supporting people, projects and communities during these challenging times, including Into Film Clubs. By playing The National Lottery, you are making an amazing contribution to the nationwide-response to combatting the impact of COVID-19 on local communities across the UK.