Back in Autumn 2017, we launched a new industry partnership with the BFI Film Academy as part of our Into Film Awards Ones To Watch initiative. Searching all across the UK for 16-19-year-old filmmaking talent, three winners were ultimately selected to be an Into Film/BFI Film Academy 'One To Watch'. The three winners were formally recognised at this year's Into Film Awards ceremony in London on 13 March, with the Awards presented by actors Hermione Corfield (Mr. Holmes) and George MacKay (Pride). Each winner will also receive bespoke mentoring from film industry professionals from Spring 2018.

The selected winners are three talented young people whose passion and dedication to film and filmmaking goes above and beyond; people who have already achieved incredible things in the realm of film, and crucially, those who we believe have the potential to go on to achieve even more within the film industry in years to come.
Massive congratulations to:
Krizzah Policarpio (17) from Belfast who was nominated by her teacher, Tracy Rossborough, for her directing, scriptwriting, camera work, editing, film reviewing, and film reporting (Krizzah wasn't able to attend the Into Film Awards - her award was accepted by her sister)
Ryan Ogden (18) from Tyne and Wear, who was nominated by teacher Daniel Clifford for his directing, scriptwriting, camera work, editing, and film reviewing
Emily Fisher (16) from Northamptonshire, who was nominated by her teacher Paul Balmer for her superlative skills behind the camera.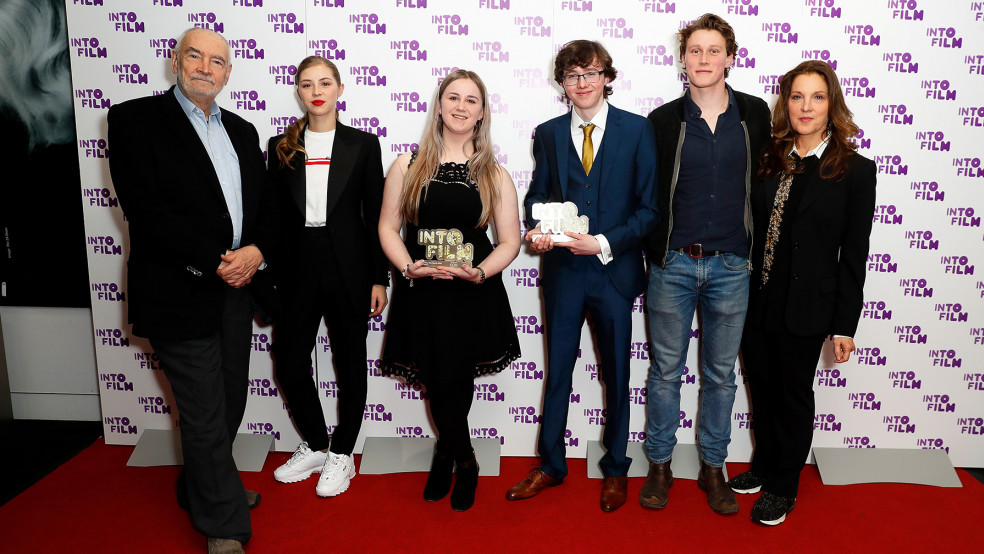 Below, you can find out a little more about these talented Ones to Watch, and hear from the expert panel of film industry judges that selected them about just why they were so impressed by this year's winners.
Krizzah Policarpio (17)
Into Film One to Watch 2018
Krizzah arrived in Northern Ireland in 2010 aged 10 with very little command of the English language but once she enrolled as a pupil in Ashfield Girls' High School, she threw herself into the world of film. Amongst many things, she became one of the founding members of Ashfield's Film Club, working closely with other pupils whose first language wasn't English as well as pupils with Special Educational Needs. In October 2015, Krizzah was chosen over hundreds of other young people to become a member of the Into Film Youth Advisory Council - the only one from Northern Ireland. In 2017 Krizzah was selected to be part of The BFI Film Academy; a real chance for talented 16-19 year-olds to develop the skills and build the knowledge they need to be part of the future of the UK film industry.
Fuelled by her profound desire to thrive in the film industry, Krizzah has signed up for a wide range of masterclasses and hands-on experiences, which have improved her understanding of all things film-related. She has undertaken varying roles and responsibilities where she has demonstrated effective teamwork in meeting film production requirements and gained invaluable practical techniques. Specifically, she has acquired extensive knowledge of software, pre-production/ post-production processes and film industry practices, through handling a variety of photography, film and sound equipment. Krizzah has also gained confidence in editing raw images and footage, which has allowed her to produce films that meet industry standards. 
Krizzah is still a very active member of her film club and is now a mentor for younger pupils involved in "See It Make It", a film making project in conjunction with East Belfast Media production company, Bluebird Media. Krizzah gives up her free time on Fridays after school to help younger pupils who have a keen interest in filmmaking to plan, script, storyboard and film their own short filmsIn July 2016, Krizzah was given the opportunity to work with industry professionals and other young people from Belfast to develop practical skills in scripting, camera operation and editing. As a result, Krizzah created a short film based on the theme of identity, exploring what it means to be a young person living in Greater Belfast.
Because of her commitment to filmmaking and involvement with Cinemagic, she was recently selected as an Ambassador for Northern Ireland to visit Los Angeles. In March 2017, she was successful in gaining a residential place on the BFI Film Academy's craft programme, spending a week in England improving her already impress array of skills. Despite being under pressure to study more 'academic' subjects by her parents, Krizzah has applied to study Film at University next year.
The BFI Film Academy comprises a regional programme of 48 courses across the UK, five specialist residential programmes covering animation, documentary, screenwriting, visual effects and film programming, and two craft skills residential programmes. There are bursaries to help those in need with costs, ensuring it is open to as diverse a range of young people as possible. Since it was started in 2012, more than 5000 course places have been created for young people. The Film Academy is supported by the Department for Education in England and the National Lottery. Find out more at bfi.org.uk/filmacademy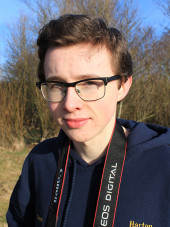 Ryan Ogden (18)
Into Film One to Watch 2018
Ryan Ogden is a filmmaker from South Shields who spent three years honing his skills with local arts venue, The Customs House, as part of their filmmaking project. Thanks to support from the Lady Betty Martin Fund, he produced his first solo short, Boot, which will be screened at Sunderland Shorts Film Festival 2018. The film also helped him secure a place on a Film Production course at the University of Salford, for which he is currently studying in MediaCityUK. Although Ryan specialises in writing and editing, he has worked on a number of production roles, and has directed and co-directed nine shorts.
Ryan is currently in his first year of a Film Production Degree at the University of Salford in MediaCity. Getting a place on the course was an incredibly competitive process, with around 1,000 young people being interviewed. Before starting at Salford, Ryan was a member of The Customs House filmmaking group for three years, and during that time he was an integral part of the group, taking on significant roles in almost every production.
Jaquiva, a film Ryan co-wrote and edited, was an official selection for KRAF 2016 in Croatia and was a runner up in the Into Film Film of the Month competition. It also won One to Watch at the Custom Reels Awards 2016 (now North East Young Filmmakers Awards), by judges Samm Haillay (Light Years), Ben Crompton (Game of Thrones) and Chris Slater (Dumping Ground). Jack in the Green, another film Ryan worked on, was an official selection of the Cardiff International Festival 2017 and Fake Flesh Film Festival 2017. Both were screened at Sunderland Shorts Film Festival 2017.Ryan also completed a short stint as a film reviewer for Cuckoo Review magazine and for Sunderland Shorts Film Festival, and has made several short films independently of his filmmaking group.
Ryan is a dedicated filmmaker who has taken all opportunities to improve his skills in screenwriting, directing, editing, camera operation and even production, constantly learning from the successes and failures of his work. He has also volunteered to lead a number of workshops for younger filmmakers.
Recently, Ryan successfully applied for the Lady Betty Martin Fund to work with a professional screenwriter and filmmaker to further develop his skills.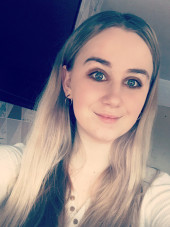 Emily Fisher (16)
Into Film One to Watch 2018
Emily was born in Corby in 2002 and attends Kingswood Secondary Academy. As she completes her GCSEs, she continues to fall in love with the media industry and its inner workings. She loves to volunteer at her group within Girl Guiding and is taking part in her Duke of Edinburgh Award. Something that she thoroughly enjoys is photography and filming, and as part of HDMedia in Corby, Emily assists on camerawork and research when the opportunity arises. In the near future, she would like to study Media, Performing Arts and English Literature at her Sixth Form, and then go onto study Film Production at West London University.
Emily commented: 'I know I said in a BBC interview that I would be a BBC trainee Cameraperson in the near future - Well that's sealed it! I have to do it now!'
For the last 3 years working with a BAFTA nominated HD Media team, Emily has developed a real understanding of the challenges faced by a professional digital cinematographer.
Working alongside professional BAFTA nominated cameraman Robert Foster and 'USA Gold Camera' winning director Paul Balmer, Emily has experienced the rigours and challenges of quality film work throughout the UK.
The first major project Emily tackled as a camera assistant was 'PLUTO'; a series of educational documentaries designed to offer a young school based audience insight into the story of WWII 'Operation PLUTO' - a little-known aspect of the D-Day Landings 'Operation 'Overlord'. This meant more than simply learning to use a 4k camera; it also entailed extensive historical research at public records offices, interviews and filming with ageing veterans, and site visits to historic landmarks across the UK, including the Isle of Wight, HMS Belfast and Churchills War rooms in London.
Since PLUTO, Emily has moved into more 'hands on' camera work as a camera operator for a series of 'Corby Arts Podcasts,' also shown at HD Media CIC on Facebook. She has also assisted at a filming session for 'Electric Corby' and was the main cameraperson for 'Corby Big Film Week 2'; a bi annual event featuring Oscar winning producers and BAFTA winning directors. During 'Corby Big Film Week' Emily took control of the camera for Q&A sessions with producer Rebecca O Brian (I Daniel Blake) and writer Peter Turner ('Film Stars Don't Die in Liverpool').
Emily is still at school yet manages to juggle her work schedule to attend shoots, training sessions and research visits. She has also understood the complexity of both the technical tasks and the diplomacy/ 'people skills' necessary for working with a film crew and celebrity 'subjects'. Emily has grasped the 'bigger picture' of film making. She can operate a camera but also understands the other disciplines that surround her.
Emily has signed up for the MEDIA option in her school career and comes out on every HD Media shoot her school timetable allows. She also volunteers at weekends and evenings.
The BFI Film Academy
Open to young people from anywhere in the UK, the BFI Film Academy offers a real chance for talented 16-19 year olds to develop the skills and build the knowledge they need to be part of the future of the UK film industry no matter where they're from or what their background. Since it was started in 2012, more than 5000 course places have been created for young people.

The BFI Film Academy comprises a regional programme of 48 courses across the UK, five specialist residential programmes covering animation, documentary, screenwriting, visual effects and film programming, and two craft skills residential programmes. There are bursaries to help those in need with costs, ensuring it is open to as diverse a range of young people as possible.

The Film Academy is supported by the Department for Education in England and National Lottery. Find out more at bfi.org.uk/filmacademy.
Into Film Awards 2018 Ones to Watch Jury
Chair - Katie Campbell, Skills Development Manager - BAFTA
As part of the Learning and New Talent team, Kate works to share the expertise of BAFTA winners, nominees and members in order to sustain the film, TV and games industries with world-class craft and creative skills. Katie works on online content, events and initiatives which maintain BAFTA's standards of excellence, address industry needs, reflect a balance across sectors and regions of the UK, and are open to as broad an audience as possible.
Katie joined BAFTA in October 2011 as the Regional Programmer. She has 10 years' experience working in the film industry, across events, initiatives and production.
Lauren Dark, Producer - Beast
Lauren worked at Ken Loach and Rebecca O'Brien's production company Sixteen Films for five years, on films such as Les bien-aimés (Beloved), Cesar Chavez, and Dheepan. Lauren also produced the 2013 documentary Mediastan, a WikiLeaks road movie, alongside Julian Assange and Rebecca O'Brien, before producing her first narrative feature, War Book, in 2014. Written by Jack Thorne and directed by Tom Harper, War Book was executive produced and co-financed by previous BAFTA Breakthrough Brit honourees Steve Jamison and Mike Brett. The film screened at the 2014 London Film Festival and opened the 2015 Rotterdam Film Festival. Lauren has been working at Ivana MacKinnon's Stray Bear Films since January 2014 and was selected in the Producers category of the Screen International Future Leaders 2015.
Marnie Dickens, Writer - Thirteen
Marnie Dickens is the creator and writer of five-part drama serial Thirteen which aired on BBC3 and BBC2 in 2016. The series also aired on BBC America.
Marnie is currently writing a new series for Mainstreet Pictures/BBC1 as well as a number of other TV developments, including period drama series Forty Elephants with Mainstreet Pictures/Hammer, a sci-fi project with EOne/Origin and an epic female warrior drama series Amazons for World Productions. Marnie's other television credits include Ripper Street and Musketeers for the BBC.
Lydia Hampson, Producer - Fleabag
Lydia began her career producing live comedy at international producer and promoter, Just for Laughs. There, she worked with talent including Eddie Izzard, Simon Amstell, and Cardinal Burns, and ran the company's stable of new shows at the Edinburgh Fringe each year. After a stint at talent agency PBJ Management, Lydia returned to production and worked with numerous other exciting new talents including Jamie Demetriou, and Liam Williams.
In 2014 she made the move to television, producing The Art of Foley, a comedy for Channel 4 starring Mark Heap, whilst more recently, Lydia produced the multi-award winning series Fleabag, starring Phoebe Waller Bridge, Hugh Dennis, and Olivia Colman, which has garnered huge critical acclaim both here and the US. She is now exec producing a second series of the show, and producing the recently announced Cheat, a 4-part drama for ITV by screenwriting newcomer, Gaby Hull.
Clifford Samuel, Actor - McMafia
Clifford can be seen in the new BBC/AMC drama McMafia opposite James Norton, Juliet Rylance and Faye Marsay. He is perhaps most recognised for his role as Charlie Charles opposite Andy Serkis in Sex & Drugs & Rock & Roll. The BAFTA nominated film is about Ian Dury, who was stricken with polio at a young age and defied expectations by becoming one of the founders of the punk-rock scene in Britain in the 1970s.
Sarah Quintrell, Writer - Ellen
Sarah is an actor and writer, best known for writing the multi award-winning single drama Ellen, for Channel 4. She went on to write five-part crime series The Trial: A Murder in The Family for Channel 4 and in 2017 was named a BAFTA Breakthrough Brit. She currently has a number of projects in development with Lookout Point, Objective Fiction, Big Talk, Channel4 and the BBC. As an actor, Sarah has had an extensive career on stage as well as appearing in television such as Rillington Place, Call the Midwife and Doctor Who.
Sarah Walker, Director - The Crash
Sarah began her career as an independent filmmaker, and was nominated three years in a row by Broadcast Magazine in the 'Best Young Writer' and 'Best Young Director' categories respectively for her short films 420 Seconds of Love (2002), Almost Strangers (2003) and Soul Boy (2004). She has an RTS Award, a Channel 4 Creative Class Award and was hailed as one of Shooting People's 'Top UK Filmmakers'.
Represented by United Agents (UK) and WME (USA), Sarah is currently writing two feature films (New Year's Kiss and Beautiful Monster), developing two TV dramas (Summer Blues and Young Blood) and a web series aimed at championing marginalised voices (Creepers) through her production company Underdog Productions, which is dedicated to telling stories with female leads.