What will the Into Film Festival look like this year?
The safety of all attendees is of the utmost importance to us at Into Film, so alongside monitoring both the COVID-19 Government guidelines and Public Health guidance in each nation of the UK, we will be doing everything we can to create a safe and comfortable experience for all young people and their teachers.
Who can attend the Into Film Festival 2021?
We're delighted to be able to offer places at this year's Into Film Festival to teaching staff that are bringing groups of young people aged 5-19. Attendee safety is the highest priority for Into Film and the pandemic has highlighted the need to proceed with caution when organising public events. As such we will be limiting each screening to one school group per screening, with the aim of avoiding different groups mixing. This means that there will be a minimum school group size per screening to ensure we reach the widest audience possible.
Why can only school groups attend this year's Festival?
We have taken the decision to prioritise school group bookings for safety reasons. The health and safety of all attendees at our live events remains our upmost priority. We recognise that this approach may lead to disappointment for some schools and educators hoping to attend.
We want to reach the widest audience possible, encouraging large school groups to book places so that the experience can have the biggest possible impact on children and young people, providing a wellbeing boost after the most difficult of times.
What is the maximum number of seats to book?
You can book as many seats as is listed for each event, depending on the capacity of the screen. This will be a reduced capacity compared to the actual number of seats in the auditorium, to help allow for social distancing. We would encourage schools to book as many seats as they can to ensure the highest number of children and young people can benefit from this year's Festival.
What are the COVID-19 guidelines for the Festival?
The Festival will adhere to all current COVID-19 Government guidelines. Into Film will be continuously monitoring and adhering to government and Public Health guidance regarding events, including specifications unique to each nation of the UK.
We are committed to making these Festival screenings COVID-19 safe, and in-turn, create as safe an environment as possible in which to take part. We will be monitoring the updates to guidance published by the government and you will be informed promptly should there be a change to your event.
For individual cinema guidelines please visit the cinema's websites where you'll be able to find the regulations they've put in place. Please also refer to the Event Safety Plan for advice on preparation you're your trip and risk assessment. Any specific instructions for your screening will be listed within the booking page for the event, which you'll receive within your booking confirmation e-mail.
Cancellations
As this year's Festival will see only one school group in attendance per event, it means cancellations have greater significance than ever for the host cinema.
The Cinema industry have had a very challenging year, and those that are taking part in the Into Film Festival 2021 are excited to welcome young people back to their venues. As always, the cinemas are offering their spaces and staff time for free. We do understand that sometimes, for reasons out of your control, you are unable to attend. If you no longer require your booking, please let the bookings team know ASAP (no later than 48 hours in advance) so that we can give the venues as much notice as possible. If you do not give us prior notice you may be liable for a charge up to £100.
Why do you need my mobile number when I make a booking for the Festival?
We may need to contact you on your mobile if any notable problems arise with an Into Film event or service you have signed up to. (e.g. an Into Film Festival event you have booked or an Into Film Club you have set-up).
Event Capture
Into Film may record and/or photograph events during the Into Film Festival for re-purposing on our website, YouTube and Vimeo channels and educational materials. Where this is taking place we will use notices to make people aware that we are recording and to allow the chance to opt out of any recording or photography.
In return for access to the event, you irrevocably consent to any such filming, photography and/or live streaming and to Into Film reproducing and publishing your words and/or likeness in any transcript of or publication relating to the event and/or for the purposes of publicising the services of Into Film and its partners.
Responsibility of Attendance
The adults who chaperone young people at Into Film Festival events are responsible for the behaviour and wellbeing of their group. Cinemas are offering these spaces for free, so we kindly ask for groups to be respectful of this and to please clean up after themselves, bringing their rubbish out of the cinema with them or disposing it into bins. 
It is the responsibility of the person that books to ensure the correct risk assessments are undertaken and permissions sought.
Sustainability
Into Film is committed to minimising our direct impact on the environment. As we continue to work on this, we ask that our attendees and venues reflect this in their behaviour too. This can be done by using reusable water bottles, reducing waste, recycling and/or minimising the impact of your travel to the venue.
If you have any questions please contact the bookings team on festivalbookings@intofilm.org.
Booking Alterations
If you need to cancel or change your booking please contact the Festival Bookings team as soon as possible so we can inform the cinema or release your spaces.
All Into Film Festival events are completely free of charge thanks to the generosity of our partners, including cinemas that donate their venues and staff time. This year we are limiting screenings to just one school per screening so it's even more important we have lots of prior warning if you can no longer attend.
If you are not able to attend, please give us a minimum of 48 hours notice to allow these places to be offered to another group and minimise the costs incurred by our partners. We do understand that sometimes, for reasons out of your control, you are unable to attend, although if you do not give us prior notice you may be liable for a charge of up to £100.
All Into Film Festival events are completely free of charge thanks to the generosity of our partners, including cinemas that donate their venues and staff time. 
Risk Assessment
There is a comprehensive Event Safety Plan, which represents the necessary safety precautions associated with this activity. This is available on our website and should be viewed by all Bookers and Group Leaders.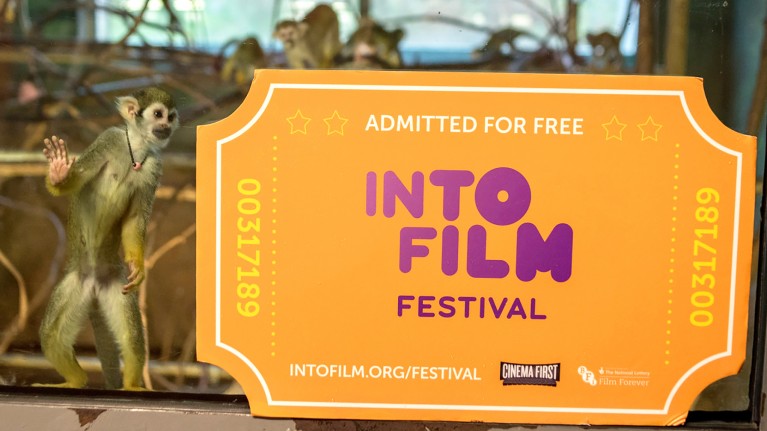 Event Safety Plan & Risk Assessment - Into Film Festival 2021
Download a guide to ensuring safety at the Into Film Festival 2021.
Festival Venues
Please note: whilst all venues are chosen based on their existing interest and experience in public activities and film events we are unable to vet each individual venue. We cannot guarantee the participation of a venue in the Into Film Festival each year. We advise all Group Leaders to become familiar with the Fire Emergency Procedures, medical procedures and facilities at your chosen venue, so you can make provisions for your group's needs. You can obtain Health & Safety information about your venue in advance by contacting our Bookings team or the venue directly.
Into Film Festival Review Writing Competition Terms and Conditions
1. The Into Film Festival Review Writing Competition (the competition), is open to all students and teachers in England, Scotland, Wales and Northern Ireland, who have attended screenings or events as part of the Into Film Festival 2021 - except for employees of Into Film, We are Futures and their families and members of their household, agencies or any other company directly connected with the administration of this prize draw.
2. No purchase necessary.
3. By entering the competition, entrants agree to be bound by the rules and other requirements set out in these terms and conditions.
4. An entry is defined as a 300 word film review with completed entry form. The entry must be submitted by post to FREEPOST RTAE-BAZG-CSZZ, FILMCLUB, Damasco House, 31 Islington Green, London N1 8DU, by Friday 10 December 2021. 
5. The submitted review should be the sole work of the entrant.
6. It is the entrants responsibility to ensure that they do not infringe copyright of any third party or plagiarise any other persons work.
7. Student entrants will be asked to provide a parent/guardian/teachers email address, who will be the point of contact for all ongoing communication about the competition.
8. To be eligible for this competition, entries should be received via post by Friday 10 December 2021.
9. The promoter reserves the right to revise this date and extend the period for accepting entries for the competition in the event of circumstances arising beyond its reasonable control.
10. All entries will be judged by members of the Into Film Education Team.
11. There will be one winner selected for each of the four categories: 
Primary (for pupils at primary school aged 5 - 11)
Secondary (for pupils at secondary school aged 11 - 16)
Sixth form (for students aged 16 - 19)
Audio-description (for students of any age, with sight loss, reviewing the audio-description track of a film).
12. Only the winner will be notified via their parent/guardian/teachers email address by 5pm on Friday 4 February 2021. 
13. The winners of each category will receive a tablet for themselves, and £200 of cinema vouchers for their class. 
14. The prizes will be processed within 14 days of the winner accepting.
15. The promoter accepts no responsibility for the loss, non-delivery, delay or damage of the prize in dispatch or transit.
16. The prize must be accepted as awarded. No alternative prize is available and the prize is non-transferable and non-negotiable.
17. We will not pass on your details to any other organisation other than the promoter and any 3rd parties associated with this prize draw.
18. The Promoter reserves the right in his/her reasonable discretion: A) to disqualify any competitor whose conduct is contrary to the spirit of the rules or the intention of the promotion and to declare as void any or all of their claims or entries based on such conduct. B) to add to or to waive any rules on reasonable notice including but not limited to opening and closing times. C) and/or to cancel the promotion or any part of it at any stage in the event of circumstances beyond reasonable control.
19. Incorrect, incomplete, or illegal entries will not be accepted. The Promoter accepts no responsibility for lost, undelivered, delayed, damaged or mislaid entries.
20. The Promoter reserves the right to verify the eligibility of all entrants and disqualify any entry which is not in accordance with the rules.
21. All prizes will be awarded on condition that the prize winner agrees to take part in Into Film Festival and We are Futures publicity and promotions as appropriate. If this condition is not met by the winner, the prize will be awarded to another entrant that does agree to this condition. We will not pass on the winners' details to anyone other than the promoter.