We took some of our Young Reporters and Youth Advisory Council members to Bristol recently, to experience Cinema Rediscovered, the Watershed's third annual festival of classic and archive film. Over four days they attended screenings, met inspiring directors and film industry professionals, participated in talks, and even went on a tour of a studio specialising in restoring analogue film. 
Read on below to get an insight into how young people today view classic and archive film. Jump to each young person's film reviews and thoughts on the festival using the links below.
Jump to Daniella's reviews of Danny Leigh's keynote speech, Maurice and The Apartment
Jump to Imoleayo's reviews of Danny's Leigh's keynote and The Apartment
Jump to Owain's reviews of Pulp, The Phantom Carriage, and Le Crime de Monseiur Lange

Jump to Eleanor's reviews of the BV Studio Tour, Just Another Girl on the IRT, and Bhaji on the Beach
Jump to Shola's reviews of The Loves of Joanna Godden, Aardman Conversation Pieces, and Bhaji on the Beach
Daniella, 17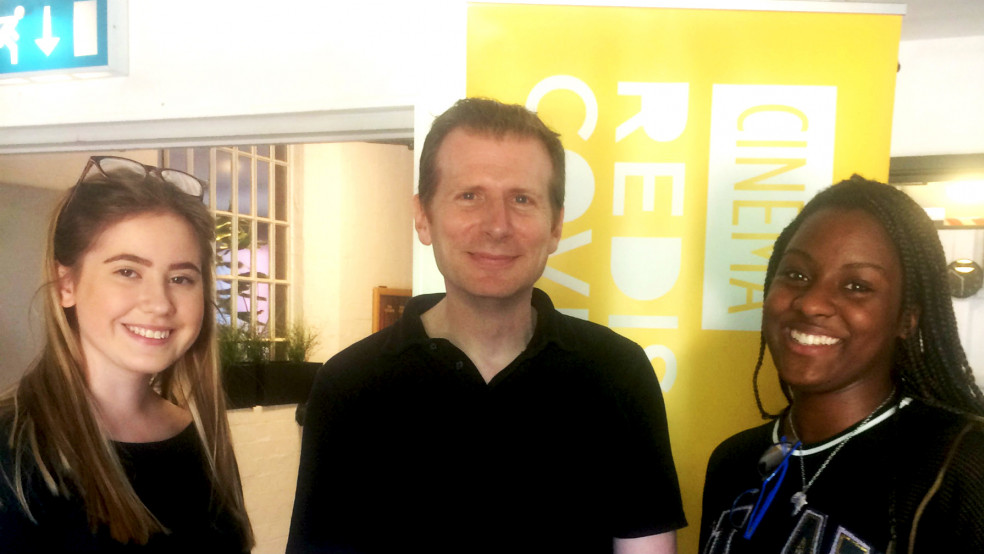 Danny Leigh from the BFI gave an insightful look into his career and into film archive. We watched clips of vintage films that have been re-made into an 'extraordinary something else'. He explained how creating something new from something old isn't dismissive to the original, instead it complements it. 'The past is gone; the future is unwritten' is a quote that stuck out for me during Danny Leigh's discussion about archive. He also said that the point in archive is to watch it now with a new perspective.
Maurice (1987) directed by James Ivory, is a powerful story that follows two male Cambridge students who fall in love. The film is set in London and we get to see through this film how society back then reacted to the LGBT community, and the consequences that followed such as prison. Clive and Maurice are very secretive about their relationship in order to uphold their reputation and protect their family name and careers. This film is relevant today as the LGBT community is more accepted in society and it is becoming a more talked about subject.
The Apartment (1960) directed by Billy Wilder, is a fun film that combines romance, comedy and drama. C.C Baxter is a loyal and hard-working employee that comes across as a pushover when it comes to his co-workers borrowing the key to his apartment. The shimmering black and white cinematography makes the film appear stunning on screen. The film is ripe for rediscovery today through the #TimesUp and #MeToo Movement. The elevator girl, Fran Kubelik, is the underdog in the film and is not treated with respect by the men who enter her elevator. This is turned around when she finally has the last word, telling Baxter to "Shut up and deal".
Imoleayo, 18
I attended Cinema Rediscovered on Thursday and it was totally amazing and inspiring! We were fortunate enough to experience previews of archive treasures which are set for re-release. Both films, Maurice and The Apartment, were an absolute treat and allowed us to feel like we were a part of the times presented. In addition, guest speaker Danny Leigh from the BFI who was exceptional at discussing the many different aspects of archive films, from technical aspects like the preservation of films shot on nitrate, to the possible loss of meaning or intent of the original film. 
The Apartment is a 1960s film about C.C. Baxter, a very precise and calculating man who lends out his apartment to a number of senior partners in the company he works for. One thing I noticed about the film was that it came full circle allowing for a happy ending, whereas many films nowadays tend to stir clear of this. The restoration of the film was very vibrant and crazily beautiful although black and white. Also surprisingly the jokes were very funny considering the time in which the film was made. I would like to see more films that have been restored in this way, and I would definitely recommend it!
Owain, 16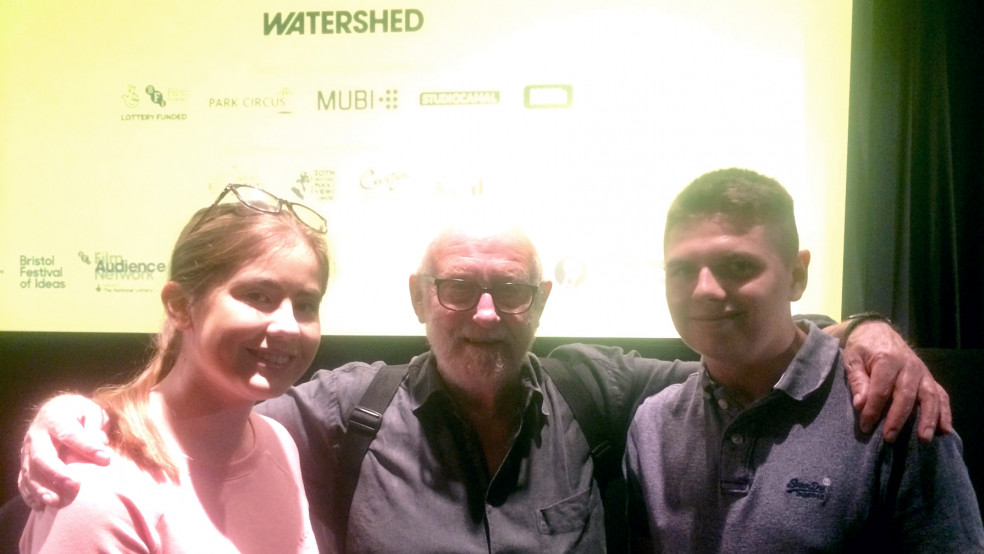 I thoroughly enjoyed my time in attending the Cinema Rediscovered festival, and I urge fellow young film enthusiasts to attend film festivals. 
Pulp (1972) is a satirical cult comedy of the gangster genre directed by Mike Hodges, whom I had the pleasure of meeting at the Cinema Rediscovered screening in Bristol. It's filmed in the russet coloured locations of Malta with an underlying political theme. The film includes a phlegmatic voice-over endowed with wit; it evokes the writing of Raymond Chandler by the main protagonist, played by Michael Caine in a brilliant central performance as the humorously credible author, Mickey King, who writes gangster fiction under absurd aliases.Comedy is ever-present in this film especially with the introduction of Mickey Rooney's larger than life performance as Preston Gilbert and supporting cast Lizabeth Scott, Lionel Stander, Nadia Cassini, Dennis Price who reinforce the quirky tone of the film. 
The Phantom Carriage (1921) is Swedish director and actor Victor Sjoestrom's masterpiece based on the book by Noble Prize winner Selma Lagerlof. Maturity is the core theme of the film, and it has an incredible use of double exposure in the visualisation of the phantom by cinematographer Julius Jaenzon. In addition to directing the film, Sjoestrom gives an understated, nuanced and naturalistic performance as a drunken and spiteful David Holm. The dark film elicits the visuals of the German Expressionist films that intensifies the feelings of hopelessness, claustrophobia and despair which are evoked by the use of low lighting, camera movements, special effects and techniques such as irising. The innovative narrative structure is truly entrancing. It displays events through flashbacks from a grim present where we see David Holm's countless chances for redemption, that leads to a relentlessly horrifying and foreboding penultimate scene. The director proficiently manipulates the audience, both emotionally and psychologically, which perfectly encapsulates human vulnerability. 
Le Crime De Monsieur Lange (1936) directed by Jean Renoir who was admired by the well-publicised film critic André Bazin, Le Crime De Monsieur Lange is a socialist comedy challenging the period's political views. Renoir's film exhibits an abundance of charm and creative camerawork, aided by insightful staging that serves the character. The film has precise and concise characterisations to focus on a story that is fast paced. Moreover, it illuminates the bond between money and power told through the use of a flashback. The film is a time capsule of French cinema and draws the parallels between socialist idealism and dreams of the 'American Western' encompassed within the story written by the protagonist 'Arizona Jim'. With subtlety and ease, the comedy thrives. Accordingly, the imitable charm of Renoir's direction, exquisite cinematography and dynamic characters.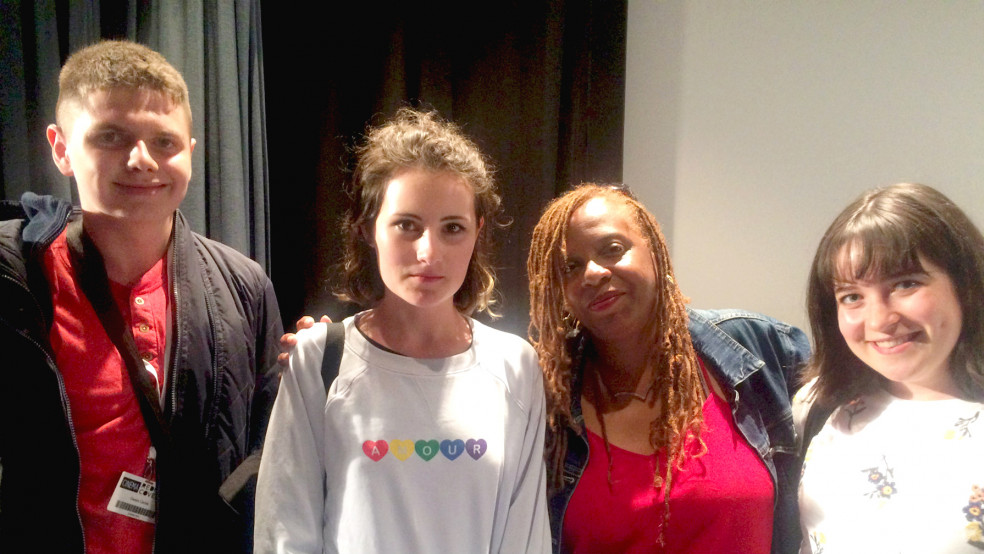 Eleanor, 17
I really enjoyed attending the Cinema Rediscovered because it gave younger people like me the opportunity to watch classic films from the past as they were intended to be viewed, on the big screen. I also loved the variety of films on show; from French cinema to women in film. The discussions and Q&As after the films were shown, encouraged the audience to engage with both the films and each other. My entire festival experience has motivated me to delve back into the depths of archive cinema and hopefully find more hidden cinematic gems.
I didn't know what to expect when I saw that there was a BV Studio Tour, but it turned out to be one of the most interesting and inspiring parts of the festival. We were guided into a small workspace where archaic film equipment was all around us. Our guide showed us how film is loaded, developed and processed. Seeing an old 35mm film camera in operation and hearing the rhythmic ticking of the mechanics inside the camera were amazing. The whole tour made me even more eager to experiment with film myself in the future.
Watching Just Another Girl on the I.R.T and meeting the film's writer director Leslie Harris after the screening, was the highlight of the festival for me. There was an audible gasp in the room when it was revealed that Leslie had brought the only copy of the film on 35mm with her all the way from the USA. It made the experience feel extremely exclusive and almost magical. Despite the film being 25 years old, it is still relevant to today's audiences because it deals with universal themes such as adolescence and teen pregnancy. After the screening, Leslie Harris spoke about how difficult, yet rewarding the process of making the film was, I found her perseverance and continuous optimism that she would make the film extremely inspiring. I hope that she gets funding to make her second feature film because I know she has so many more incredible stories to tell.
Bhaji on the Beach is one of Gurinder Chadha's first feature films, made in 1993. I liked the fact that Chadha's films show an alternative side to British cinema, because they focus on what it is like being a minority ethnic in both a country and an industry that is overwhelmingly white. However, her ability to integrate comedy into her films softens the political blow, whilst adding pure cinematic joy. In the Q&A with Gurinder Chadha, she discussed how there is still a lack of BAME representation in film. 
Shola, 17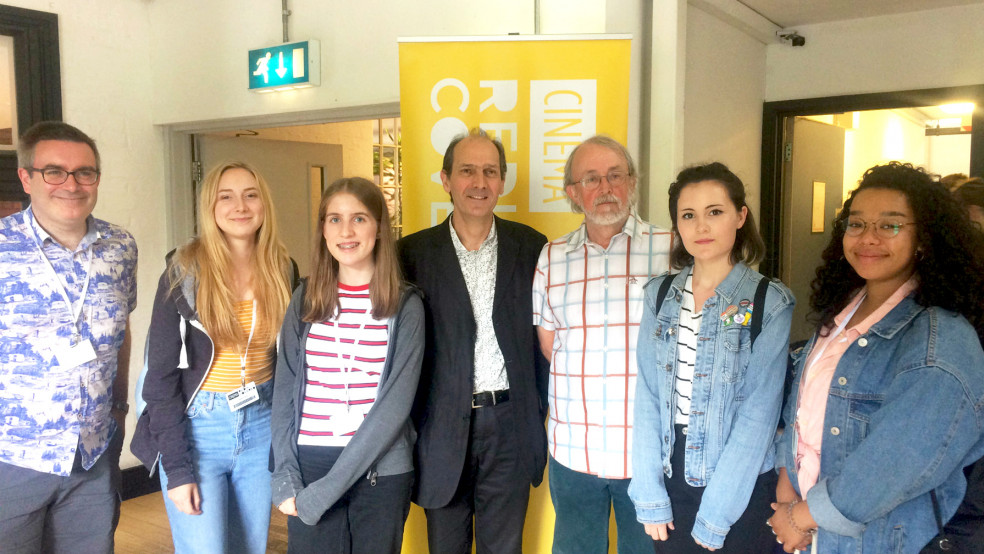 I really enjoyed having the opportunity to appreciate older films and hear about their history. I learned so much about the craft of filmmaking at a time where the technology available was completely different to what we use today. 
The first film I saw at Cinema Rediscovered was the 1947 comedy drama The Loves of Joanna Godden, directed by Charles Frend. The story (set in 1905) focuses on Joanna, played by Googie Withers, who has recently been bequeathed a farm by her father. Being a teenager from London, I initially thought that the pastoral setting and subject matter wouldn't appeal to me, but I found myself on the edge of my seat watching Joanna navigate her new life. The focus on the roles of women in the rural working environment was really interesting to watch, and film was made even more compelling by the music, scored by Vaughan Williams, one of my favourite composers. 
It was exciting to hear from the creators at Aardman, who spoke to us about their careers in animation and how they got to where they are today. Their very first short films and TV pieces were exclusively screened in their original 35mm format, and we were also shown side-by-side clips of the films before and after their restoration process. I found it inspiring that the Aardman weren't always animation giants, but started out the same way many independent creators do - with no budget and little recognition. I also loved hearing from Nulight, the restoration specialists, who also shared their experiences with Aardman. I'd never before been exposed to how restoring film works, and I didn't realise how much care and attention detail is needed! My favourite short was Confessions of a Foyer Girl - an odd little film with really unusual sound and visual design. The recorded conversations of real people were brought to life using claymation people, making for a strange but hilarious juxtaposition!
The final film I saw was Gurinder Chadha's 1993 film Bhaji on The Beach. The story, focused on an Asian Women's group from Birmingham who travel to Blackpool for a long sought after day out, is still surprisingly relevant 25 years after it's release. In a Skype Q&A after the screening, I asked Gurinder whether she believed there had been much change in on screen representations of people of colour, and she spoke about how important the film has been in representing particularly women of colour. It's clear to see how much she cares about showing the many dimensions of her characters, as each character in the film represented different issues faced in Anglo-Asian communities at the time, from interracial relationships to domestic violence and familial relationships. She goes even further in showing the cultural mix through the soundtrack - a fitting mix of 90's techno and Indian music. She also stylised parts of the film to look and feel like a Bollywood production, brilliantly paying homage to the genre!