To celebrate the recent cinema release of Elemental, we launched a brand-new learning resource. Elemental: Opposites React is a curriculum-linked learning sequence for pupils aged 5-11 which draws on the characters and story of Disney and Pixar's colourful new adventure.
As part of this resource, we ran an Elemental: Living in Harmony competition, asking young people to design a space that lets characters from the film - Ember (fire), Wade (water), Clod (earth) and Gale (air) - live together in harmony, all while thinking about what kinds of materials they might use to designthe room and how to make it a functional and fun space for the four elementalcharacters to live in.
Congratulations to Amber, aged 9, from William Levick Primary School in Dronfield, England, whose submission was the winner out of dozens of entries! Amber used materials including marble, mud, fire and water to build a bedroom for each of the elemental characters to live in safely - with a focus on fun furniture, such as flowerbeds for Clod (the earth element character) and a giant water slide for Wade (the water element character).
"It was really fun to design the room for the competition", said Amber. "I'm really happy about winning and I am excited about telling my mum, dad and brother. I was surprised to hear I had won, especially as I watched the film in the holiday and I thought it was great."
Amber has won a 'changing materials experiment kit' worth £135 for her whole class to enjoy, and continue their learning about the different elements and how they react to one another.
Check out Amber's winning entry below!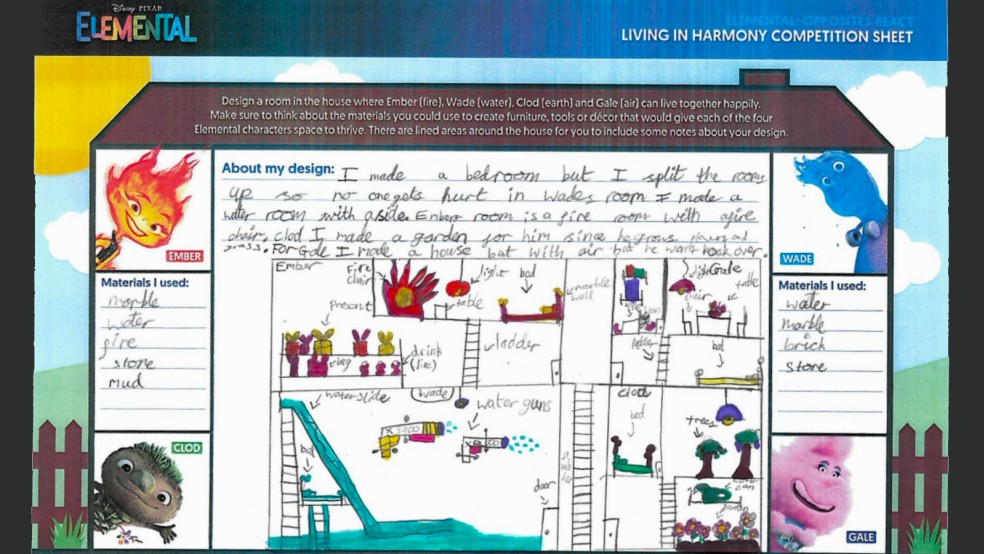 Download our Elemental: Opposites React resource
Elemental is an original feature film set in Element City, where fire, water, earth and air residents live together. The story introduces Ember, whose unlikely friendship with Wade challenges her beliefs about the world they live in, and how much they have in common. 
Our new learning sequence takes inspiration from the film to help teachers engage pupils aged 5-11 across science, PSHE and RSE.
Using the characters from the film, our resource introduces the properties of the elements and the way they interact with every day materials. Use our fun character cards to encourage young learners to reflect on the different states that elements can take, and the reactions that can occur when combining them, as well as to consider where elements are present in and around their home, and how different materials can help us to either make use of those elements - or protect us from them!
Download this free resource now to open up the world of the elements in your classroom.
Elemental at the Into Film Festival
Elemental is also showing as part of this year's Into Film Festival programme, giving you and your class the chance to see catch the film on the big screen for free. The Into Film Festival is the largest free youth film festival in the UK, and there are hundreds of special events and screenings available for you and your learners. Find out more about this year's Into Film Festival.