This International Women's Day (8 March), we co-hosted a very special in-person panel with BAFTA at Empire cinema in Haymarket, featuring celebrated screen industry figures Lashana Lynch, Lyttanya Shannon and Siân Fever. 
Hosted by Film Critic and Broadcaster Rhianna Dhillon, the event highlighted the importance of equal representation in the creative screen industry for hundreds of secondary students and it also coincided with National Careers Week (7-12 March). 
Lashana is an acclaimed actor from films such as No Time to Die and Captain Marvel, and is nominated for the 2022 BAFTA EE Rising Star award (head to the BAFTA website to vote for your pick). Meanwhile, Lyttanya is the BAFTA Breakthrough 2021 director behind Subnormal: A British Scandal, and Siân Fever is part of BAFTA Crew and has worked as a First Assistant and Previs Editor for titles such as The Crown and Wonder Woman.
Their discussion covered a range of crucial topics from how to connect with likeminded people in the industry to why genuine change has been so slow, and their wise words can be a great way of exploring both of these calendar dates with your students. Below, we've collected some of our favourite moments from the day and have split those into three key themes to make navigating the session as simple as possible; the ins and outs of the panelists' specific jobs, representation in the screen industries and their advice for young people.
Every route is a squiggly line that you don't see so for every yes there's 97 noes and those noes are the structure of your career - how strong can you be when getting through the noes in order for the yes to really mean something.

Lashana Lynch on how to deal with frequent rejection when getting into the industry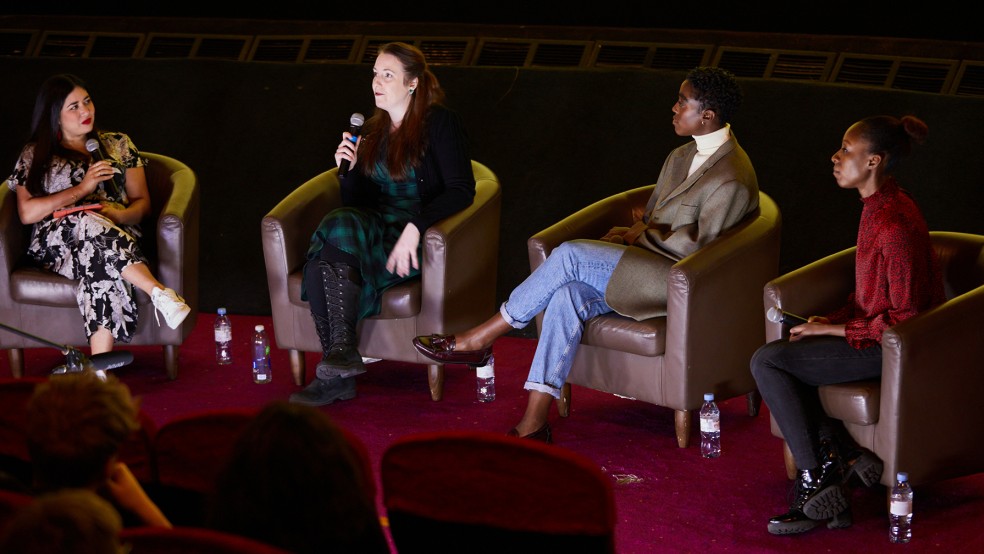 The ins and outs of their roles
Siân Fever on finding her niche as an editor;  "I thought I wanted to be a director and work on set...and I did all those things. Just through happenstance, I ended up falling into editing and it took me a while to wake up to the fact that if I tried at editing then maybe I could be good at it because at first it was just to pay bills whilst I had meetings about other projects. Editing has all my favourite things from being on set like pulling things together and solving problems, and I also really thrive in a room by myself. The only way I can explain it is that you pull a hood over your head and sit inside a puzzle or a game. That's what editing is, it's like filmmaking as a game".
Lyttanya Shannon on documentary filmmaking: "As a director in documentaries, you're the person that has to decide on the vision of the film. You're working on real life stories and you're the person that has to assemble or curate these stories. I don't want to say that the director is responsible for making the audience feel something because I never want to be that manipulative, but they're responsible for how the audience engage with the particular story."
Representation in the Screen Industries
Lyttanya Shannon on why industry change has been so slow: "In factual television, there was a recent survey and men are three times more likely to be directors or series directors. I've just become a series director and I've been working for 19 years. There are also more women in lower paid roles and then you also have the intersection of race or class. Directors UK recently did a survey that showed that there is just over 2% of Black and minority ethnic directors. So, I think the reason it's slow is because this industry has traditionally been relatively elitist and people employ people who remind them of themselves because human beings can be quite narcissistic and insular. However, the positive thing is that, regardless of what your background is or where you come from, we all bring something individual to the table. What's really encouraging about this generation is that you can take things into your control. You can go out and make a brilliant web series and upload it yourself to YouTube then commissioners will come to you. I know people that that has happened for."
Lashana Lynch on the same subject and how we can be part of that change: "When change happens, people naturally take it personally. They think that they are the problem and they are the one that the world is pointing a finger at when really, it's a collective problem and there are two sides to it. There are the people who don't really like change and want things to look like their small world looks, and then there are the people that are constantly trying to shoehorn what is a so called 'new age' idea. When those two types collide, there are so many necessary conversations that where do you start? But when I look at you all today, I actually think it starts from your upbringing, your environment and it starts from you understanding the person to your left who doesn't look like you".
Advice for young people
Siân Fever on networking and finding likeminded people in the industry: "Think of your networking like a garden and all the connections you make are seeds that you're planting. It takes years to grow that. It took me ages to get into my job because I didn't know anyone so I took a really squiggly route...and the struggle to find people is very real. The person that I met at an event gave me my first assistant editing role seven years later so that's the kind of long game you can play. Make connections with people that you like; so if you see something where you really like how it's edited or the camerawork, reach out to those people. Everyone is quite contactable behind the scenes and keep doing that because we really want to hear from you. We are always looking for great entry level people so advocate for yourself and don't ever think that people don't want to hear from you. Start building this web of peers and people you want to work with and slowly, a community will start to build around you".
Lashana Lynch on surrounding yourself with the right people and dealing with rejection : "I tried to think as big as possible and tried to surround myself with people that also thought as big as me, which is really hard to find but in my life, it started with my friends. If I wasn't surrounded by the right friends then I might have become disheartened from all the noes that happened for a really long time. Every route is a squiggly line that you don't see so for every yes there's 97 noes and those noes are the structure of your career - how strong can you be when getting through the noes in order for the yes to really mean something. Follow the path and there's signs everywhere, from a gut feeling to hearing something on TV to seeing something on social media and going to a panel. You always learn something and start asking questions then go from there really".
For more material on International Women's Day, head to our recent article that presented the best films on Into Film+ and youth-made shorts that can be used to explore this subject's many elements.
We have a huge amount of careers material, and we are partnering with BAFTA on even more events across the UK this National Careers Week in order to shine a light on the vast range of screen industry careers available for young people. Find out more about this on our National Careers Week article and head to our Careers Hub to watch more sessions with industry figures.