Director Wanuri Kahiu spoke to our reporter Ava on the red carpet at the premiere of her new film Rafiki - the BFI Flare Special Presentation at the 62nd London Film Festival. 
The story follows two young women in Nairobi, Kenya, and the resistance they face as lovers in a country where same sex relationships are still punishable by law.
Kahiu spoke about the genesis of the story, as well as the new wave of filmmaking known as 'Afro Bubblegum' that she and her peers have created to push back against the tired narrative of struggle and strife that is attributed to films about people of colour and/or set in Africa.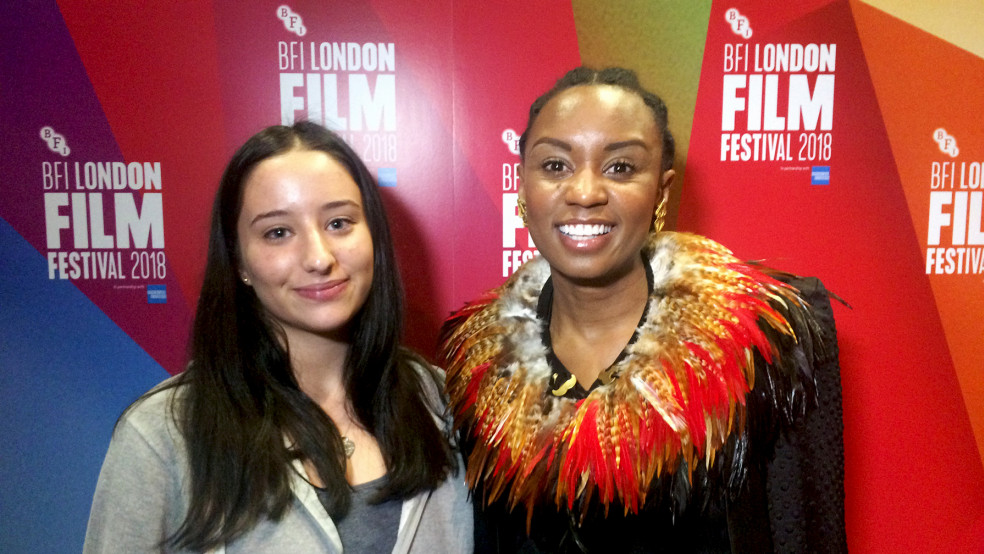 For further examples of LGBT history on screen, explore our film list below for ideas on how to raise discussion topics in your classroom.
Ava reviews Rafiki
Rafiki was enlightening, inspiring, and most of all authentic. 
Director Wanuri Kahiu creates a powerful raw narrative that follows the forbidden love story between two Kenyan girls, Ziki and Kena. They are shown exploring and discovering their sexuality in spite of society's repression of their relationship. Kahiu's exploration of the LGBT community has arisen some controversy since gay sex remains a punishable offence in Kenya. In fact, the film was banned in the name of it 'promot[ing] lesbianism in Kenya contrary to the law'. Nevertheless, Kahiu's fearlessness in telling this story and passion to promote this, what many believe to be, basic human right drew me in and made me appreciate the sexual freedom of the western world while informing me about the repression of homosexuality in other parts of the world. 
The story is told through the eyes of Kena. Throughout the film I became more and more connected with her. Kena's fractured family and therefore lack of familial support is shown through her having to act as a sort of intermediary for her separated parents which straight away allowed me to sympathise with her character. She is depicted as a brave yet lost teenage girl as she perseveres to attain her desires whether they be romantic or professional, but is aware of the suppressive reality forced upon her by society that she must face. 
One of my favourite aspects of the film is Ziki's hair. The interlacing of lilac colours as well as sky blues, paled turquoises, blushes, pink lemonades and corals into her dreadlocks not only helps to portray her vivaciousness and individuality but also the vibrant and stimulative Kenyan culture. This complements the film's visually appealing bright colour palette. The neon colours bring the Kenyan setting to life and again highlight the vivid and rich culture. 
Overall, I loved Rafiki. The conventional Kenyan sociopolitical foundations of the film enable Kahiu to express her point of defying the 'norm' and embracing sexual liberation due to the antithetical relationship between society's beliefs and Kena and Ziki's relationship. This overall message left me with an overwhelming sense of respect for the director as well as the lesson that love cannot be confined or defined it is boundless and immeasurable.