We're is very proud to announce that we've teamed up with annual film festival Africa in Motion (AiM) to create an educational resource, along with hosting a series of CPD events, to support teachers in evaluating their practices when it comes to diversity in the curriculum.
Download our Animating Africa resource, including teachers notes and PowerPoint presentation, below:
Africa in Motion (AiM) takes place every October in Edinburgh and Glasgow and aims to bring the best of African cinema to Scotland. It is one of the leading African film platforms and helps to highlight industry professionals from continent, allowing them to share their stories through the medium of film. As a Scottish organisation, AiM film festival is devoted to the Year of Young People 2018 and uses this nationwide context to further its focus on children and young people's media literacy. Film is the pre-eminent medium for children and young people to confront complex issues in their socio-cultural surroundings, and AiM believes in film as an audio-visual medium that can directly educate the young on diversity in the UK.
Our collaboration with Into Film has expanded from an initial collaboration to a longer-term partnership that has resulted in an entirely new teaching resource developed by Into Film, based on our knowledge and experience, on African Animation.

Africa in Motion (AiM)
Launched at the end October, our Animating Africa resource showcases the number of talented African animators from across the continent whilst also allowing young people to learn about various animation styles, from stop motion animation shorts through to computer-generated feature films. The resource has already proven to be an enormous success and has opened the minds of many young learners.
It's good to understand the culture of places outside of Britain and the US, which is mostly what we see in the cinema.

David (13), on our Animating Africa resource
Kerry Abercrombie from Larbert High School in Stenhousemuir, Scotland, has been using our Animating Africa resource in her literacy class, which has given the students not only an insight into African cinema but allowed a space to explore topical issues such as stereotyping and cultural identity. Below, she elaborates on her experience with this great resource.
I have been using the Animating Africa resources with an S2 class who I see once a week for a literacy focus. The decision to liven up their literacy lessons with some of the activities from this pack was an easy one as one quick flick through the teacher resources immediately gave me loads of ideas. The resource itself is practical and easy to use; one presentation with all the required slides is supported by the teacher resource pack, which includes extra guidance and printable sheets to scaffold the activities. It also helps that they are deliciously African in their aesthetic and really help to set the tone for the journey of culture the learners are about to embark upon
We chose to start at the beginning with the short film and listening activity about an African film production company. This immediately challenged the pupil's perceptions of Africa as they hadn't ever really considered African filmmaking or African film as their own experience of film is so dominated by Hollywood. This was only the beginning. As we moved on to the film pitch activity they were asked to research an African country and consider how they would translate a representation of that country to the screen in a way that would reflect the specific cultures, histories and intricacies unique to that nation. This raised a lot of interesting discussion points about issues like stereotyping, whitewashing in Hollywood and the different ways audiences might react to what is presented on screen.
Overall the pupils have thoroughly enjoyed the activities and have developed so many essential skills through engagement in the tasks, from the basic practice of literacy staples reading, writing, listening and talking through to critical thinking, teamwork and considering their place in the world as global citizens. I would highly recommend the resource for use in both primary and secondary. I would also thoroughly recommend the free CPD that supports the resource for anyone who is looking to get practical tips and build confidence in facilitating and supporting young people creating animation in the classroom.
The session, in partnership with Africa in Motion, is a hands-on experience that lets you try out various methods of creating animation, which can easily be replicated in the classroom with minimal expense or equipment. Also, if, like me, you are interested in broadening the experience of cinema for your young people Into Film and Africa in Motion are screening Supa Modo, a Kenyan film which follows a young girl's dream of becoming a superhero, as part of the Into Film Festival. We'll see you there!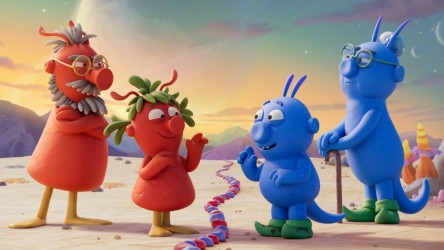 The Smeds & The Smoos & Superworm Double Bill
Cineworld Glasgow Silverburn
The Smeds and the Smoos (2022, 25 mins) On a faraway planet with glossy purple trees, two colourful alien families called the Smeds and the
Remaining places150
DateThu 16 Nov
Time10:00 - 11:05