Reporter Archie lucked out when he got to interview four of the stars of Solo: A Star Wars Story, the latest movie in the long-running sci-fi franchise. Emilia Clarke, Alden Ehrenreich, Thandie Newton and Woody Harrelson reveal who the most fun person on set was, and who has the most Star Wars knowledge of them all...
Solo is an origin story, where a younger incarnation of legendary space cowboy Han Solo, played here by Alden Ehrenreich, meets both his furry co-pilot Chewbacca and the notorious gambler Lando Calrissian for the first time, in a journey that will set the course of Star Wars history in motion.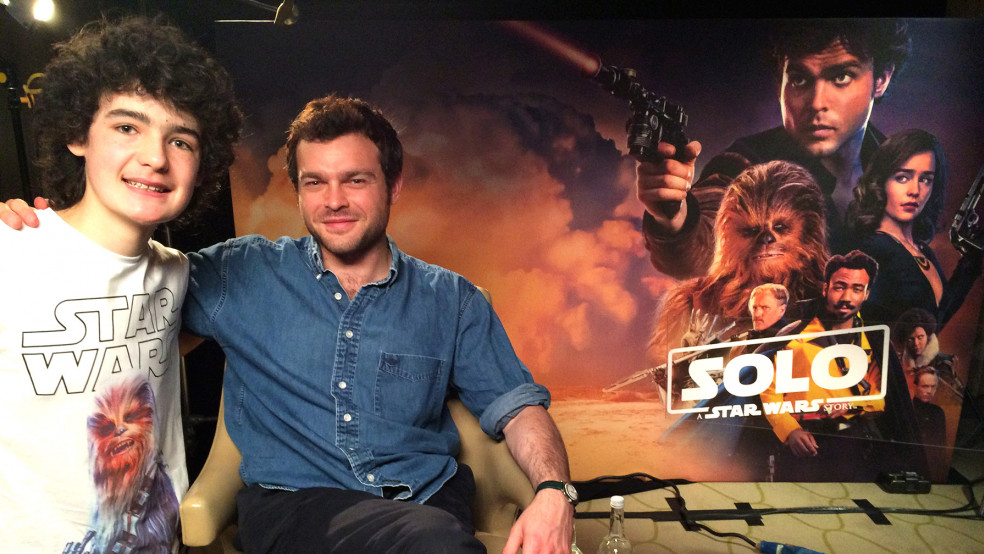 Archie reviews Solo: A Star Wars Story
Solo: A Star Wars Story is an enthralling, fast-paced and hilarious adventure that offered an entertaining ride and new incarnations of classic characters. The returning characters are spectacular and the casting is on point.
Alden Ehrenreich is a very good Han; he effectively captures the wit and charisma of the Scruffy Looking Nerf Herder. Chewbacca is as excellent as ever, I was very happy that he got a more prominent role in the film as he was sadly side-lined in Star Wars: The Last Jedi. His relationship with Han provided some of the best scenes in the movie!
Lando Calrissian, portrayed by Donald Glover, is great. He is definitely my favourite non-Wookie character in the movie; he's cool, suave and has the best capes I've ever seen! The action set pieces in Solo are outstanding; each sequence is intense and spectacularly well-shot, the highlight being an epic and creative train heist at the end of Act 1. The costumes and sets are fantastic; the movie has the spirit of Star Wars and encapsulates the gritty, lived-in style of the Original Trilogy.