We recently launched a brand new learning resource to celebrate the release of Disney's Strange World. Our We Are All Explorers resource is a curriculum-linked learning sequence for ages 7-11 which draws on the fantastical settings, characters and story of the action-packed animated adventure.
As part of this resource, we ran a Strange Creatures competition, which asked young people to get creative and come up with a creature that future explorers might spot when visiting the strange world of the film, drawing a picture and labelling any key attributes that help it survive in its fantastical environment.
Congratulations to Pia, aged 11, from St Michael's Catholic Primary School in Ashford, Surrey, whose creature - an immortal pink blob named Snoopabob - was the overall winner. As well as a charming design, Pia's 'Snoopabob' is impressive given the level of thought that's gone into the creature's attributes. As annotated by Pia, the Snoopabob has giant eyes to improve its vision, and glow-in-the-dark spots that allow it to light its way to an underground sleeping place. It even wears blue grass and mushrooms on its head to allow for camouflage with the landscape of its strange, colourful world.
"It was very interesting competing for this", explains Pia. "I was using lots of different colours, and working on blending them to make it fit with the theme of Strange World. It was shocking when I found out that I won. I am questioning if this is even real!"
Pia has won a special Strange World-themed animation workshop, as well as three animation kits for her entire class. Check out Pia's winning entry and meet the Snoopabob below.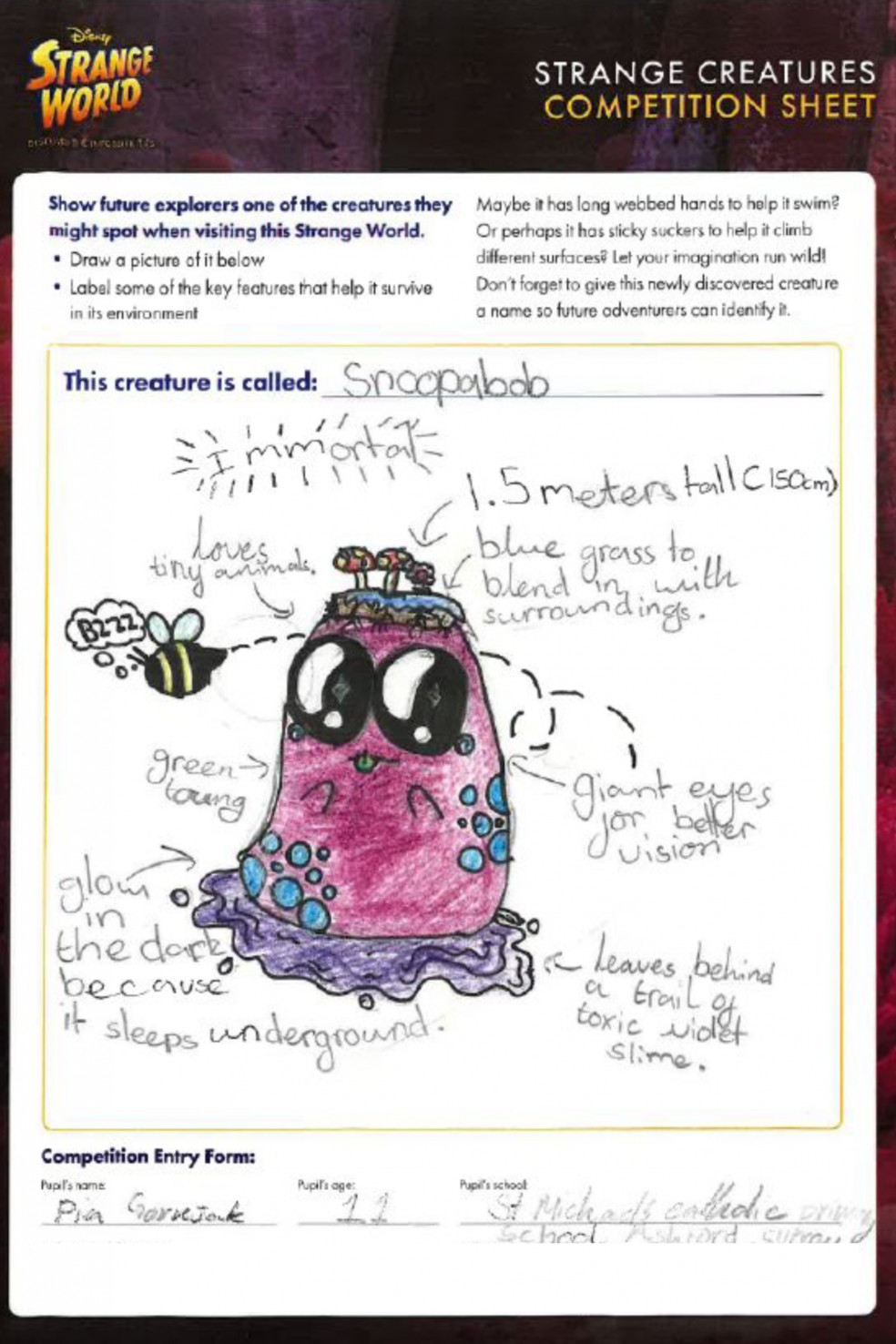 Download our Disney's Strange World: We Are All Explorers resource
Disney's original action-packed adventure Strange World introduces a legendary family of explorers, the Clades, as they attempt to navigate an uncharted, treacherous land inhabited by surreal creatures.
Our new resource will help teachers engage Key Stage 1 & 2 learners across core curriculum subjects including English/literacy, geography, art & design and science.
Pupils will become explorers of the Strange World by imagining what they might sense and experience. They will adventure through the fantastical world of the film and create their own maps, guides and descriptive diary entries to capture how the Clades live.
Easy-to-use lesson plans and student-facing PowerPoints and activity sheets will guide your students to explore the world inside the film and inspire their creativity.