Setting out to uncover the magic behind new family fantasy The House With A Clock In Its Walls, Into Film reporter Ben P sat down with director Eli Roth and actor Owen Vaccaro to discuss how they brought their film adaptation of John Bellairs' 1973 novel to life.
After losing his parents, the film sees young Lewis Barnavelt sent to Michigan to live with his uncle. Soon discovering his uncle is a warlock, Lewis enters a world of magic and sorcery, and when his new home is threatened by an evil wizard, the race is on to find the magical 'Doomsday' clock before the forces of evil get hold of it and threaten to end the world.
In the video above, young actor Owen Vaccaro discuss how he was able to make the magic happen on set, and noted horror director Eli Roth reveals how he brought the tropes and genre conventions of horror movies to a children's film.
Into Film Festival
The House with a Clock in its Walls can be seen in cinemas across the UK from 21 September.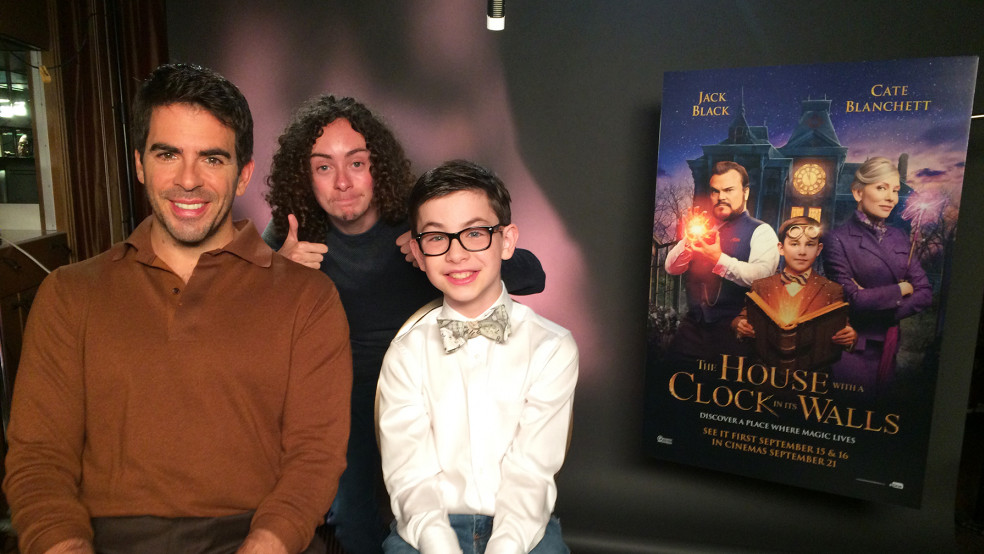 Ben reviews The House with a Clock in its Walls
The House with a Clock in its Walls follows the story of Lewis, a ten year old orphan with nowhere to live but an eerie old house with his mysterious Uncle Jonathan and their doubly mysterious neighbour, Miss Zimmerman. From evil pumpkins in the garden to creepy dolls in the dark, this film takes you on a supernatural journey unlike any other.
The movie balances comedy and horror flawlessly. The back-and-forth between Uncle Jonathan and Miss Zimmerman is guaranteed to get a good laugh, all until their darker, spookier past is unveiled. Thanks to this fusion of funny and freaky, the movie can be seen as a perfect introduction to the horror genre especially for the younger audience! 
As well as revealing a world of warlocks and witches, the story touches on the difficulty Lewis (played by young actor Owen Vaccaro) faces with the recent passing of his parents and his new school life he's more interested in his dictionaries than making friends. This all changes when he realises that his life is not as mundane as he thought, and he longs to impress his peers with his knowledge of the supernatural.
Overall, House with a Clock is without doubt a family film; children and parents alike will certainly enjoy it as both a fun and spooky experience. If you're a fan of horror but are looking for something a little more light-hearted, this is the perfect film for you.