Chloë Grace Moretz, star of new gay-conversion drama The Miseducation of Cameron Post, and the film's writer-director Desiree Akhavan sat down with reporter Amina to talk about the film, letting loose, and finding your own truth.
The Miseducation of Cameron Post is a screen adaptation of the 2012 young adult novel (of the same name) written by Emily M. Danforth. Set in 1993, the story follows Cameron after she gets caught in the backseat of a car with the prom queen. Sent away to a remote 'treatment centre' called God's Promise, she is subjected to questionable gay conversion therapies. Whilst there, Cameron bonds with some of the fellow residents as they go through the motions of the camp's questionable practices while waiting to be released.  
In the video above, you watch as Amina spoke to Akhavan and Grace Moretz about pivotal moments in the film, including a notable dance sequence, and about the importance and power of community.
The Miseducation of Cameron Post at the Into Film Festival
The Miseducation of Cameron Post is showing as part of our Year of the Woman strand at this year's Into Film Festival. If you're in Birmingham, Bristol or Newbury, you can book to join us at the Festival and see the film for free. Hurry though - places are sure to fill up quickly!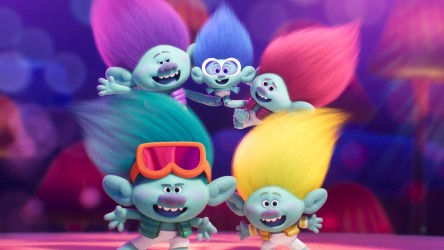 Trolls Band Together
Vue Rhyl
After a long time pining for each other, trolls Poppy and Branch are finally a couple and are enjoying spending more time together than ever
Remaining places22
DateWed 08 Nov
Time10:00 - 11:45
The Miseducation of Cameron Post can be seen in cinemas across the UK from 7 September. 
Amina reviews The Miseducation of Cameron Post
With lots of LGBT films coming out recently with so much variety, this film really was able to stand out to me because it portrays the true story of conversion therapy which has not really been represented in film before. Its shocking to see the mistreatment of young gay teens, and how impactful it is to see that story come alive through Cameron, played by Chloe Grace Mortez. Her depiction of the character is very relatable to the very core experiences of being a teen. Wanting acceptance, then rebelling, feeling like an outcast and first loves - if your lucky. You end up connecting with her struggle no matter your sexual orientation.
That universal feel is definitely felt through the unsurprisingly, amazing soundtrack with the late nineties hits by 4 Non-Blondes, you can't help but sing along. The soundtrack and subtle humour at times I think were there to not battle but complement this gripping drama. In the film, fun is supposed to be the enemy and the idea that homosexuality doesn't exist its sin that exists. 
Religion, friendship and love play a huge role, surrounding the entire film. You can see this sense of community appear as a friendship between Cameron, Jane and Adam start to blossom which ends up becoming a very core value of this film. Friendship and trust, having someone there you can always rely on and feel safe around brings the film closer to home for everyone. This relatable, raw and gripping film is an impressive addition to the movement we are seeing in the representation of LGBT characters on film.