On the evening of 7 May 1945, the end of World War II was officially announced and the following day declared a national holiday - Victory in Europe Day, 8 May 1945. Now, to mark the 75th anniversary of this monumental day, we've pulled together a collection of resources, articles and films from ourselves and our archive partners from across the UK.
8 May 1945 signalled the end to nearly six years of war. A war that had destroyed homes and cities, bringing immense suffering to entire countries. This was a day where the sound of air raid sirens was replaced with the echoes of singing through the cities, towns and villages of the UK. A feeling of euphoria and celebration captured the hearts of our local communities, as millions rejoiced with them throughout the world - whilst remembering those who were still in conflict.
With that in mind, VE Day celebrations are a perfect platform to explore archive film and especially local history. At Into Film we're committed to championing all forms of film and are excited to encourage educators and young people to learn more about the fascinating world of archive films and film archives through the many resources below.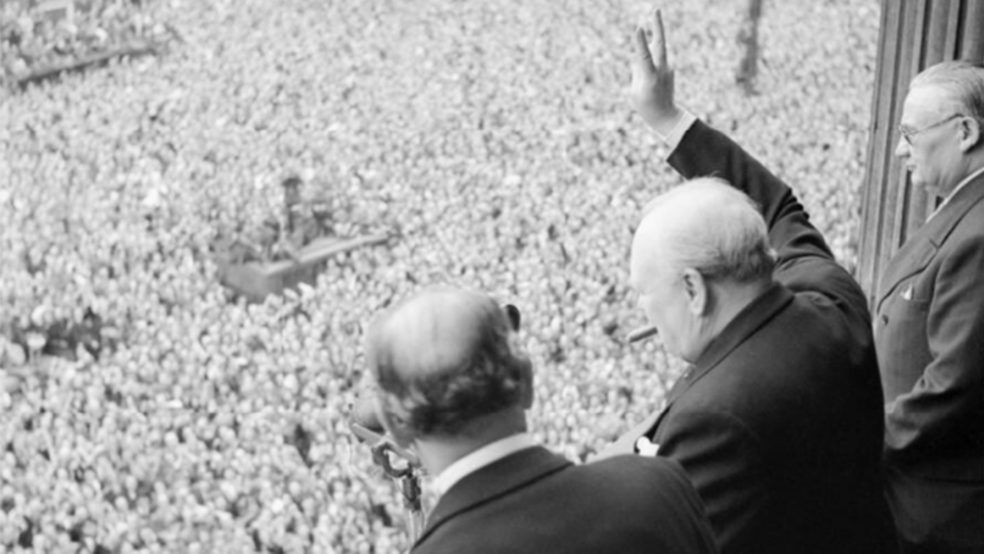 Into Film Resources, Insight and Film Guides
Britain on Film Primary/Secondary Film Guides
These film guides look at Britain on Film, an extraordinary digital archive of British life across the last 120 years, from home movies to feature films. This guide is useful for exploring archive film connecting to topics including History and Geography in addition to highlighting themes surrounding urban and rural communities and historical periods including World War Two.
Film as a catalyst for teaching History
Back in 2017 Daryn Simon - Senior Lecturer in Education at The University of Chester - wrote this great article on how film can be a powerful tool for helping pupils to develop their knowledge, understanding and, more importantly, their historical and critical thinking skills.
Make Film Greatest Generation
This resource provides lesson and activity ideas to engage learners with archive film and support children and young people to make their own documentary films.
National Partners' VE Day Resources
Imperial War Museums (IWM)
IWM will commemorate 75 years since the end of the Second World War in Europe, sharing the personal stories of people who stood together during a time of national crisis and their reflections once the fighting had stopped. You can discover a whole host of resources, films and information on VE Day on the Victory 75 section of their website. You can also check out a compilation of footage from VE Day that they have curated.
BFI
The British Film Institute (BFI) are publishing a special collection of films from BFI National Archive and partner archives around UK this Thursday to mark VE Day.
Archive Partners' VE Day Resources
East Anglian Film Archive (EAFA)
The East Anglian Film Archive commemorates the 75th Anniversary of VE Day with a Short Film Compilation
London's Screen Archives (LSA)
LSA are presenting, primarily through the lens of amateur filmmakers, London during this brief but ecstatic time. Showing street parties, parades, and thanksgiving services and the immense joy and relief felt by Londoners, but also a deep respect for the ultimate sacrifice made by so many men and women. 
Media Archive for Central England at the University of Lincoln (MACE)
MACE have a number of archive films in their collection focused on VE Day but we've picked out this lovely amateur film shot at Littleover in Derby showing VE Day celebrations, including a children's party.
Yorkshire Film Archive (YFA) / North East Film Archive (NEFA)
Yorkshire film Archive put together this short compilation filmed across the region during the celebratory days in 1945.
North West Film Archive at Manchester Metropolitan Museum (NWFA)
The NWFA has compiled footage of VE Day 1945 featuring footage provided by Elworth Church of England School, Rochdale MBC and Salford City Council. Check it out below:
Northern Ireland Screen Digital Film Archive (DFA)
DFA have a host of archive films depicting Northern Ireland during the 1940s and have identified 'A Letter From Ulster' which tells the story of two brothers - Don and Willy Carver - American G.I.'s who are told by their Colonel to write a 10-page letter home.
National Library of Scotland Moving Image Archive
The Moving Image Archive have identified this fantastic clip 'VE Day celebrations in Dumbarton, 1945' showing celebrations in Dumbarton from May 1945.
Screen Archive South East (SASE)
'War and Peace' is an edited film made solely using wartime footage from the SASE collection and produced by Screen Archive South East to mark the 75th Anniversary of Victory in Europe. 
The Box has shared four fantastic film clips showing Plymouth during the war years, offering a glimpse into the city's past. You can also see archive photos of VE Day street parties in 1945. 
The National Screen and Sound Archive of Wales
This beautifully presented production from The Newport and District Amateur Film Society gives a real flavour of city celebrations on Victory in Europe Day.
Wessex Film and Sound Archive (WFSA)
WFSA have a special online event called 'This is Your Victory' on Friday 8 May at 11am. This will be a film screening with a live introduction and online exhibition.
For even more archive related activity from us, you can check out our best resources, articles and previous events from across the UK on the Into Archive Film: Past Present Future theme page.