One of the main things that we are missing during lockdown is the cinema experience - the joy of watching an anticipated release (or an older classic) in a communal setting is truly second to none.
Whilst a return to cinemas may seem like a distant prospect at the moment, there's still pleasure to be found in remembering what makes them so special. Recent examples include Empire's brilliant feature on people's favourite film moments experienced as part of an audience, the just launched British Independent Film Awards (BIFA) podcast series, This is My Cinema and our own collection of articles, Cinemas that Made Me, which celebrated independent venues and exhibitors from across the UK.
Now, we're excited to pass the spotlight to our Youth Advisory Council (YAC) members who recently presented a deep dive into the history of and their relationship to their local cinema; an activity that can easily be recreated in your virtual classroom or Into Film Club. Begin with the fascinating video presentation at the top from James (14) on The Hippodrome in Bo'ness, Scotland before checking out some written accounts and presentations below.
Mimi (11) - The New Century Cinema in Kent, England
Designed by architect F.C. Mitchell for the A.E. Abrahams chain, the cinema was then taken over by the Oscar Deutsch chain of Odeon. Opening in January 1937, the first film was Little Lord Fauntleroy. This Odeon was sold to Classic Cinemas in December 1967 and was re-named Vogue Cinema. It closed in January 1968 with a children's matinee performance, the main feature being My Dog Rusty. The building was converted into a Vogue Bingo Club.
In January 1971, a 111-seat Classic Cinema opened in what had formerly been the restaurant and in 1972, a 300-seat screen opened in the former circle. The stalls area remained in use as the Mecca Bingo Club. After many years, the New Century Cinema is now privately owned by a family and there's no bingo club in sight! Meanwhile, it recently installed state of the art 2k digital projectors and new bigger screens.
As Sittingbourne's only dedicated cinema, the future looks great.

Youth Advisory Council member, Mimi (11)
I love my local cinema for so many reasons. I love visiting with my family as it is a great place to share emotions as well as a sneaky bag of popcorn. The sofas make it feel as if you are at home and the cinema is always tidy and clean, ready for the next viewing. The old style of building is great, especially the exterior design. My absolute favourite part of the cinema is the old popcorn machine!
Hedydd (17) - Galeri in Caernarfon, Wales
Galeri cost 7.5 million pounds and was built by Cwmni Tref Caernerfon Cyf. Galeri was designed by Edinburgh-based Richard Murfy architects and the funding for its construction was provided by the Arts Council for Wales, European Union, Gwynedd Council and other bodies.
Galeri is very much an independent venue since it's the only Galeri standing in the world! It was opened as an independent in 2005 and has been a great way for people to get together, have fun, and experience new things ever since.
The people of Caernarfon really needed a good safe space for all the locals!

Youth Advisory Council member, Hedydd (17)
Seth (11) - Zeffirellis in Ambleside, England
Zeffirelis is a small independent cinema group in the heart of the Lake District. It was founded by local businessman Derek Hook forty years ago in 1980 and is spilt over three buildings. The cinema was named after the Italian director Franco Zeffirelli who was famous for films like Romeo and Juliet (1968) and Tea with Mussolini (1999).
The main building, 'Zeffirellis' has two screens where they show new Hollywood blockbusters but also the latest arthouse releases. Alongside this is a jazz bar for customers to enjoy live music. 'Zeffirellis' also occasionally hosts special events like the Ambleside Mountain Festival.
'Zeffirellis by the Park' is the second building of the three. Like the main building, it has two screens that show all types of films. 'Fellinis' is unlike the other two cinemas and does not show mainstream blockbusters. Instead, it focuses on showing old films, arthouse films and on screening live operas, ballets and plays from around Britain.
Eoin (16) - Odeon in Belfast, Northern Ireland
I have many cinemas located near to me as I live near the city centre. These include Odyssey, Movie House and Omniplex but I will be focusing on my local Odeon.
The first Odeon cinema was created by Oscar Deutsch in 1928 in Staffordshire and was initiallly called 'Picture House'. The first cinema to use the Odeon brand name was in Birmingham in 1930. It is called Odeon because of Deutsch's motto, 'Oscar Deutsch Entertains Our Nation'. Odeon was bought and merged with United Cinemas International in 2004 to produce the largest cinema chain in Europe.
Odeon has lots of career and volunteer opportunities and has created a separate website called Odeon Careers. They also have an apprenticeship scheme, Bright Lights, which includes four different types of apprenticeships within it.
Trey-Wayne (11) - Vue in Dagenham, England
The Vue cinema in Dagenham is a British multi-national cinema. It used to be called SBC International cinemas. There are about 91 cinemas in the UK with 870 screens. Each cinema is run by a team consisting of one general manager assisted by two-five other members of the management team. I went on a behind-the-scenes tour with the manager and with my fellow Into Film Club members.
Check out more of the Youth Advisory Council's presentations in their original powerpoint form below: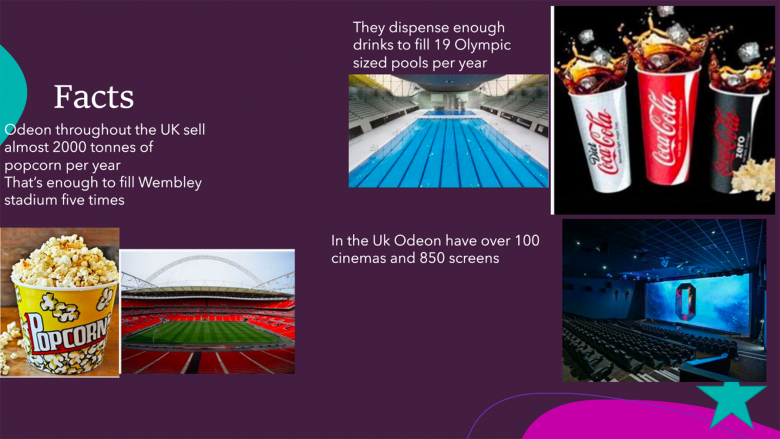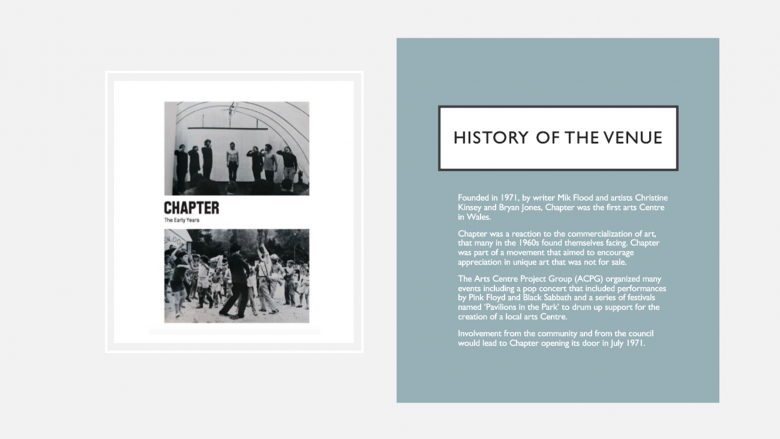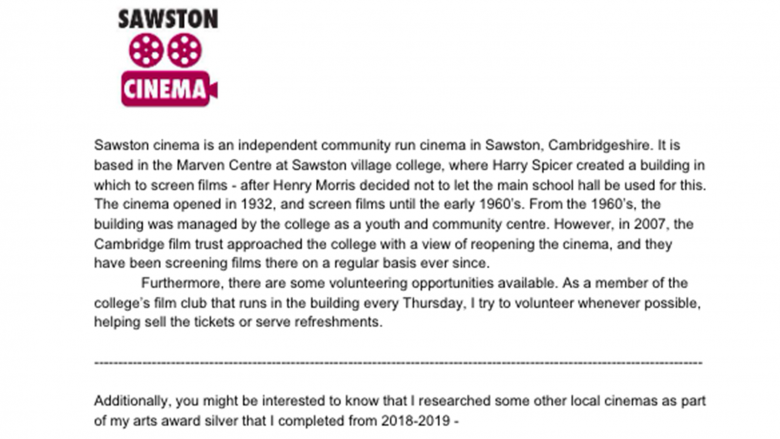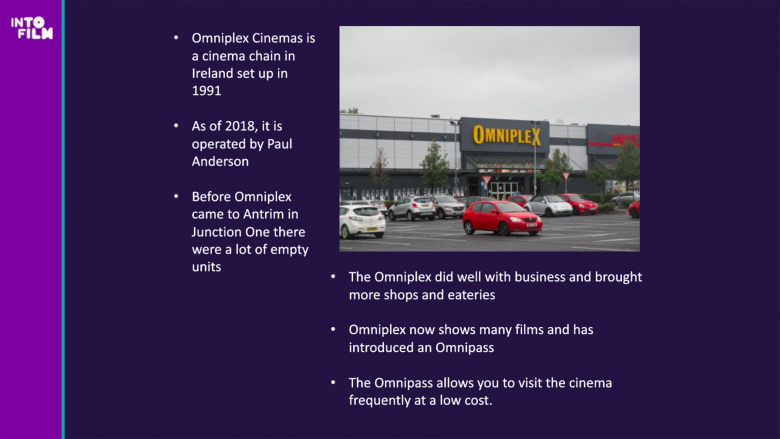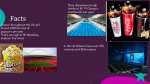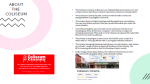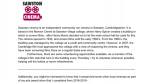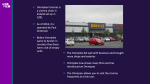 Applications for our Youth Advisory Council will reopen in the Spring and you can email yac@intofilm.org to be kept in the loop on any further updates.
All the facts and figures mentioned have been researched by Youth Advisory Council members and Into Film cannot take responsibility for any inaccuracies that may be mentioned.