Actress and singer Zendaya, who voices the character of Meechee in new animation Smallfoot, talks to our reporter Rebecca about the dangers of ignorance, the impact of social media and being out of your comfort zone. 
When a bright young Yeti discovers a human, or 'smallfoot' as they are known in the Yeti community, he becomes famous and finally has a chance at being with the girl of his dreams. But his discovery throws the simple community into uproar when they're faced with what else might exist outside of their snowy village.
Smallfoot is in cinemas across the UK from 5 October 2018.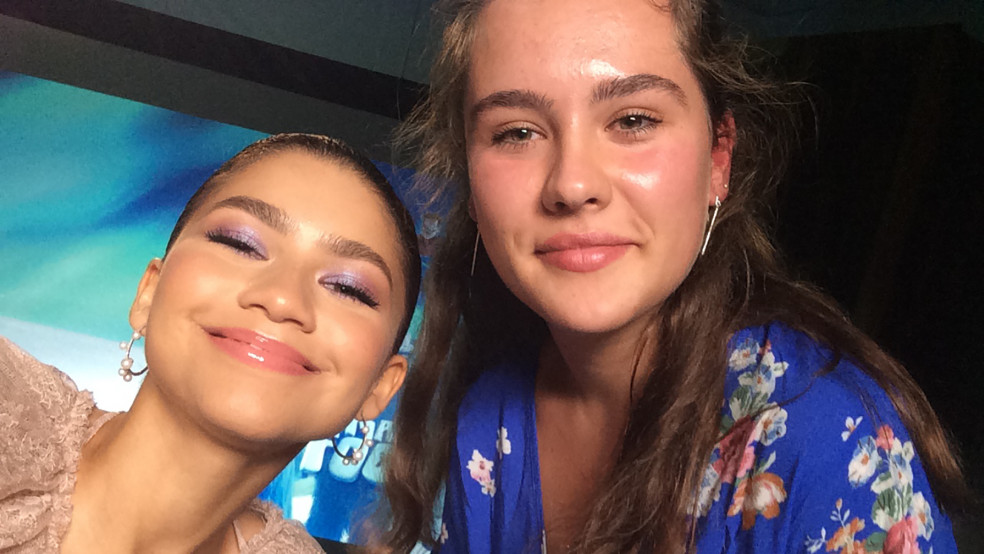 Rebecca reviews Smallfoot
Smallfoot is a lively, very enjoyable family film with a cast of 'bignames', a unique soundtrack and a charming moral. Directed by Karey Kirkpatrick and voiced by actors such as Channing Tatum, Zendaya and Danny DeVito, the film has character and is geared towards children but could be enjoyed by parents or others of an older age. I thought the whole idea of the traditional story turned around wasn't cliché and was really sweet. Having the yetis introduced as the 'goodies' and the ones who have to protect themselves from the humans made for an interesting story.
Very quickly into the film there were already a few jokes cracked and I was pleasantly surprised to see that the comedy was kept up throughout the hour and 36 minutes of the film and didn't disappear after the first 15 minutes as it does in some children's animations. I think the relatability of the characters helped that, particularly the 'smallfoot', Percy, voiced by James Corden who's highly expressive and erratic 'Englishness' stood out from the rest of the characters and was one of the most comedic personalities in the film.
I thought the film was well-paced and the dialogue was mature enough to make the film easy to listen to for adults, but also simple enough for children to understand, although in my opinion as long as the visuals tell the story well enough, a lot of younger children wouldn't be listening to the dialogue anyway. The comedy was well-balanced, so that it would be universally funny, which is certainly hard to do.
As in most animated films nowadays the animation is so detailed and the single hairs can be seen on the yeti's fur and the whole of every scene is filled with detail, so even small houses are carefully drawn are in the back of the picture. I really liked the soundtrack, a couple of the songs were a bit average and I felt I'd heard before in other animated films, but 'Wonderful Life' sung by Zendaya and a slow-paced rap song with a name that hasn't been released yet were both catchy and enjoyable. Although the rap song stood out the most as being very different yet effective for setting a dramatic scene.
I like the strong morals of the film because the yeti village to start with is full of rules and always making sure questions are 'pushed down.' However as the film goes on and discoveries are made, the old rules, which are enforced by way of ancient stones, are questioned by a few of the villagers and some really interesting ideas are discussed. To start with, finding out how the hard truth is always better than being content with what you already believe and not questioning it any further. I'll leave you to watch the film to find out which conclusion the characters came to.
Another idea was about humans and the way we treat animals and new species and the unknown. I felt it was quite an eye-opening idea to say that it's human nature to be violent and 'savage' and to want to destroy things we don't understand. 'They don't care about anything but themselves.' (Referring to humans) .This stood out for me a lot, and I think it's good that there's a reminder to be respectful and look after animals and wildlife.
It is a children's film but a small mention of how some people don't respect animals I think is beneficial and gives the adults especially something to think about.
In conclusion, I found the film easy to watch and I think it's a great family movie with a good moral and I believe a lot of children and parents would thoroughly enjoy it.