ScreenWorks, funded by the Department for Communities through Northern Ireland Screen and delivered by Into Film, is an exciting scheme to help young people in Northern Ireland aged 14-19 learn more about careers in the screen industries through hands-on work experience opportunities.

Placements with ScreenWorks offer young people unparalleled access to industry professionals on 3-5 day work placement across all five screen sectors - Film, Television, Animation, Gaming and Visual Effects.
Programmes take place throughout the academic year, and will include:
Costume Design
Production Design
Storyboarding & Concept Art
Prosthetics
Make-Up
Visual and special effects
Production Accountancy
Animation
Game Design
Camera Operating
and much more!
Young people can apply to their preferred placement by completing an application form and emailing it to screenworks@intofilm.org. Participants are encouraged to apply directly, rather than through a teacher or parent. 
PLEASE NOTE: All applicants will be notified of the status of their application. For any queries, please contact the ScreenWorks Delivery Coordinator on 07936 361786. Note: Northern Ireland Screen can not advise on the status of applications. 
All ScreenWorks programmes are free, and a travel bursary is available to assist young people in travelling from different cities and towns.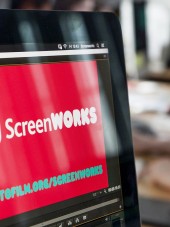 ScreenWorks - VFX
with DoubleJump Studios
Placement Details: ScreenWorks: VFX (with Doublejump Studios)
Date: 31 January - 2 February
Location: Belfast
This ScreenWorks programme includes;
Introduction to software
Creating work to a brief
Producing a short VFX-based animation
In addition to our in-person programmes, you can learn about different screen careers with  ScreenWorks Online! Click here to find out more.