A.A. Milne's beloved character Pooh Bear is back on our screens in Christopher Robin, and to celebrate, our reporter Imoleayo sat down with actor Hayley Atwell, who plays Evelyn, Christopher's wife, in the new Disney film.
Speaking to Atwell, Imoleayo found out about the British actor's own version of Hundred Acre Wood growing up (which included the curious pastime of 'frog-taming'), her experiences with bad on-set lip reading and mishearing words, to revealing the teacher that inspired her to go into acting in the first place. Watch the full interview in the video above.
Directed by Marc Forster (Finding Neverland, The Kite Runner) the film is a combination of live action and CGI that follows the now adult Christopher Robin, who has returned from the stresses of World War II and is startled when Pooh and all of his childhood friends re-enter his life and help him rediscover his inner child.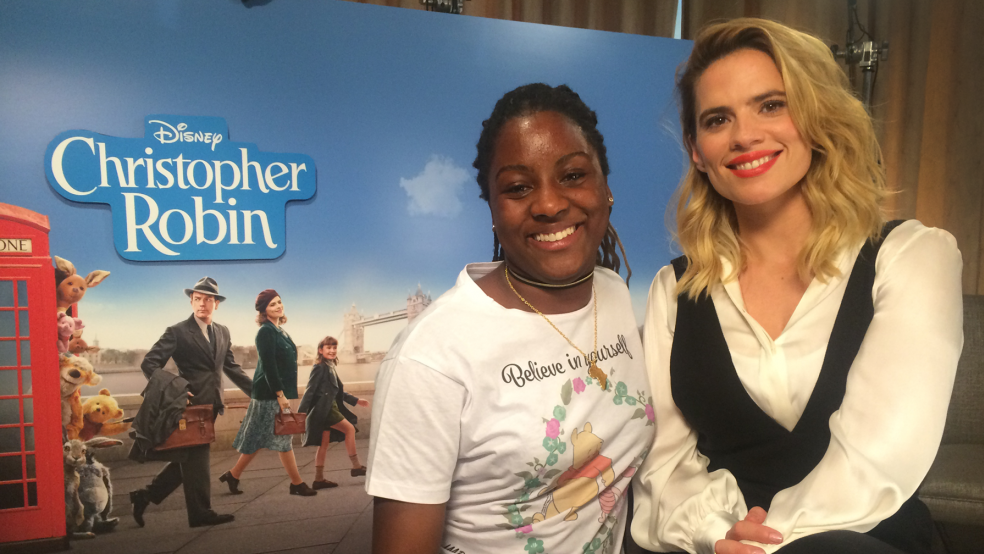 Imoleayo reviews Christopher Robin
"People say nothing is impossible, but I do nothing every day"
Christopher Robin is a film filled with an array of meaningful messages and rightly placed humour. This film tells the story of the family man Christopher Robin, who finds himself on a journey to help Pooh find the rest of the gang, which eventually leads to Christopher being reinstated with the long-forgotten joys of life, that sometimes can be neglected in adulthood. 
The film itself is a complete spectacle. The transitions in the very beginning encapsulate the idea of storytelling, while the picture is grainy, enabling a very vintage feel, and giving the audience the ability to imagine the life of the real Christopher Robin. The puppets continued with this look and feel, with their very drained and washed out colours, alongside the number of different materials such as wool, this is very different from what I expected and what the puppets and cartoons look like today, but I really enjoyed it! 
Another thing that I loved was that aspects of the real Christopher Robin's life were referenced and it was quite heartwarming to see. Winnie the Pooh has been around for a century, meaning that every generation can relate to this film. Overall, Christopher Robin is a feel-good film and is a definite must watch, be prepared for your inner child to be reawakened!