This year's Edinburgh International Film Festival played host to a broad range of filmmakers, including some incredible home-grown talent! We sent reporters Eve, Amy, and Emilija to watch a selection from the programme and hit the red carpet to find out more. Read on to hear the trio recount their own experiences of the festival and offer their perspectives on the varied films they saw, and check out the videos to see their interviews with some of the cast and filmmakers behind them.
Eve, 17
Films seen: Puzzle and Dirt Road to Lafayette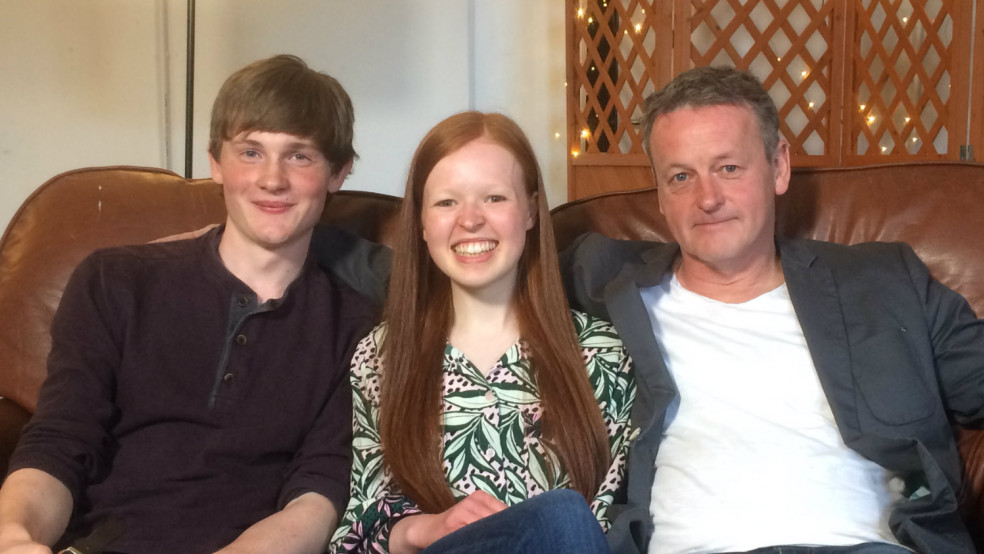 My experience covering the Edinburgh International Film Festival this year was the most amazing first assignment as an Into Film young reporter and is an experience that I will forever cherish. As well as watching two completely different pieces of filmmaking and having the chance to discuss them at length with the talent behind them, I also had the opportunity to immerse myself fully into this Scotland-based festival. 
Edinburgh Film Festival not only gives a platform to rising Scottish talent but also attracts some of the most interesting and innovative filmmakers from all corners of the globe! It was incredibly inspiring for a young Scottish person who dreams of being a filmmaker.
The main thing I take away from the experience is the importance of actually having fun and enjoying myself when conducting interviews. Through having a laugh, I became far more relaxed, which consequently allowed me to engage fully in the moment and listen to the insightful comments made by the talent. This made the experience all the more eye-opening and fulfilling.
Puzzle is an incredibly light and enjoyable film about a woman finding her voice through discovering her peculiar talent for jigsaw puzzles. Agnes is a mousy housewife, whose day consists of trying to do right by everyone else and never doing anything for herself. It is fair to say that Agnes is a bit of a puzzle; no one, including herself, knows much about who she is. Ironically, it is only through puzzling that Agnes literally begins to piece together the gaps in her life and discover her true identity. 
Kelly MacDonald subtly and naturally plays the change Agnes undergoes as she begins to find the voice she was too scared to use before. This comedy/drama is the perfect genre for Agnes's story, because often we use humour as a mechanism to cope with our problems unknowingly.
Dirt Road to Lafayette follows fifteen-year old Murdo as he travels from Scotland to Alabama with his father, following the death of his mother and sister. Embarking on an emotional musical journey across the American south offers Murdo closure for the first time, but also throws him into the harsh realities of adulthood. What stands out immediately in this film is how naturalistic the performances are. This may be initially challenging for some to engage with, but for me, it allowed me to connect to each and every one of the characters in a very personal and intimate way.
The film beautifully explores how music is often the best way to express the most difficult emotions. As a young viewer in Scotland, Murdo's journey exposed me to a culture so different from the one I am used to, which was really exciting. I immediately fell in love with the southern American hospitality, but also, the film exhibits the underlying prejudice that exists in such communities. Like Murdo, you quickly establish that racial, social and gender inequality remain prevalent. This seemingly simple story about a young boy is actually one of great complexity and depth, and is one I would urge audiences of my age to watch.
Amy, 18
Films seen: Whitney and Supa Modo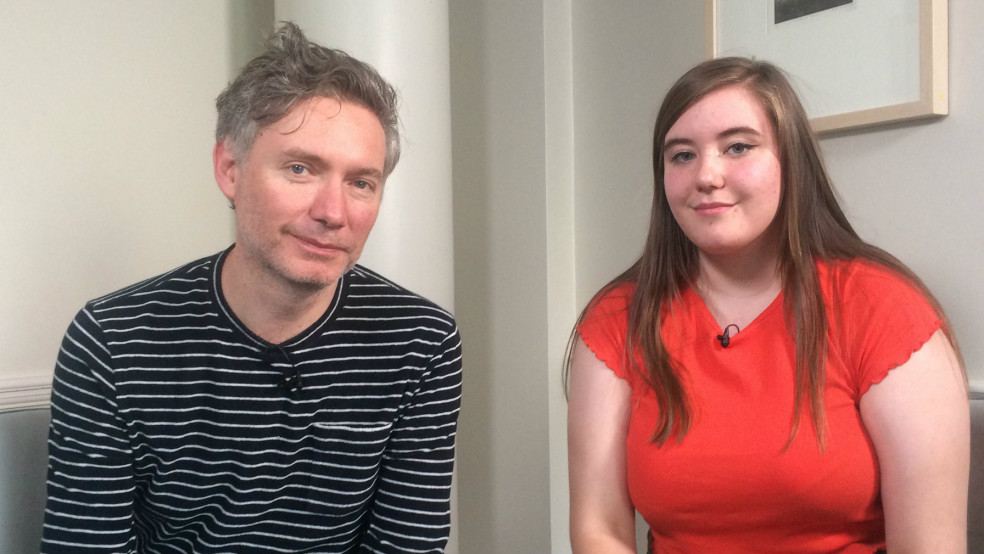 Whitney was truly an intriguing and intimate insight to the turbulent and heartbreaking life of Whitney Houston. From her gracious beginning to her troubled end this documentary doesn't hold back from showing the unfiltered and unbiased truth, with detailed accounts from all those close to Whitney and unprecedented access to eye-opening home footage revealing her ongoing inner turmoil. With extraordinary editing and new revelations the documentary highlights the effects of fame and the detrimental repercussions the music industry can have on such a talented and promising life. 
As a documentary maker myself meeting an Oscar®-winning documentary maker truly inspired me and Kevin was so humble during the interview. His passion for Whitney's story is evidently so honest and it was captivating to hear him speak. His advice was incredibly helpful and his answers gave me and hopefully fellow viewers a deeper insight into the true story behind Whitney Houston's life and fame.
Supa Modo was a moving and heartfelt film which tackled the traumatic event of childhood terminal illness in a delicate and light hearted way. From the first minute it is impossible not to fall in love with Jo and her positivity and courage even in the face of death. Stycie Waweru's stunning debut as Jo is truly captivating and the support of the community that gathers around her to grant her final wish is endlessly heartwarming. You would think that a film that tackles the themes of terminal illness would be a tough and emotional watch which it in all regards is but it is perfectly balanced with the humour of characters such as Mike and Jo's love of superheroes. Supa Modo in my eyes is in essence a superhero social commentary movie, it truly is a genre of its own.
Meeting and interviewing Likarion Wainaina was a pleasure and his energy was infectious, it was truly inspiring to meet a budding director who was so down to earth and excited about filmmaking. His bubbly attitude meant that the interview was an absolute delight and his answers were all so hilarious yet inspiring striking the balance perfectly. To see a filmmaker from Kenya get the chance to complete a production on this scale was truly exciting and to have such a wide international platform truly shows that the world of cinema goes much further than Hollywood.
Emilija, 17
Films seen: Eaten by Lions and Old Boys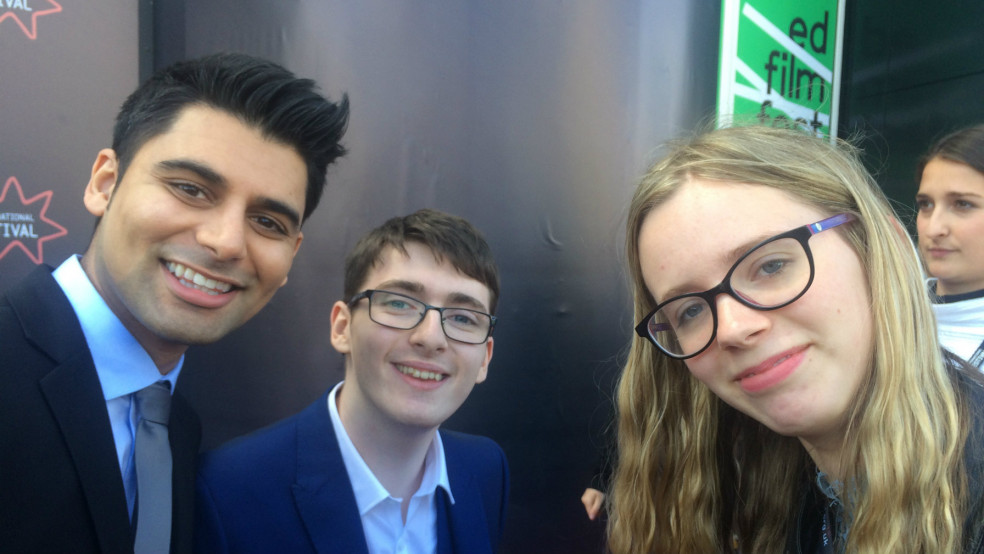 After watching Eaten by Lions at the Filmhouse and preparing questions at the Into Film's Scotland office, it was off to the hotel. Not for a lie-down, oh no. Rather, we were going there to do our interview! What was especially nerve-wracking was that the whole thing would be filmed on camera. Not only that, but it would also be put on YouTube! Having never yet done a camera interview, you can see why I was a bit worried - but, as it soon turned out, there was no need to be. 
Antonio Aakeel (the actor) and Jason Wingard (the director) were really friendly and outgoing - we had a great time, as you can see from the interview. (Please give it a watch, if you haven't already.) The duo gave long, interesting responses and managed to answer the question that surely must have been puzzling you all - just why the title Eaten by Lions?
Set in the sunny seaside town of Blackpool, the film Eaten by Lions follows two brothers on a search for a missing father. Interestingly enough, it is based upon a real story, on someone the director actually knows - who even has a cameo in the film (though it wasn't revealed who in fact this person was)! All in all, an enjoyable English comedy - which, by the way, doesn't actually have any real lions in it.
The title Old Boys might not exactly seem like the name of a comedy. It leads us to think that the story will be dry, lifeless and, well, OLD. Thankfully, we have on our hands a really delightful comedy instead, starring Alex Lawther as our socially awkward lead. No old gags here and every joke is fresh and fun, like our young cast - you better catch this gOLDen gem!
I had seen this film a few months ago as part of my work with the Young Programmers at the festival, so it was a delight getting to interview the director Toby MacDonald and the lead actress Pauline Etienne. The two were great. Director Toby was shocked at Pauline's answer for "the film that got her into film". Rather than being a serious French-language film, she had given the rom-com The Notebook. He, meanwhile, had opted for a classic - The Red Shoes.
And that was me done with my work for this festival! I had a wonderful time - catching all those great films and meeting a host of interesting people - a huge thank you to Into Film!
Still want more coverage from Edinburgh International Film Festival? Our Film Curator Maria was also in attendance, and offered up her own top five films from this year's festival.