Our reporter Annabella recently went on an incredible, once-in-a-lifetime trip to visit Pixar Studios in San Francisco to discover all the work that went on behind the scenes in creating their latest film, Incredibles 2 (in cinemas now). Below, Annabella describes her incredible adventure.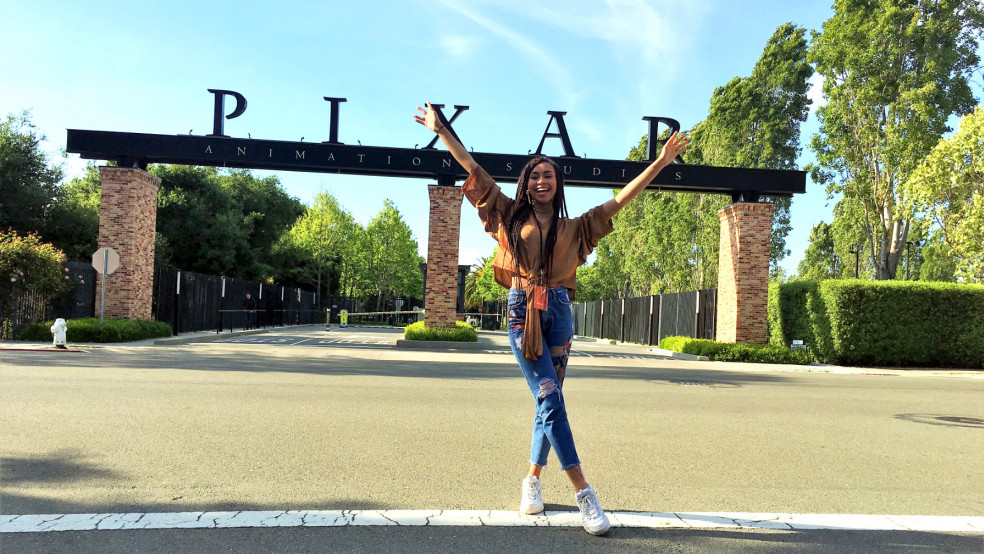 Visiting Pixar Studios was an absolute dream! It's easy to forget that it's a place of work when you see employees riding around on scooters, playing basketball and doing lengths in an on-site, private swimming pool! 
Pixar is definitely my kind of office. Inside the Steve Jobs Building, there are numerous iconic characters dotted around, as well as a glass cabinet full of their well-deserved, friendly Oscar pals. Exploring the home in which most of my favourite childhood films such as Toy Story 3, Finding Nemo and of course The Incredibles were produced, and walking amongst the creators themselves felt very, very surreal!
We kicked off the day by watching a 20-minute preview of Incredibles 2 and some additional action scenes - it doesn't get much better than watching the film in its original home. The footage we were shown was funny and relatable and the progression of skills and technology advancements was evident in the mise-en-scene. Yet the beloved and identifiable Parr family were still the family which we admired over a decade ago - being no different to the rest of us, despite their supernatural powers.
Throughout the day I met with some of the key people who added their magic to the film. From staff responsible for wardrobe to architecture and even the effects which are placed on top of the animation. It was incredibly inspiring to hear each one of their personal journeys and the trial and error process. This was a huge reminder that even for the people at the top of their game, sometimes it's important to have unsuccessful attempts that redirect you to the best result. I especially loved the presentation from Deanna Marsigliese [Character and Costume Designer], since she was talking about her responsibility creating Edna's fashion line. Growing up, one of my favourite hobbies was designing clothes, so it was interesting to hear how she not only began creating beautiful garments, but creating them internalising Edna Mode's character and objectives - meaning Marsigliese was working as a designer and an actor.
Most of the information I learned came to my surprise, such as the number of roles in creating the film. It's almost like a conveyer belt, where you do your job and pass it on to the next person to add their super talented touch to it. I now fully appreciate the micro details in each scene, such as the posters on a wall or the leftover food on a plate, since everything you see, someone has taken a lot of time to create.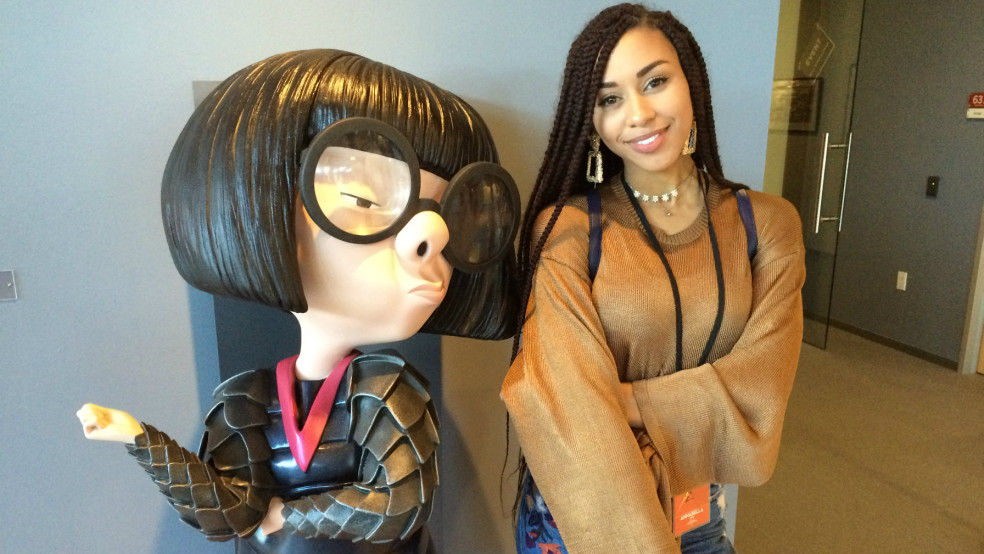 Whilst visiting the studio, I also watched the wildly entertaining short film Bao [currently seen playing before Incredibles 2 in cinemas]. It's about an ageing Chinese mother, who gets another opportunity at motherhood when one of her dumplings springs to life. I personally loved the film and the strong, familiar, Chinese culture which dominated it; it's a culture which I appreciate, but it's also interesting to see shortcuts of it from an internal view. The activities which mother and son participated in, such as food shopping for traditional meals, reminded me of my upbringing and how important it was for my mum to share her Nigerian culture with me. Despite the film being very personal and specific to Chinese culture, the familial themes make it universal and heart-warming, which is why I really enjoyed it.
After the film was shown there was a Q&A with Bao director (Domee Shi) and producer (Becky Neiman-Cobb). I was fascinated to discover that Shi was hired to work on Inside Out after starting as an intern. She was creating Bao in her spare time and decided to pitch it to her manager and now it will be shown to millions in front of Incredibles 2. Moral of the story - your passion and commitment can take you anywhere!