As the coronavirus/COVID-19 situation continues around the world, we recognise that this poses many difficult challenges for schools and educators, not to mention parents who will be seeking ways to keep their children meaningfully occupied.
We're using archive film to support young people in developing their literacy skills and help families experience the fun, educational benefits of film watching while celebrating the stories and heritage of the past that is all around us. Using archive film collections is a great way to encourage young people to explore both their local area and the UK's vast cultural history.
As ever, we're committed to championing the many benefits of all forms of film. Inspired by the BFI's Britain on Film project, we've designed an engaging activity that uses free-to-access archive film as a basis for creative writing and learning about your local area.
What is Archive Film? 
Archive film does not simply mean 'black and white'. Put simply, it refers to materials held and preserved in an archive - and thus the term "archive film" embraces many different types of film. Depending on the archive, this material can span the history of cinema (and television) and might include fiction, documentary, newsreel, government films, travel films and amateur film/home movies.
Britain on Film - Creative Writing Activity
Check out the guide below to see how you can use the BFI's Britain on Film website - which boasts a collection of thousands of beautifully preserved films capturing 120 years of Britain on film - to take part in an enriching creative writing activity.
Find your local area by typing your town name or postcode into the 'Search for a location' box
See how many archive films were made near your home - you may be surprised!
Watch one of the films to get a sense of the story - you can also read the accompanying overview for further details.
Select an interesting moment in film and pause the video player.
Look at the scene you've chosen in detail. Use the five senses and discuss what you would be able to hear, taste, smell, touch and see if you stepped into that scene when it was filmed. Discuss the scene and build up a sense of what life was like back then.
Finally, imagine you are a character (or even an object) in the scene, and create a piece of creative writing explaining and exploring the world that exists around you in the scene. See below for an example.
Note: We recommend reading the additional information about each film before watching. Please be aware a small number of films are only suitable for those aged 15 and over. These films will have a disclaimer before them.
Once your child has completed their piece of creative writing, why not share their work? E-mail their piece to info@intofilm.org with 'Learn from Home Archive' in the subject line and we'll celebrate our favourite submissions over on our social media channels. 
Just remember to include the title and URL for the film you've used, and the time code for where you paused the film, so we can see the scene being imagined.
Here's an example of an archive-inspired piece of creative writing...
Film Chosen: Darwen Street Scenes, near Blackburn, 1901
Scene Chosen: 00:50
Title: Things Were Electric 
The jangle of the bell rang out a second time, but no one payed much attention. The trams were our everyday now, besides he was nearing his stop. If anything, I missed the old ones, the puff and the strain of coal, and its cough-coughing start.
No, if anything it's the horses you want to watch out for; the way they whip by. Now there you need to be careful!
But things were electric. All around, the laughter and chatter of boys mixed with the excitement of Saturday morning. Above us, smoke and grey clouds mingled as the throb of smells rose higher; street cooking, pipe smoke, boys in damp tweed. And it's then I thought to myself: "there'll be a story to tell in the kitchen tonight".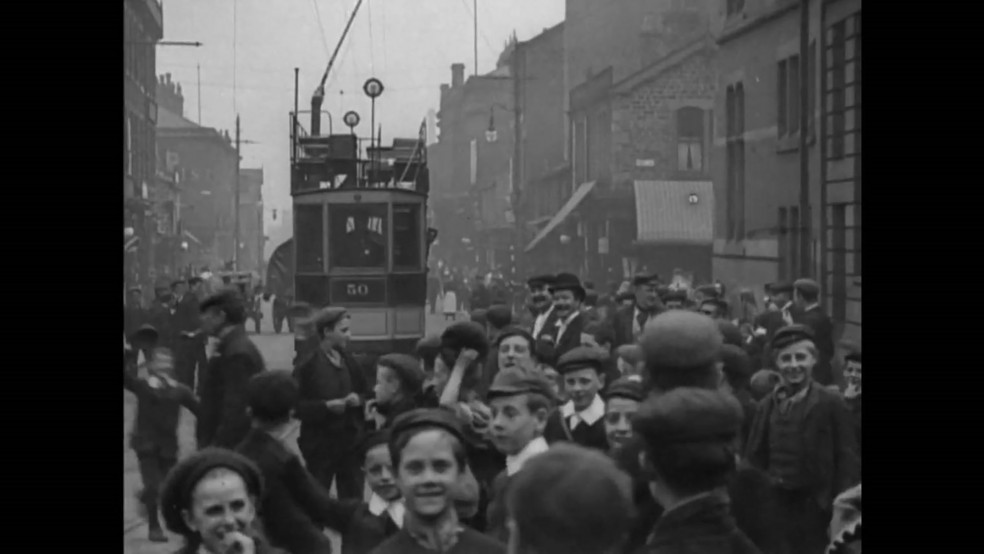 Into Film's home learning activity is supported by the BFI awarding National Lottery funding.