Since Jurassic World: Fallen Kingdom raises ethical questions over whether the man-made dinosaurs should be given the same right to protection and conservation as any other animal or not, we presented young people with the following statement and asked them to provide an argument either for or against.
Use your powers of communication and persuasion to convince others that the dinosaurs left on Isla Nublar should or should not be protected by humans.
We're delighted to announce that the winning entry, as chosen by Universal Pictures, came from Trinity, a pupil at Thornhill College in Londonderry, Northern Ireland. Trinity has won a private screening of Jurassic World: Fallen Kingdom for her and her class, courtesy of Universal Pictures.
Read her compelling argument in favour of saving the dinosaurs from a second extinction below.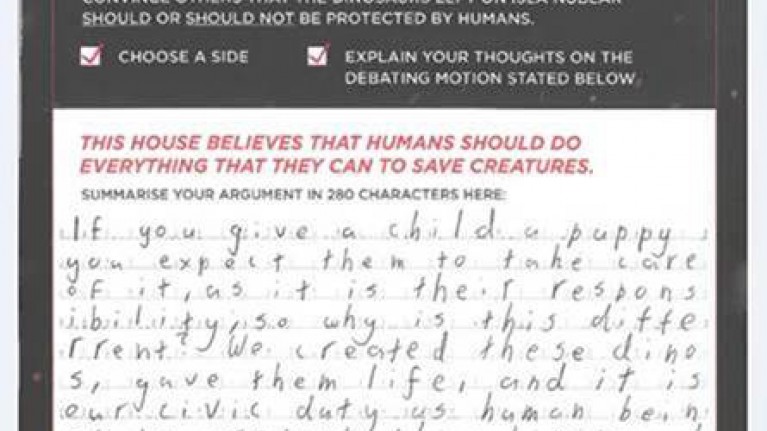 Jurassic World: Fallen Kingdom - Disasters and Debate Winner
Jurassic World: Fallen Kingdom - Disasters and Debate Winner
We had a tremendous response to this competition, and indeed the resource as a whole. One particularly affecting letter we received came from Sue Finney, a teacher from the Learning Support Department at Highfields School in Derbyshire.
"The quality of the resources you have produced is superb and have allowed us to raise awareness and discuss a wide range of ethical issues that do not have any 'easy fix' answers", Sue wrote. "Each student has really had to question their own viewpoints. 
All of my students have some kind of learning difficulty, and were thrilled that they were involved with the project. Lack of self-belief and confidence is crippling for my students. Jack, aged 13, can barely write, and yet he made a connection between the plight of the dinosaurs and Mary Shelley's monster in her novel Frankenstein, as he realised that Frankenstein's monster had no voice [like the dinosaurs]."
Thank you to everybody who entered the competition - all of your entries were hugely impressive. And for those of you who may have missed the boat, fear not: you can still download our Jurassic World: Fallen Kingdom - Disasters and Debate resource and introduce persuasion and debate into your classroom today.