To celebrate the release of the hilarious The LEGO® Batman Movie earlier this year, we asked young people to draw their own hero symbol, just like Batman's, and accompany it with a description of their own heroic alter-ego, detailing their special abilities and hero values. After an absolute deluge of entries - sincerely a super-heroic effort from all of you - we finally managed to select a winner and four runners-up.
Overall Winner - Brainstorm
Congratulations to Alex, from Eaton House the Manor School in London, whose entry for his alter-ego Brainstorm was selected from over 6,000 entries as the overall winner. Alex's class has won a private screening of The LEGO® Batman Movie at a local cinema near them!
Got a problem that you're itching to solve? Then Brainstorm is the man you need! Brainstorm can solve any conundrum in seconds! He has a lazor gun he uses to steal knowledge and give it to the citizens. He helps anyone who deserves to be helped.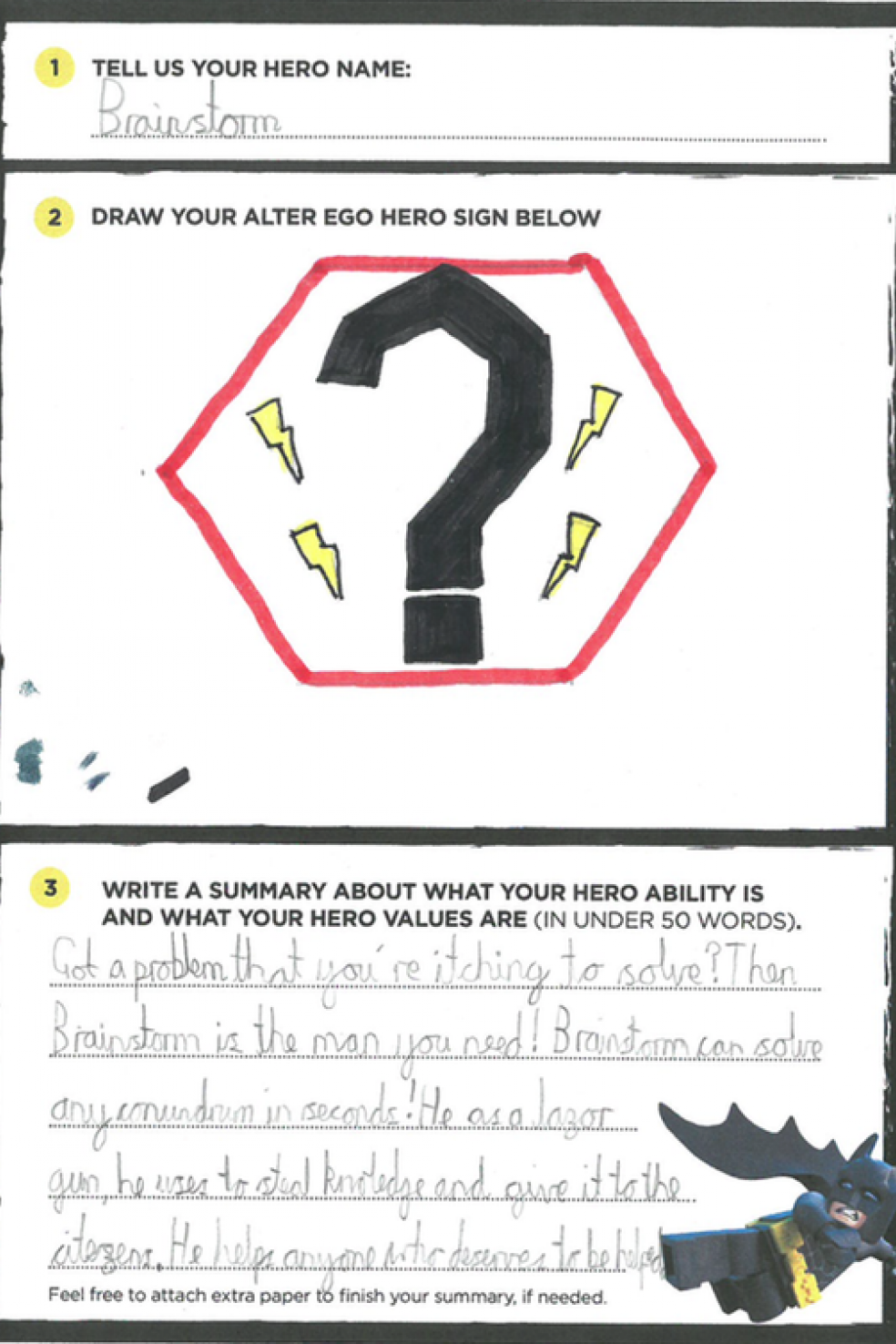 Second Prize - Insta-Gran
Second prize goes to Phoebe, from Knowsley Junior School in Oldham, for her wonderful grandmotherly superhero alter-ego. Phoebe has won a fantastic tablet for her entry.
Between fighting crime and going to bingo, Insta-Gran loves taking selfies with her criminals. Her x-ray glasses means she can see through walls to catch the criminals fast.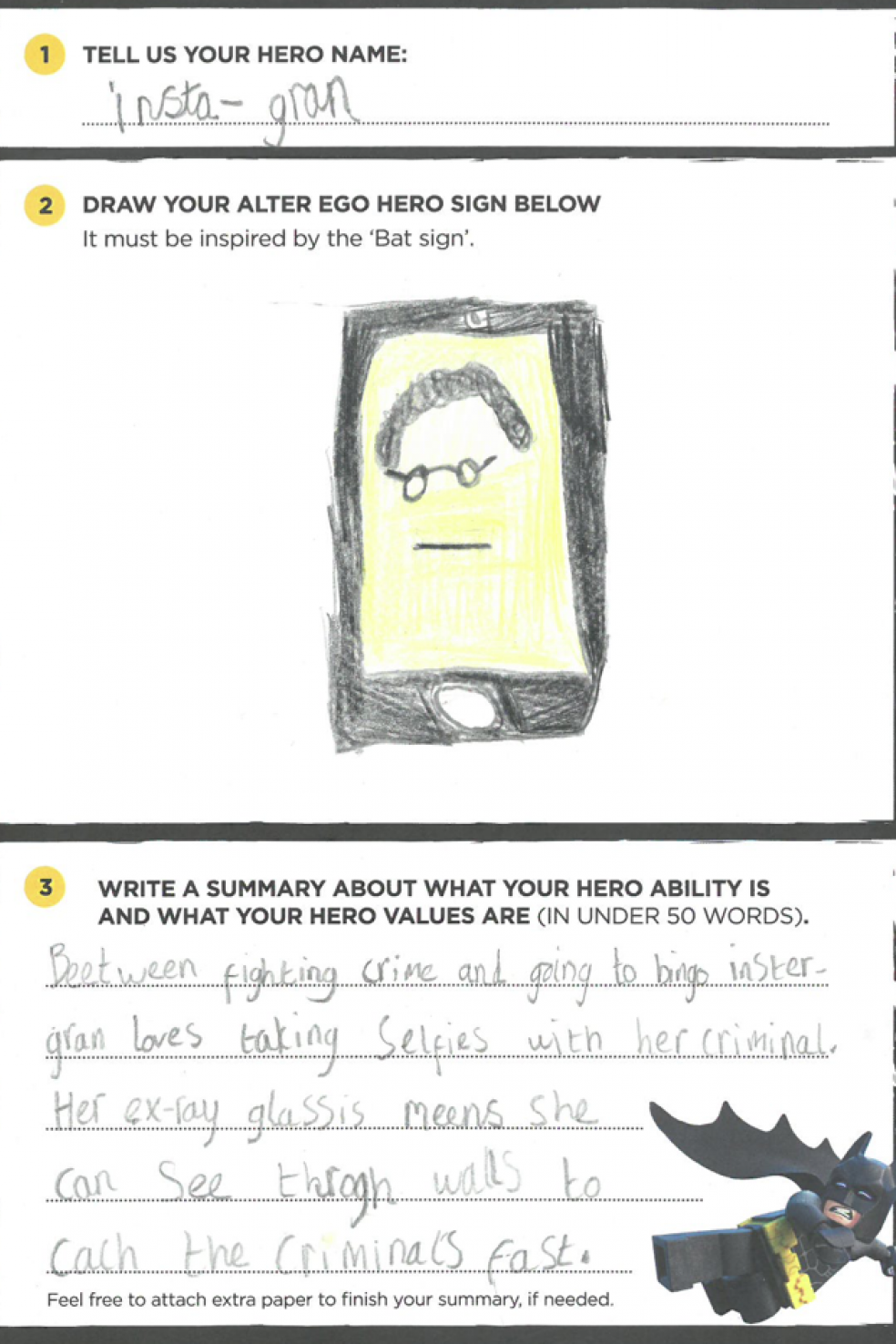 Runner-up - Rapid Ralph
Congratulations to Becky, from St. Margaret of Scotland Primary in North Lanarkshire, Scotland, whose alter-ego Rapid Ralph has earned her an official The LEGO® Batman Movie merchandise goody bag. 
My superhero's special ability is super speed. Ralph's ability is activated when he presses a button on his "warp watch" (which is one of his gadgets). Rapid Ralph's values are: persistence, honesty and justice.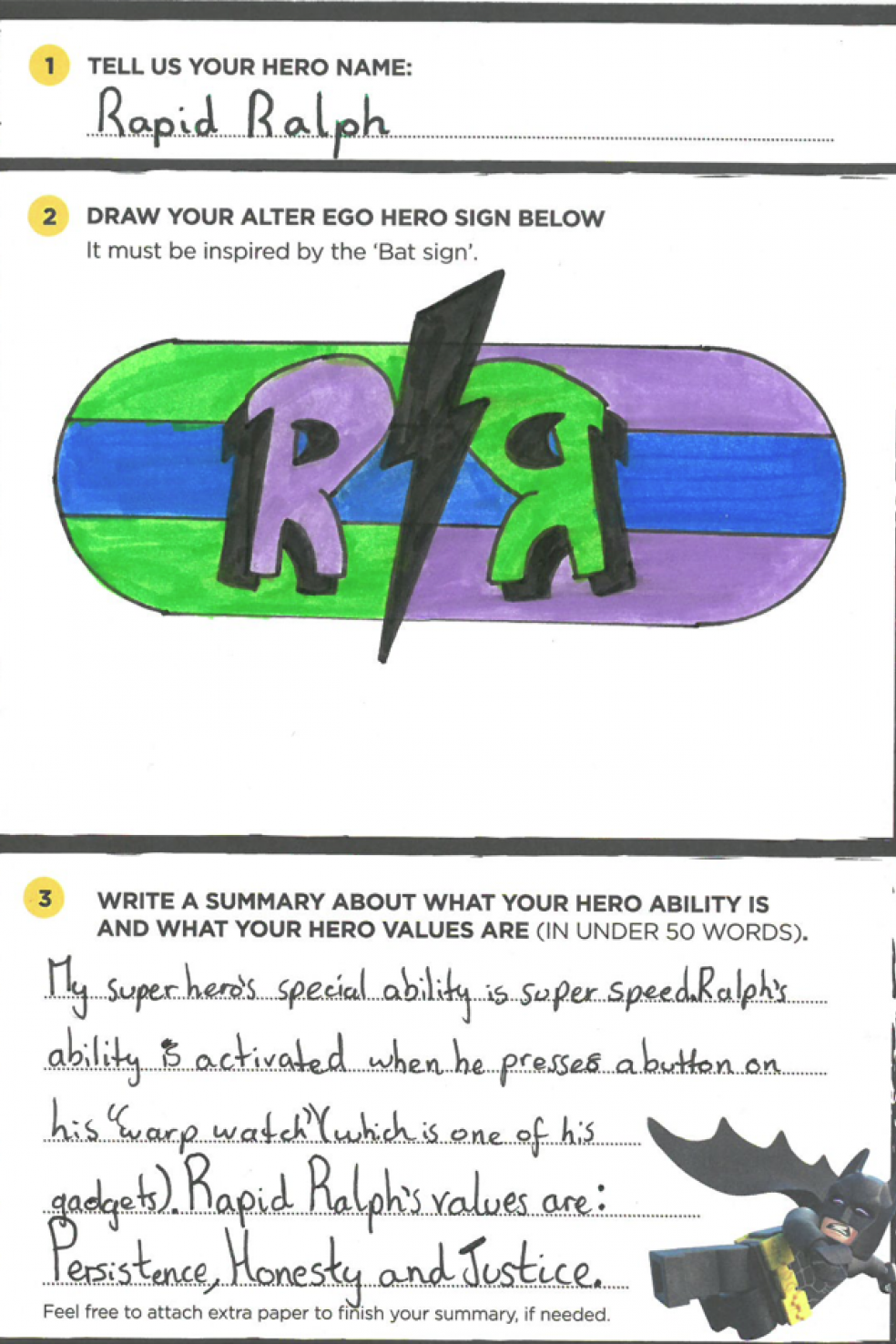 Runner-up - Telequality
Congratulations to Shreya, from Oxford High School, whose alter-ego uses her special abilities to effect real world change, and who wins an official The LEGO® Batman Movie merchandise goody bag.
My hero's ability is to teleport around the world to save girls who are struggling with sexism. She values equality as she had a sexist childhood and feels like no one else should experience that.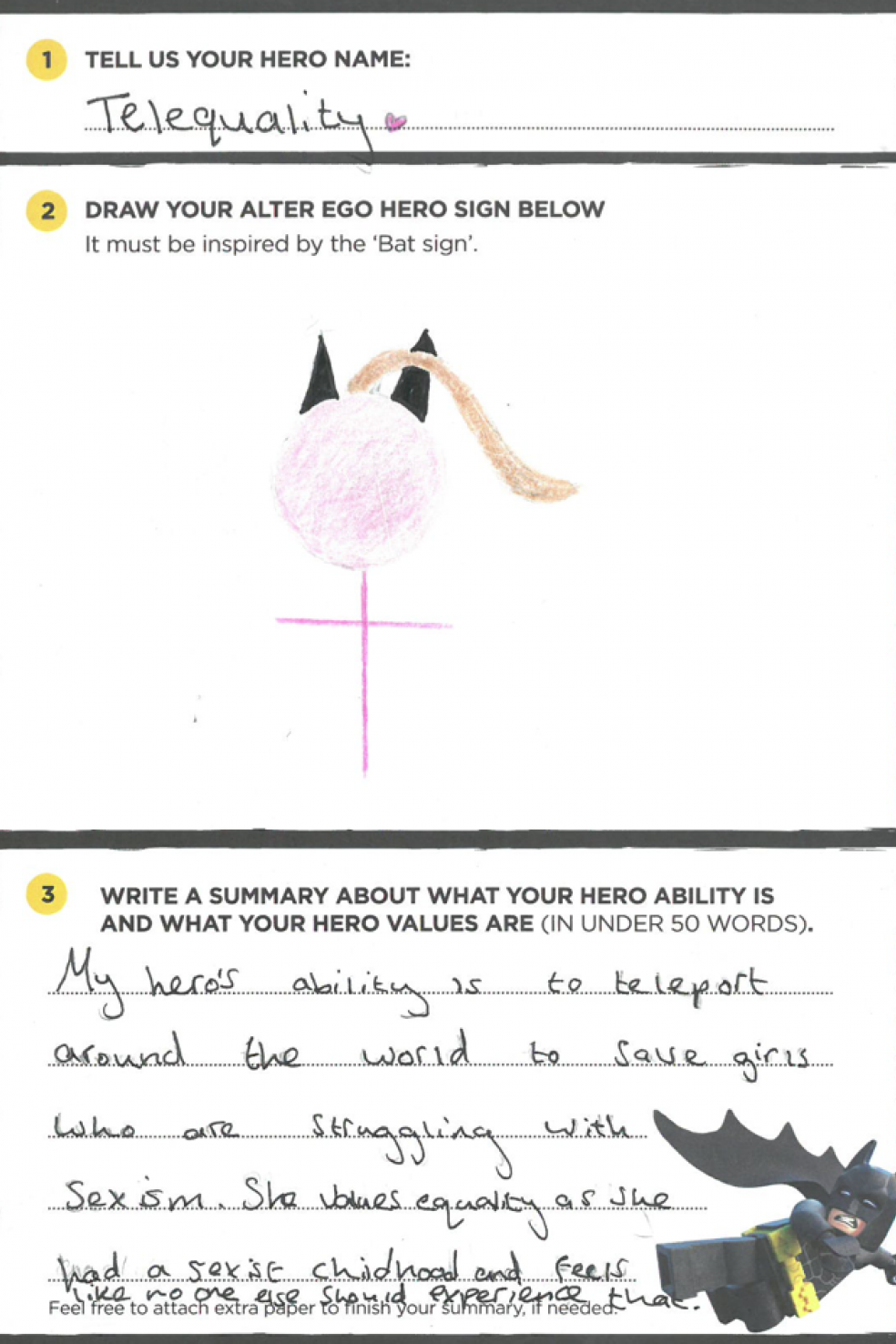 Runner-up - Aquagirl
And last but not least, congratulations to Jumanah, whose alter-ego Aquagirl, who rather than fighting crime, combats the equally crucial issue of environmentalism and helping those in need gain access to clean water. Jumanah also wins an official The LEGO® Batman Movie merchandise goody bag.
Aquagirl is a saviour to a majority of people on the planet. Most people rely on her to give them clean and fresh water every day! She gives those in poverty who can't have clean water ultimate clean water forever. Her personality is kind, sweet and energetic.