Reporter Eve sat down with Emily Blunt, who plays the mischievous magical nanny in the hilarious, heart-warming and long-awaited sequel, Mary Poppins Returns, which is in cinemas just in time for Christmas - a mere 54 years since the original came out!
Set in 1930s depression-era London, the now grown-up Michael and Jane Banks are living on Cherry Tree Lane with their three children and housekeeper Ellen. When their home is threatened with repossession, it's the return of their beloved childhood nanny Mary Poppins that might just be on hand to save the day and bring back the joy and wonder that has been lost from their lives.
In the interview above, Blunt discusses the 'naughtiness' of her character, seeing through a child's eye, and the beauty in not caring what others think of you. She also reveals how writer/director Rob Marshall gently persuaded (or is that tricked?) her into performing the film's daring stunts...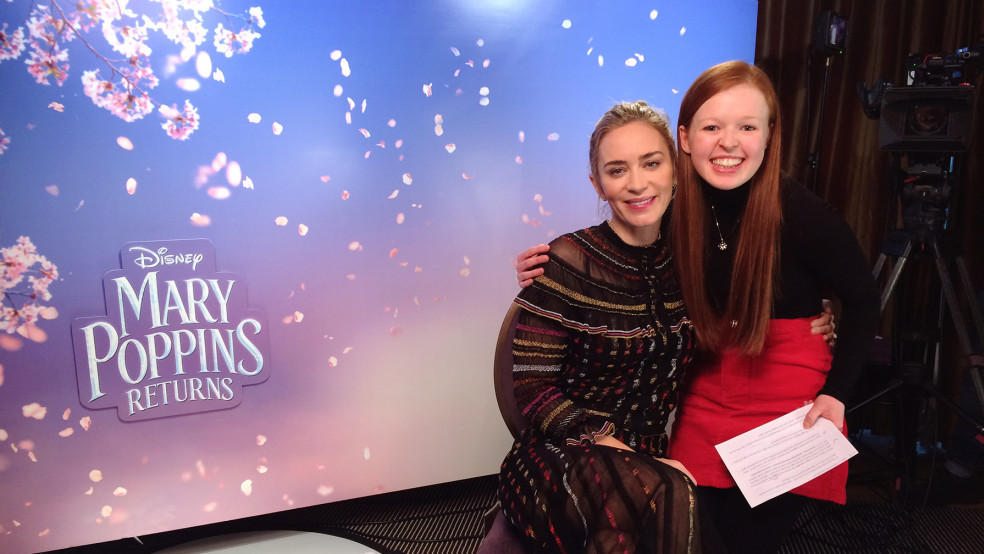 Eve reviews Mary Poppins Returns
Mary Poppins Returns is Practically Perfect in Every Way! (5 STARS) 
Indeed it is! Seeing Mary Poppins Returns on the big screen was honestly the best pre-Christmas present I could have ever wished for. I can list all the films on just one hand which have truly transported me to a whole other universe and have actually excited me about the world we live in. Mary Poppins Returns is now at the top of that list; pure magic in every sense! 
Mary Poppins Returns is an excellent film in its own right. While paying complete respect and homage to the 1964 classic, writer/ director Rob Marshall has sculpted an incredibly accomplished piece of filmmaking, which is both fresh and inventive. It does not rely on the original as a crutch, as I am aware many have feared since the film was first announced.
The film is set twenty-five years after the original and follows the lives of Michael and Jane Banks as adults and also parents. Still residing at 17 Cherry Tree Lane, the Banks family are faced with great hardship, to which Mary Poppins returns, helping to right all the wrongs. Marshall has brilliantly balanced the weight of storytelling between all the singing and dancing in the film. The countless messages of the film and the narrative itself is not lost amongst all the singing and dancing. If anything, the important values it explores, such as demonstrating kindness, listening to one another, being open about your feelings and taking the time to look at life through the eyes of a child, are enhanced through Marc Shaiman's potent lyrics. Every song is like a new life lesson for the Banks family. It is interesting to see how they all act upon their discoveries from each song throughout the film.
Perfectly structured, perfectly cast! Emily Blunt brings a whole new attitude and energy, whilst adding brand new layers to this extremely enigmatic protagonist. The mixture her of sass, whit and charm locates a humanity is this woman I never identified before. A stand out performance also from Lin Manuel Miranda, whose colourful and personable portrayal of lamplighter Jack reminds audiences that we all live amongst magical, decent people in our normal lives, who do not need super human powers to leave a positive impact on communities. Even when London is at its darkest, Jack literally and metaphorically, brightens the whole city.
To add, the costumes, production design and props are so detailed and exquisite. Watching this world in action was like stepping into happiest childhood dream imaginable.
In such uncertain times as this, the prospect of having one person who makes the world a better place, fills it with hope and joy, has never been needed more. Roll on the Oscars 2019!