To celebrate the recent cinema release of Puss in Boots: The Last Wish, we launched a brand-new learning resource. Puss in Boots: Venture Better Together is a curriculum-linked learning sequence for pupils aged 7-11 which draws from the characters and themes of Puss' swashbuckling new adventure.
As part of this resource, we ran a Fill Your Boots competition, which encouraged young people to get creative and fill their boots with a 'bucket list' of five things that they would like to achieve or try throughout their lifetimes, whether they be huge goals and aspirations or simple everyday things.
Congratulations to Amelia, aged 10, from Kirkhill Primary School in Aberdeen, whose entry was the winner out of more than 600 entries! Amelia's submission saw her detail five things she'd like to achieve or try, which she also presented visually in a beautiful drawing. Amelia's entry included everything from smiling at a hundred strangers, to one day selling her own art, and even visiting the stunning Sea of Stars in the Maldives. From benevolent everyday acts, to career aspirations, to once-in-a-lifetime trips... our judges considered Amelia's boots well and truly filled!
"I liked thinking about my future and achieving my life goals", said Amelia upon learning that she'd been chosen as the winner. "I also enjoyed the competition because it made me think about my real cat, who looks like Puss In Boots!"
Amelia has won a Puss in Boots: The Last Wish merchandise bundle, including a Puss in Boots: The Last Wish coffee table book. What's more, she has also secured a private screening of Puss in Boots: The Last Wish for herself and her entire class. "I'm proud of myself and happy to have won", said Amelia. "I'm really proud that I also won a trip for my class, not just prizes for myself."
Check out Amelia's well-considered and beautifully drawn entry below.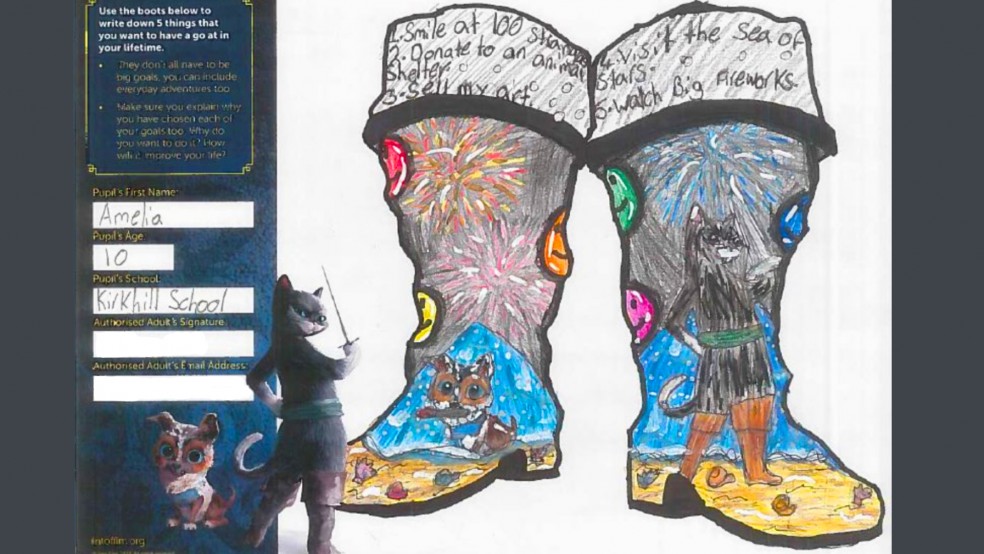 Download our Puss in Boots: Venture Better Together resource
Puss in Boots: The Last Wish sees the return of everyone's favourite fear-defying feline as he embarks on a grand quest to restore his lost lives, with help from former nemesis Kitty Softpaws and the relentlessly cheerful Perrito.
Our new two-lesson learning sequence takes inspiration from the film to engage 7-11 year olds across English/literacy, design and technology, RSE/PSHE and art and design.
Explore the most important aspects of teamwork, help young learners plan and write their own adventure story inspired by the film's heroes, introduce them to the concept of positive risk-taking, and help them reflect on the adventures they undertake in their everyday lives, both at home and at school.