Taking place every January in Utah, USA, the Sundance Film Festival is one of the most influential events in the film industry's calendar. Since its first edition in 1978, its mission to engage aspiring filmmakers and champion independent cinema has brought to prominence celebrated auteurs including Chloé Zhao, Guillermo del Toro, Quentin Tarantino, Ava DuVernay and Wes Anderson. 
For the past 10 years, the best of Sundance has been brought to London as part of a spin-off festival, allowing British audiences a special preview of films ahead of their theatrical release. Following the success of last year's tour of screenings outside the capital, the festival's selection will also be shown in cinemas across the UK from 9 to 12 June. The Sundance Film Festival: London 2022 is taking place at select Picturehouse cinemas and independent arts venues across the country. Our curators Charlotte and Steven have picked their top recommendations for young audiences.
Fire of Love
This awe-inspiring documentary is a loving celebration of finding your passion in life and the joy of being able to share it with another person. For over two decades, whenever a volcano erupted somewhere in the world, the volcanologist couple Maurice and Katia Krafft rushed to it. Standing side by side beneath fireworks of lava is where the pair felt most at home. As well as offering insights into the science of the volcanos, the documentary beautifully reflects on the artistry of filming the natural world, thanks to the couple's archive of footage in which they endeavoured convey the grandiosity of their experiences. The character portrait of two people who have dedicated their lives to STEM research will draw comparisons to Jane, the 2017 documentary about the primatologist Jane Goodall, available to stream on Into Film+. [Charlotte]
Fire of Love screenings at Picturehouse Central:
Fri 10 Jun, 6.15pm
Sat 11 Jun, 3.00pm - Audio Described and Subtitled (Captioned)
Dogwoof will release Fire of Love in UK cinemas on July 29.
Brian and Charles
With a feel-good dose of bashful British humour, comedian David Earl presents a family-friendly version of his alter-ego Brian Gittins (who also appears on Ricky Gervais' Netflix series After Life). In this film, Brian is an endearingly hapless inventor of the Chitty Chitty Bang Bang sort, tinkering away in a cottage in the Welsh countryside. When loneliness spurs him to create a robot friend, even he is surprised when it springs to life and calls himself Charles. Dressed like a grandpa and with a washing machine for a torso, Charles looks onto the world with childlike innocence and excitable curiosity, which Brian delights in. But as Charles' desire to make the most of life grows, Brian's instinct is to protect his creation from a world that can be cruel. Brian and Charles is a cheering tale of friendship and anti-bullying, overcoming fears and using your imagination. [Charlotte]
Brian and Charles screenings at Picturehouse Central:
Sun 12 Jun, 6.00pm
Sun 12 Jun, 6.15pm - Audio Described and Subtitled (Captioned)
Sun 12 Jun, 6.30pm - Audio Described
Universal will release Brian and Charles in UK cinemas on July 8.
The Princess
The rise, popularity and tragic death of Princess Diana has captivated the general public for decades, continuing to do so into the 2020s in which we have already seen the successful releases of the biopic Spencer and the television series The Crown, both of which chart her volatile marriage with Prince Charles. This new documentary is a true time machine to the 1980s and 1990s, telling Diana's story through archive news and paparazzi footage, exhibiting the way in which the media shaped public opinion of the royal marriage and the toll this took on the individuals involved. Interrogating the ethics behind journalism and celebrity culture, The Princess aims to be the most authentic depiction of this story yet whilst also mining insight into how British society has changed over the last 30 years. Young audiences may further explore the use of archive footage and societal shifts in Britain in White Riot, available to stream on Into Film+. [Steven]
The Princess screenings at Picturehouse Central:
Sat  11 Jun, 2.30pm
Sun 12 Jun, 1.30pm - Audio Described and Subtitled (Captioned)
Altitude will release The Princess in UK cinemas on June 30.
We Met in Virtual Reality
A world first in filmmaking, this unique documentary (made during the Covid pandemic) takes place entirely inside VRChat, a virtual world comprimising of 'avatars'; computer generated models generated by users who use them to interact in imaginary landscapes. Diving deep into the multitudes that virtual reality can offer, we meet sign-language teachers, learn from dance instructors and are even invited to a fully virtual wedding. With modern technology hugely influencing the way we communicate and interact, We Met in Virtual Reality is a fantastic starting point of conversation in the classroom for young people wanting to discuss the positive or negative effects that VR may have on us as individuals, possibly in conjunction with Steven Spielberg's Ready Player One. [Steven]
We Met in Virtual Reality screenings at Picturehouse Central:
Fri   10 Jun, 9.15pm
Sat  11 Jun, 12.00pm - Audio Described and Subtitled (Captioned)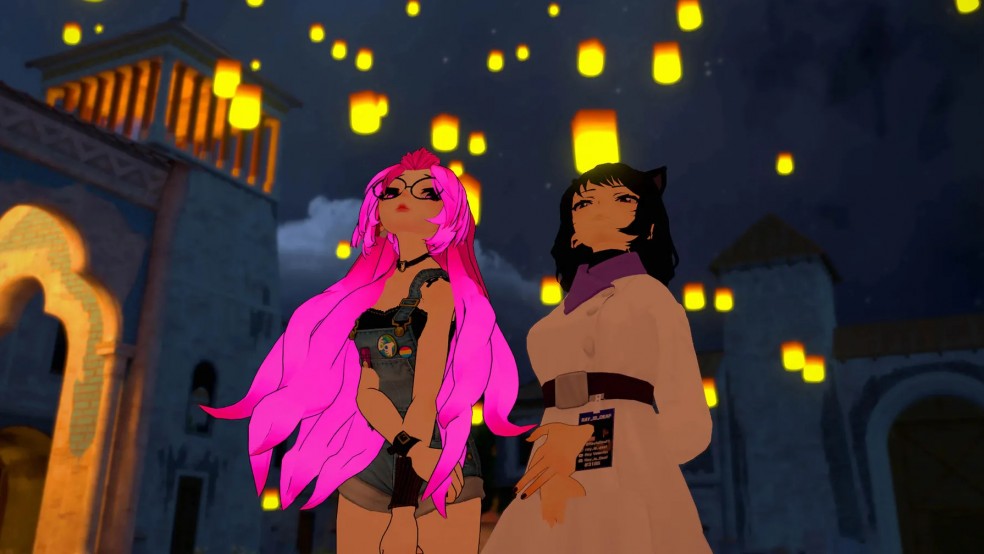 For ticket information for these films and the rest of the programme, which includes further new release titles, classic independent films, a shorts programme, and talks, please visit the Picturehouse Central website.