To celebrate the release of The Railway Children Return in cinemas earlier this year, we ran a 'Historic Postcard Competition', asking young people to imagine that they are living in the 1940s and to write a postcard to someone back in the city. We received hundreds of entries from all across the UK, and we're delighted to present the winner.
Congratulations to Rimzim, aged 13, from Sarah Bonnell School in London, whose postcard makes fantastic use of vocabulary and is convincingly pitched to sound like it was genuinely written in the 1940s. What's more, Rimzim included a stunning pencil drawing of the iconic train from the film, giving Jack - her fictional pen-pal - an incredibly evocative view of what her life in the country is like.
"Towards the end of the academic year I entered the Historic Postcard competition", explains Rimzim. "I was very excited and enthusiastic because The Railway Children is one of my best-loved books, my favourite character being Roberta because of her desire to do good for others, which really resonates with me."
"When my teacher told me I had victoriously triumphed and won the prizes with my entry, I was incredibly shocked and elated."
I can't wait to get snapping with my new camera and all enjoy all the goodies I received. This was an incredible opportunity for me that I thoroughly enjoyed. Thank you!

Rimzim (aged 13), winner of our Historic Postcard Competition
Rimzim wins an INSTAX mini Instant Camera with two rolls of film and a limited-edition Hornby Locomotive, while she and her class also win a Railway Children Return merchandise goody bag each. Check out Rimzim's fantastic winning entry below.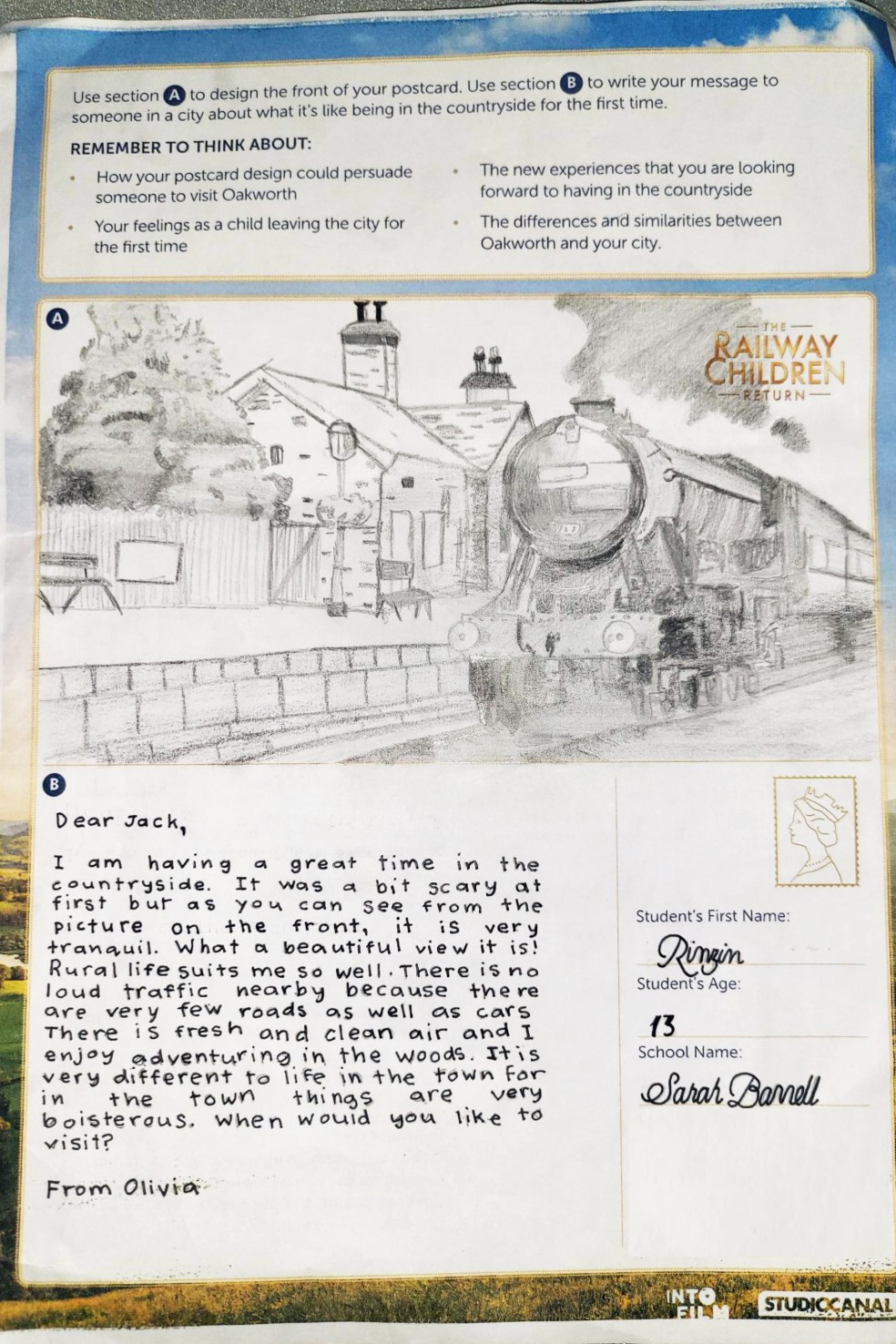 The Railway Children Return at the Into Film Festival
Bookings are now open for the 2022 Into Film Festival, and the programme includes free screenings of The Railway Children Return across the UK.
The Railway Children Return tells the story of a group of children who are evacuated to a Yorkshire village during World War II. When the children discover injured American soldier Abe hiding out in the railyard at Oakworth Station, they are thrust into a dangerous quest to assist their new friend who, like them, is a long way from home. This enchanting adventure, inspired by one of the most beloved British family films of all time, brings a contemporary sensibility to a classic story. With a great British cast and stunning locations, The Railway Children Return takes audiences on an exciting and heart-warming journey.
* Fujifilm Instax are not sponsors or affiliated with this promotion.