To mark the launch of Disney's Ultimate Princess Celebration we partnered with The Walt Disney Company to create a brand new learning resource - The Ultimate Princess Celebration: Kindness Quest - which takes students aged 5-8 on a PSHE-led quest to help deepen their understanding of what it means to be kind and brave and to help others. 
As part of this new resource, we also hosted an Ultimate Princess Celebration: Kindness Quest competition, where children were invited to share their experiences of carrying out acts of kindness for a chance to win DisneyShop merchandise bundles for their class or Into Film Club to enjoy.
Our Ultimate Princess Celebration: Kindness Quest competition asked pupils aged 5-8 years old to draw a picture depicting a time when they have helped someone and provide a short paragraph explaining what they did, and why being kind is so important. 
We received some absolutely fantastic entries that were submitted from all over the UK, but there can only be one winner - huge congratulations to Sarah, aged 7, from London, whose kind, heartwarming and inspiring winning entry included a drawing of Sarah sharing food and important items at her local food bank.
Now the Disney Princesses seem kinder than before and a lot braver. I had not thought before that it can take courage to be kind.

Sarah, aged 7 - Winner of the Ultimate Princess Celebration: Kindness Quest competition
Describing her drawing, Sarah wrote "Every Friday I donate food and important items to the food bank. During lockdown many people lost their jobs. They had to go to a foodbank. At the foodbank there is always a kind ear to listen. Volunteers give the client the names of charities that can help more. People know they are not alone and that I care."
The judging panel at Into Film said: "Sarah produced a fantastic, colourful drawing and a wonderful explanation of her act of kindness. That act is an example of how many people, not least children, have shown great kindness during the pandemic to those who have been so badly affected. Sarah's final sentence could be a line from a Disney movie: "People know they are not alone and that I care."
Sarah has won a DisneyShop merchandise bundle for each member of her school class to enjoy. You can see her winning entry below.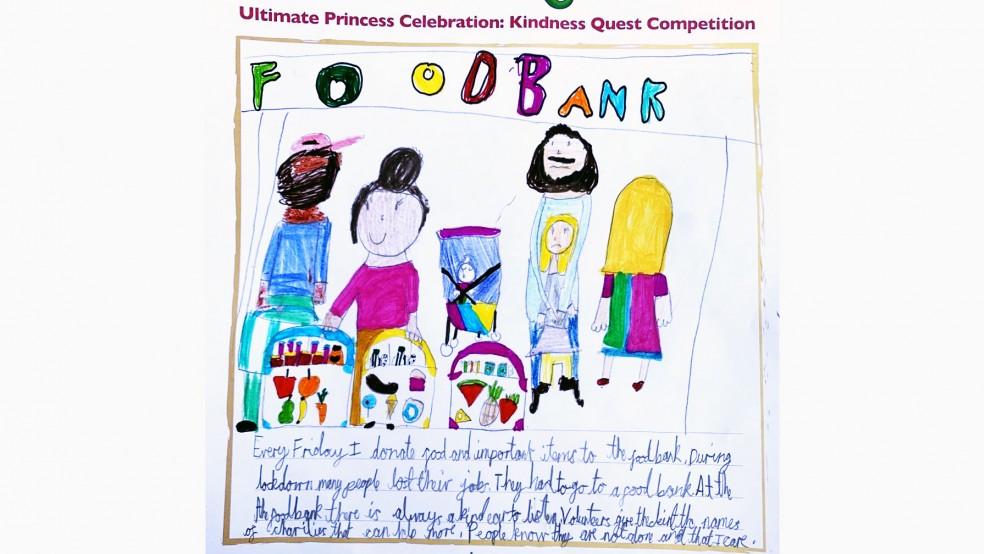 I feel delighted to have won, foodbanks have been very helpful during lockdown and my wish is that they get more donations. My name means Princess so my favourite Disney Princess is Elsa.

Sarah, winner of the Ultimate Princess Celebration: Kindness Quest competition
You can still use our Ultimate Princess Celebration: Kindness Quest resource!
The resource is inspired by kind and courageous Disney characters. This learning sequence has been designed specifically so it can be adapted for use in the classroom, as part of either blended learning or home learning as required. The cross-curricular resource draws on PSHE, citizenship, English, literacy and art and design, and aims to enhance students' personal development and academic attainment.
Using our interactive Online Character Story Spinner, students will be able to delve further into the world of Disney by watching characters' film clips and reading about their adventures to help stimulate discussion around what actions and attributes make these characters kind and courageous.
Through a range of activity sheets, young people will design their own sidekick whilst thinking about the importance of kindness in building meaningful relationships. They will also write their own adventures, develop their understanding of narrative and settings in a set design challenge, and embark on an 'Acts of Kindness' quest. The resource is accompanied by a student-facing PowerPoint Presentation and a set of Teachers' Notes for educators and parents.
For me as a mother, it was great to have diversity represented in the Princess selection and also that there is strength and discipline in kindness. It also showed that kindness is a muscle you build and a quest you go on, so little acts every day reap rewards.

Niki, Sarah's Mother