The Headline Gala at this year's BFI London Film Festival is Beautiful Boy, a moving account of a father and son relationship that is thrown into turmoil when the son, Nic, develops a drug addiction. The script is adapted from memoirs by the real-life Nic and David Sheff and driven by powerful performances from Steve Carell and Timothée Chalamet.
Our reporter Alexa spoke with the lead actors about what young people can do to take care of themselves when the pressures of adolescence and social expectations become a heavy burden. Watch the stars' advice in the video above.
Beautiful Boy is released in the UK on 18 January 2019.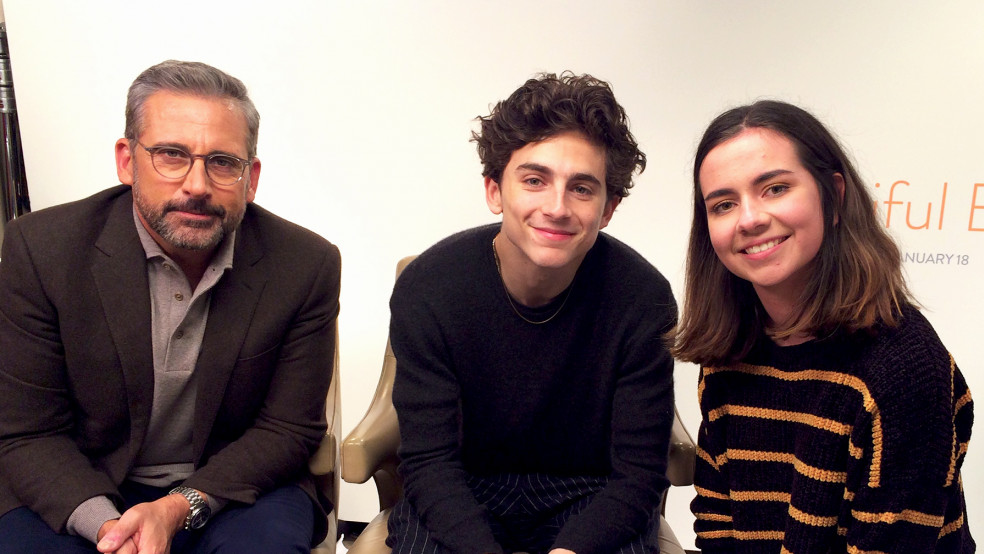 In our wellbeing resource A Guide to Risky Behaviour you can find more titles that explore similar issues and allow young people to discuss their behaviour in a non-personal, non-judgemental fashion.
Alexa reviews Beautiful Boy
Beautiful Boy is an emotional, hard-hitting drama tackling the often misinterpreted issues with drug abuse. A tale that feels incredibly relevant with the current opioid crisis in America; we follow the story of teenager Nic Sheff and his repetitive battle with the cycle of drug addiction and the increasingly dark toll that this has upon his family, in particular his long suffering father David Sheff (Steve Carell).
Timothée Chalamet's performance is undeniably superb. I had high expectations after his success in Call Me By Your Name and these were thoroughly surpassed. You can see the toll that drug abuse has taken not only only on his mental state, with an air of desperation significantly increasing throughout the film, but also upon his physical state. His movements become jerkier and when combined with the urgency behind his character it makes a fulfilling and honest portrayal. If he's not prominently featured in the Oscar® nominations I will be incredibly surprised! 
His performance is thoroughly complimented by that of Steve Carell. For someone with a long standing background in comedy, the way he applies his hand to this drama is superb. As a father himself, you can see the pain that he experiences in watching 'his son' going down this dark path; the mental struggle of a man trying to protect his son but also the rest of his own family and even his own sanity.
There are scenes in which 'gateway' drugs such as marijuana and even cocaine are used with limited consequences. This didn't sit well with me, especially in a film that is meant to warn against such drug usage, however it can be justified through the informative nature of the film. The long term consequences on the brain are gone into as well as the tribulations of overcoming addiction with not only the personal but also the financial costs being explored. The story itself is also one I wasn't particularly enamoured with. 
Whilst it is a refreshing change to see the tribulations of drug addiction from a side other than extreme poverty or extreme wealth, it did feel wholly unrealistic. There are circumstances in which a $40,000 a month rehab was considered - this is out of reach of most of the population and sets unattainable standards for how to deal with drug addiction. Aside from this, it also felt repetitive (which, I understand is the nature of recovery) but when combined with excessive flashbacks, the story as a whole fell a little flat and arguably emotionally forced.
This film is one I believe will be incredibly decisive; either a love or hate situation. The performances from the cast are good and hold the entire plot together, however they cannot entirely make up for its flaws.
However, I cannot deny it's informative nature. For anyone interested in a different take on overcoming drug addiction and it's toll on a middle class family, this is a interesting and informative film. I look forward to seeing the wider impact of the film and dialogue that it opens up within the media and younger people worldwide