It has often been said that the great power of film is its ability to engage with people across the spectrum of abilities, and across our network of film clubs, we have seen this to be true. In the case of SEN students, film can have a profound effect, particularly through the act of review writing.
Kris Campbell is a Principal Teacher at Willowbank School in East Ayrshire, Scotland, which has 60 students aged between 5 and 18, many with autism spectrum disorders and physical disabilities.
It was a screening of Shaun the Sheep The Movie at the 2015 Into Film Festival that sparked the use of film in the classroom, for many of the students, the first time they'd ever visited the cinema. "Parents also commented on the amount of dialogue it had created," Kris said, "Many of our children opt to use their speech very little, but the cinema visit was so exciting for them that some children verbalised much more than usual during and after the activity."
Willowbank have been leveraging the increased engagement film has caused among their students through review writing exercises, using Widgit Communication Symbols. "These are a great resource. It is extremely uncommon for us to be able to pick up a resource and 'run with it'. Our children use Widgit symbols in every aspect of their school day, and many use them at home, too. They provide a voice to pupils who do not have a physical voice, or who finding using their voice to provide feedback and information difficult or impossible."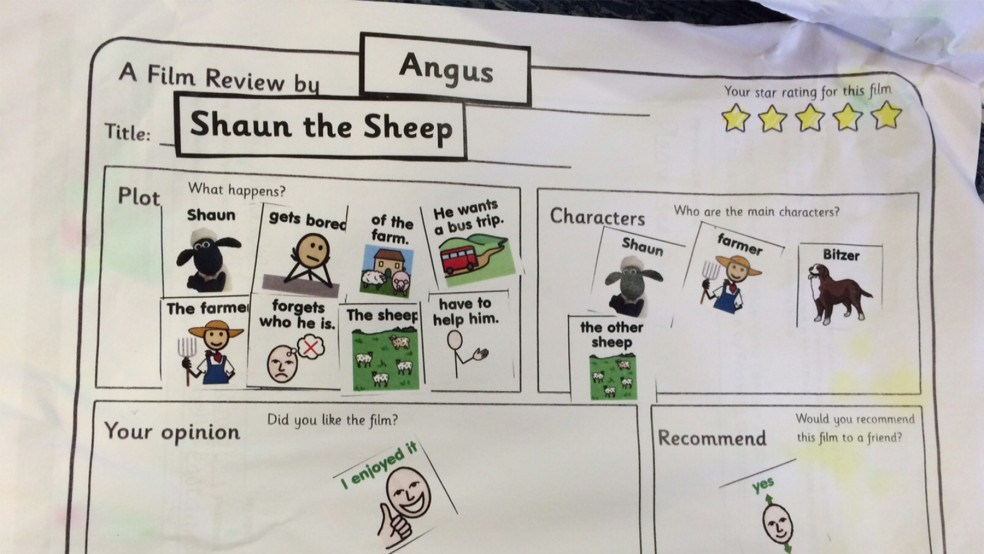 Charlotte Jackson, Into Film Club leader at Treloar College in Hampshire, has also been experimenting with alternative methods of reviewing with her students. "Our film reviewing varies. One learner has his own blog, which he updates regularly. We post trailers to our class Facebook group and provide feedback, and we video/record reviews often using our green screen facilities." As well as improving students' confidence, Charlotte has noticed a broadening of knowledge across subject areas through the film reviewing.
Shirley Hannah, a Senior Learning Mentor at Edinburgh Primary School in Walthamstow, London, cited the success of drawing reviews in her classroom, and how they've been used as a gateway to increased literacy skills:
Some of our children are not particularly confident when speaking publicly. So drawing their review and using that as an aid to help them talk about their favourite bits works well and allows them to be included and involved with the group. Also those whose literacy is not at the highest level feel they can take part in this way. By being included they can talk through their opinions, enhance their language skills and gain the confidence to put their comments into words.
We asked our leaders what films have proved particularly successful with their students. Charlotte has used Marx Brothers classic Duck Soup, and Billy Elliot, to inform students' ideas of genre. Shirley specified her students mostly enjoy silent comedies and musicals, while Andrew Maddock from Lansbury Bridge School in Merseyside has used Wall-E, Back to the Future, Where the Wild Things Are, and Mary & Max. Speaking about our range of SEN resources, Andrew told us the response from students has been incredible: "It has been fantastic for their development and putting themselves in the right direction for the future."
Saturday March 26 - Sunday April 10 is World Autism Awareness fortnight, and the UK Cinema Association are working with cinemas to host an increased number of autism friendly screenings over the period. The National Autistic Society and Dimension will be updated with all screenings. You can also contact your local authority for further information.