One of the most significant and urgent issues facing all of us - and one that particularly engages young people - is that of climate change and global warming. Highlighting and exploring such a complicated and anxiety-inducing subject through film can be an incredibly accessible and valuable way of broaching the topic's many facets with young people.
A key part of that discussion is the use of filmmaking, given how it centres the perspectives of young people and allows them to work through the issues that are of personal importance to them. This is what prompted us to launch a brand-new category at the Into Film Awards for 2022.
Our Changes for a Better World category asks young people to consider the environmental crisis, and to look ahead to the future and imagine the changes they want to see and create, whether big or small, personal or society wide.
While that can seem a potentially daunting task, we're here to offer some inspiration. The recent Earthbeat Challenge saw young people from across the world creating films that tackled environmental issues using their smartphones, and culminated in the winning films being screened at a special event at COP26. You can check out the shortlisted films on Earthbeat's YouTube page.
Below, Earthbeat co-founder Tarquin Ramsay and one of the winners, Emma Weaver (age 27) discuss a number of pertinent issues, giving their advice to young filmmakers and highlighting more exciting opportunities upcoming. Beyond providing a window into a fascinating organisation and competition, their responses provide a fantastic basis for anyone wanting to create a Changes for a Better World film for the Into Film Awards.
Video is powerful. It doesn't matter who you are, where you are or how old you are. Pick up your smartphone, tell a good story, make people stop and listen to you. It's a powerful feeling. And it's a real, achievable and exciting way to make a difference.

Emma Weaver, Filmmaker from St. Helena
Tarquin Ramsay - Earthbeat Co-Founder
What inspired you to create Earthbeat and the Earthbeat Challenge specifically?
Young people across the globe are already part of ingenious climate solutions and, in most cases, are equipped with one of the three billion smartphones that exist in the world. That's three billion potential filmmakers. 
In the context of the climate and nature emergency, we talk about youth being part of future change - but for many young people, especially in the global south, the crisis already brutally impacts their quality of life now, in the present. The younger generation there has grown up with this crisis on their doorsteps and has sat on stories highlighting lived experience, resilience, and solutions for years. 
With Earthbeat, this generation now can turn these stories into films and receive platforming on the inter-governmental stage at high-level climate events such as COP26. 
Earthbeat's mission is to discover and support the next generation of climate storytellers through a series of inclusive activities, such as a talent development program, a worldwide film challenge with thematic categories, and showcasing opportunities on the global stage. 
Tell us a bit more about the winning films and why you chose them 
This year, we were thrilled to receive entries from young people aged between 14 - 30 (yes, we still count 30 as young!) and from 31 countries.
This year's young person award was given to Do Nothing Farming by Ozan Küçükyavuz from Turkey. This is the category that gives special recognition to the highest rated films in the 14-17 age group and is the perfect one for educators to share with young audiences.
In partnership with the Bertha Foundation, we developed the 'Earthbeat Impact Award' that was awarded to six films, including Tshepo Heqoa's film from Lesotho, Herale Mushrooms; Yasar Sharief's film from India, Dangar Chas; and Emma Weaver and Danni Thomas' film from the tiny Atlantic island of St Helena Island, Saving the She Cabbage from Extinction. The jury was inspired and overwhelmed with the scale and impact of some projects and decided to give special mentions to 10 films.
Why do you think film and filmmaking is such a powerful medium for young people to engage with climate change issues?
We are the first generation to grow up with an intuitive ability to record videos. Across the globe, young people are already using natural light, finding the frame, and editing on their smartphones when they take a selfie. This ability is now common amongst Gen Z and will be for generations to come. Even youth in Europe are starting to see the devastation from widespread flooding and how it can affect their daily lives, which can be translated through storytelling to empower other young people - even if they are 4000 miles away. 
After my experience in the diplomatic zone over a cold two weeks at COP26 in Glasgow, I see an urgent need to connect the work of young climate storytellers, their stories, and their impact work to the party stakeholders at important climate events. The ingenious climate solutions highlighted in the films can also empower other communities to even adopt the solutions or make their own films. 
What other Earthbeat projects are you working on that young people can get involved in? 
We have good news for any young people that want to submit a film to Earthbeat. We have just launched another challenge, in partnership with the UN Office for Disaster and Risk Reduction, with the theme From Risk to Resilience. The new challenge is open for submissions to February 2022 for anyone aged 14 - 30 worldwide. We state on our website that we are looking 'for stories of initiatives which reduce the risk from disasters, boost resilience and demonstrate co-operation and co-ordination across communities, regions and national boundaries.' We hope to showcase another catalogue of winning films at the UNDRR summit in Bali in May 2022. What's more, any films submitted to this by young people can also be submitted to the Into Film Awards' Changes for a Better World category - and vice versa!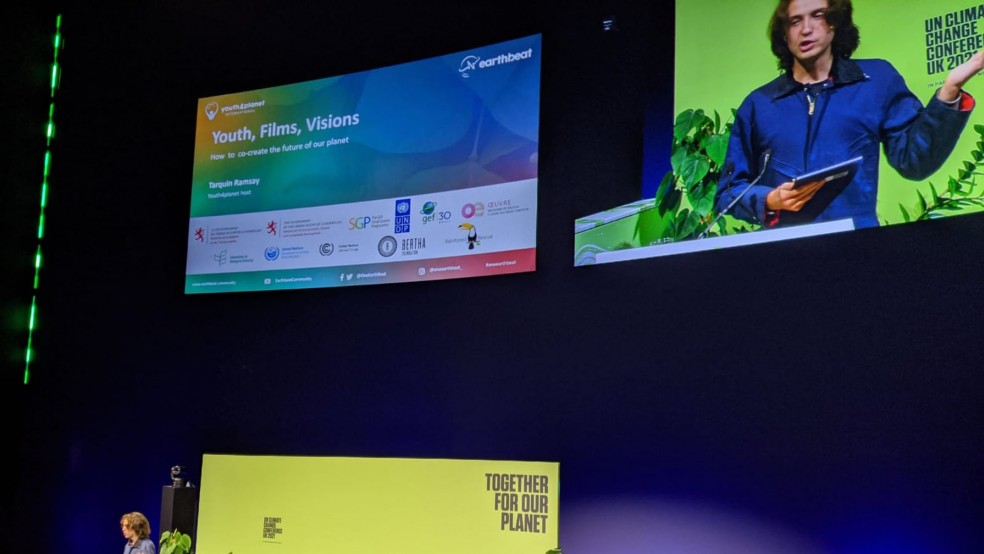 Emma Weaver - Filmmaker
What inspired your short film?
Within the past couple months, a handful of people have essentially saved an entire species from the brink of extinction on St. Helena Island. That's what inspired our film; it was an environmental success story that no one had heard about. The species is the She Cabbage Tree. It doesn't exist anywhere on Earth except here in St Helena. In fact, it's so endangered that there's not a single one anywhere in the wild.
In living memory, no more than a few hundred She Cabbages have ever existed, but this year, incredibly, a massive 20,000 seeds were collected and about 17,500 have already been successfully planted. Our film tells that story.
Why did you decide to get involved in Earthbeat's competition?
St Helena Island pretty much gets overlooked on the international stage. We're just a tiny, remote dot of an island sat in the middle of the Atlantic Ocean. I bet 90% of you reading this won't have even heard of us. But this competition gave our little island a platform. It allowed us to tell a story that otherwise would never have been heard. We decided to get involved because we knew that by telling one of St Helena's success stories, we could get millions of people across the globe to learn about our otherwise-overlooked corner of the globe to finally find out a little bit about the incredible conservation work going on here.
Are there other climate change topics you'd like to explore through filmmaking?
I'd love to explore how our Peaks National Park is vital for fresh water. First off, the story is great. The park produces 40% of our water every year, but it's at risk because invasive plants have taken over the natural ecosystem that allows for water production. We've experienced severe droughts every three years in the past decade, so if we don't restore that natural ecosystem, we have even less water than usual and living on this island will eventually become unsustainable. 
It would also be a visually stunning film to watch. The National Park is the highest point on the island, so people have to repel down cliffs to restore the natural ecosystem; in the backdrop of this you can see St. Helena spreading out around you in every direction, with the landscape cascading from Jurassic Park-like jungle into rolling green pastures and then barren brown cliff faces falling dramatically into the sparkling blue Atlantic.
What advice would you give young people wanting to explore climate change through film?
Our age, our remote location in the world, our education level... none of that mattered for our film. We reached millions of people across the globe through our film and its media coverage. There literally is no other way that we ever could have done that. Basically, video is powerful and it doesn't matter who you are, where you are or how old you are. Pick up your smartphone, tell a good story, make people stop and listen to you. It's a powerful feeling. And it's a real, achievable and exciting way to make a difference.
A massive thanks to Earthbeat, Tarquin and Emma for sharing their story with us. Meanwhile, head to our Into Film Awards page if you're interested in getting involved with 'Changes for a Better World'.
Filmmaking Inspiration
For filmmaking inspiration, our mini filmmaking guides explain every stage of the film production process, from development to distribution, while our Six Sessions from Story to Screen resource gives a clear structure on how to make a film in half a term. 
More specifically, our new Moving Minds 2: Building Resilience resource can help older students to shape their thoughts on sensitive and impactful topics through narrative filmmaking, from mental health to social and environmental justice.