Congratulations to Lucia, Olivia, Yvie, Olivier, Maisie, Sophie, and Bella from Bessacarr Primary School in Doncaster, whose film The Year the World Changed has won Best Film - 11 and Under (sponsored by MGM Studios) at the 2022 Into Film Awards. The award was presented by actors Michael Ajao and Sebastian Croft.
As the first Lockdown hits in March 2020, The Year the World Changed follows the lives of two girls. Maisie continues to attend school as a key worker child, while Olivia must learn from home. As lockdown continues, we see how this affects the children and their friendship - with a few hilarious recreations of the news thrown in for good measure!
We are very proud of 'The Year the World Changed' and to be able to highlight the impact of lockdown and the closure of schools on young children.

Daniel Smeaton, Bessacarr Primary School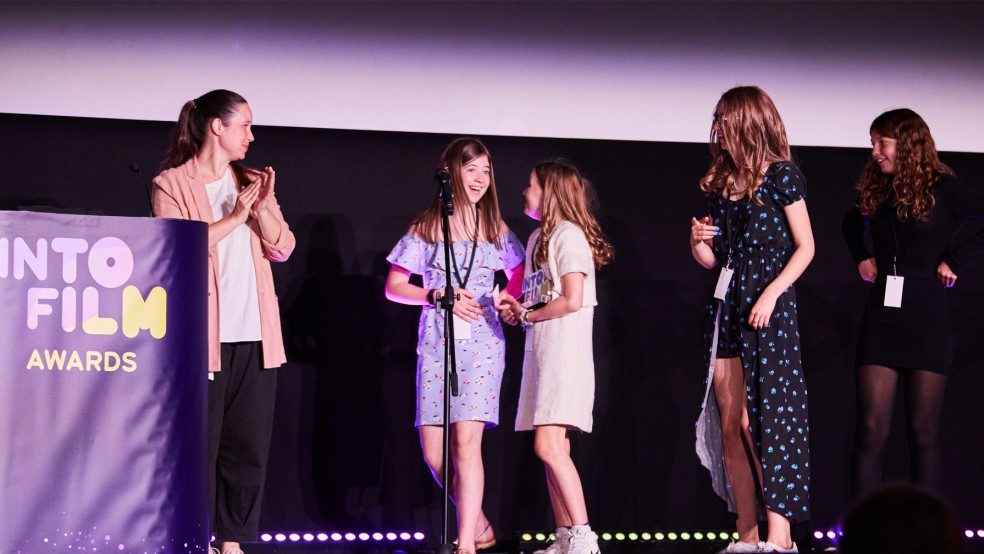 "Our group wanted to make a film reflecting on their experience of the Lockdown in March 2020", explains Bessacarr Primary Into Film Club leader and teacher Daniel Smeaton, who supported the filmmaking project. "When the second lockdown was announced in January 2021, it put paid to our plans. Our group, though, were desperate to continue and complete the film. They rewrote the story so that the remaining scenes could be completed over Microsoft Teams. The children improvised all the Microsoft Teams scenes and we worked together to create the film remotely. The fact that lockdown didn't stop our group highlights their passion for film and shows how determined and dedicated they are to our film club."
"Once schools reopened we were able to film the final parts we needed, and then it was down to the editing. One of our members, Olivia, took charge of the editing process and the majority of this was done in her own time, either during breakfast club or over lunchtimes. The hardest part of the process was cutting our film with our first cut coming in at just over 18 minutes! We eventually managed to get it down to the 10 minute cut you can see above."
The Year the World Changed is already an entertaining and accomplished film, but given the subject matter, and the way that it is so clearly created right in the middle of such a strange and difficult situation, it's a film that will become even more valuable as time goes on. From the news updates that the whole nation was glued to, to adjusting to maintaining relationships online and figuring out ways to work/learn remotely, The Year the World Changed covers it all, making it a priceless time-capsule of an unprecedented period in all of our lives.
We use filmmaking to give children an opportunity to showcase their personality and interests. It gives them an outlet to express hidden talents that might not be obvious within a classroom scenario.

Daniel Smeaton, Bessacarr Primary School