Each year, the Into Film Festival provides young people with a number of opportunities, from enjoying the big screen cinema experience (often for the first time) to simply getting the chance to learn within a non-classroom environment. Our selection of special events and guests also shine a light on the huge variety of career options within the screen industries.
The 2022 Festival saw an exciting and eclectic range of industry figures share their expertise and provide direct advice to pupils considering their future career path. Below, we've rounded up both our overall top ten careers tips and our favourite direct excerpts from Q&As across the programme including ones with directors, writers, editors, designers and producers.
On a related note, we're very happy to announce that our Careers Behind the Camera resource around the James Bond film No Time to Die won Brand Partnership of the Year (alongside Universal Pictures UK) at the 2022 Big Screen Awards!
The Into Film Festival is a real opportunity for us to bring the theory out of the classroom and interact with people who work in the industry, learning first hand what the job is like and what it takes to actually succeed.

Marie Kerrigan, Head of Programme for BTEC at DLD College
Female Producers panel with Nira Park, Amelia Granger and Nisha Parti
Nira Park is best known for her collaborations with directors Edgar Wright and Joe Cornish, having produced all of their films and TV shows. She is also an Into Film Trustee.
Amelia Granger has produced some of the biggest UK-films of the last ten years including About Time and The Theory of Everything. Her role as Head of Film at Working Title puts her at the forefront of UK film production.
Nisha Parti has worked in the film industry for many years having worked on Harry Potter And The Philosopher's Stone and The Best Exotic Marigold Hotel amongst other productions. More recently Nisha has produced Honour and Darkness Visible, and is the founder of Parti Productions.
Amelia on what her role is - "My job is finding the ideas and projects that could become a reality, and then working with producers like Nira and Nisha to do so. I spend a lot of time reading books and articles, and really just understanding what's in the zeitgeist and what people might want to see in cinemas".
Nira on the industry opportunities available for young people - "There are lots of work experience opportunities and most companies do them, so that can provide insight into what the industry is. There's also so many opportunities to make short films and meet likeminded people - I've been working with the same group of people for years because we just want to make stuff together. If you do get work experience, ask questions all the time - most people in the industry love what they do so will always talk about it".
Nisha on forging her own path in the industry - "I now only make film and TV that has a South Asian core to it. I realised early on that no one was making what I wanted to make and I wasn't seeing myself represented. The only way of doing so was setting up my own production company, which was really scary as there was no audience or money for it. I actually set up a separate company that had nothing to do with film, which kept my going for a while. What we're trying to do is create brown stories that break stereotypes and feel original but are also commercial".
Amelia on what young people can do now - "A big thing for me is curiosity - I've spent a lot of my job putting two and two together just by listening to conversations. Everything is connected in some way and it's about understanding how those connections work. One of the most important things you can do now is that when you watch something you love, look at the credits closely on IMDB and see which ones have the same writer or cinematographer for example. That way, you can build up a huge wealth of information and see how people's careers have evolved".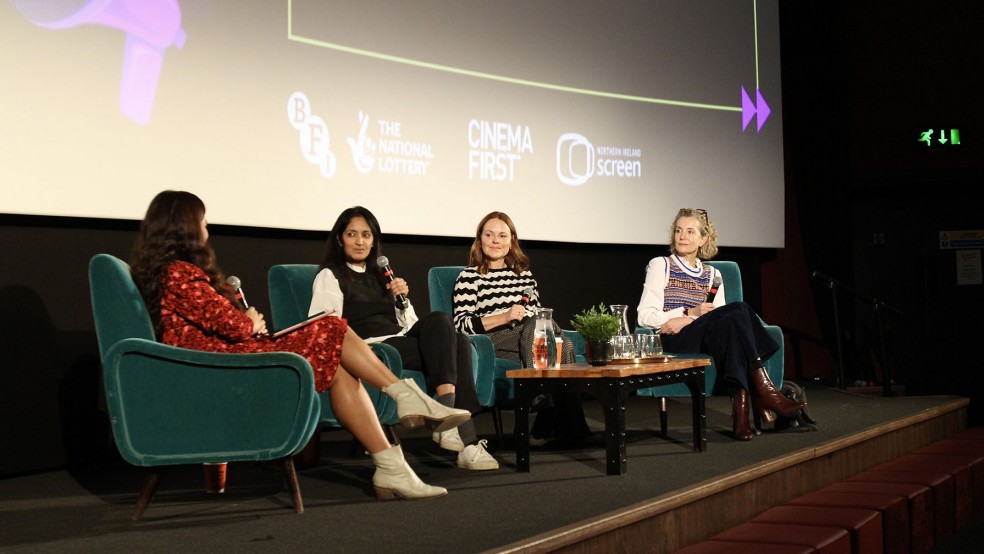 A discussion around new Netflix show Lockwood & Co with series creator Joe Cornish, writer of the original book series Jonathan Stroud and producer Rachael Prior
Joe Cornish is a comedian, writer, radio and television presenter, and director. He made his feature film directional debut in 2011 with the acclaimed Attack the Block and also directed the box office hit A Kid Who Would Be King.
Jonathan Stroud is an author whose works include the best selling Bartimaeus Trilogy and in 2020 Netflix announced a TV series adaptation of his series Lockwood & Co which will be released later this year.
Rachael is a founder and producer at production company Complete Fiction and is best known for Attack the Block, Last Night in Soho and Baby Driver.
Joe's advice for screenwriting and directing - "The first thing is to read screenplays, which are easy to get hold of. Figure out what your favourite movie is and get a hold of the screenplay. Then, watch the movie with the screenplay and figure out how the structure of both things work. Then, just think visually - how can I put this into a series of images. Next up, start to think of techniques such as montage, cross-cutting, overlaying etc. When I started out, if I found out a book was going to be turned into a film, I would read the book first. Sometimes, I would also get screenplays before they became films and I would make them in my head and then watch the film, thinking about what I would have done differently. The final thing is to experiment with your phone camera because you'll quickly realise what you can and can't point a camera at - if you can't point a camera at it, it can't be in your story"
Rachael on the importance of getting feedback - "If you're interested in a career in film or TV, you have to get used to it being a collaborative process. If you're in a school setting, peer review is really important - getting other people to read your script is good at toughening the skin and getting you used to saying, this is good and this isn't working. Your job is then to go away and fix that".
A lot of our students are 17/18 so the next step is to go to film school, university or work in the industry. Many of them want to be screenwriters so this is a perfect event as they get to hear first hand from industry professionals - they don't just hear it from their teachers!

Head of Media and Film at DLD College, Michael Flack, speaking after the Lockwood & Co event
Nicola Daley, Director of Photography (DP)/Cinematographer for Benediction
Nicola is an award winning Director of Photography with extensive experience in drama, documentaries, commercials and music videos.
What a DP/Cinematographer does - "The Director of Photography is in charge of the camera and the lighting so I'll work really closely with the director to bring their vision to the screen. The people I'm in charge of on set are the grips (they are in charge of how to use the camera), the lighting department (the gaffer and the best boy/best girl), all the sparks (I tell them how to set the lights and the look I want for the film) and the camera department".
How she achieved success in the screen industries - "There's two ways to get into the film industry - one way is making your way up in the camera department and one way is working at a rental house. I worked in a rental house and learned how to take cameras apart and put them back together. It was a great way to get in because everyone who walked through the door worked in film and TV so you met all these people, knew what each part of a camera was and they had all sorts of equipment you could learn from".
The main challenges of being a DP - "One reason I love my job is that every day is different, so you're always in a different location or studio set. That means you've always got challenges because there's always something unexpected".
Prano-Bailey Bond, Director of horror film Censor
Prano Bailey-Bond is a film director and writer whose work invokes imaginative worlds, fusing a dark vocabulary with eerie allure, revealing how beauty resides in strange places.
Prano-Bailey's journey into the industry - "I wanted to be a filmmaker from the age of 14. I started making my own films and taught myself how to edit on Adobe Premiere Pro. I lived in Wales in the middle of nowhere and had some friends who wanted to be actors, so I wrote scripts and shot, directed and edited them myself. Through one of those films, I got onto a degree at the London College of Printing (now the London College of Communication) and I studied practical filmmaking. I then met a lot of people I continued to work with including Annika Summerson, who is my DP and shot Censor. After leaving university, I got a job as a runner at a post-production company and then worked my way up to being an editor. I then started editing my own work including music videos and short films".
The value of directing music videos and commercials - "It was a really good learning curve doing music videos because it taught me how quickly a budget goes and you're working with a client - that specific professional dynamic is very useful after only working on my own independent projects. I stepped away to do my first feature and lots of people get lost in that world because it's great money, particularly commercials. They are great though because you're shooting more and learning by simply making mistakes".
The value of being both an editor and director - "Being an editor is always something I really valued as a director because when you're making your first short film, you generally don't have much of a budget so when you can do a role yourself, you can put as much time into it as you can. You also start think of tricks as an editor that you can use as a director - you start to see in your edit certain shots that you either don't need or wished you had got, and that will inform your work on set as a director, which gives you more confidence in the choices you're making".
Eric Wong, Designer for anime Belle
Eric is an Architect, illustrator and design tutor. He studied Art and Architecture at the Byam Shaw School of Art, Central Saint Martins. He completed his undergraduate degree at Cardiff University and later graduated with a masters from the Bartlett School of Architecture, UCL.
Eric's unorthodox journey into film - "This role took me on an amazing journey through app design, architectural production and conceptual thinking. For the past five years, I've been working as an architect and that taking me into film was crazy. This opportunity came in my junk email, which to a degree is chance and luck, and to a degree is me just persevering with my own creative endeavours consistently. Before the director found me, I was just pushing my own personal projects and slowly building up what I was interested in".
How Into Film Festival careers events can help young people - "The Into Film Festival is such a great initiative because for young people to watch and do something that initially just looks like fun is helpful and empowering. Then discussing how the film came about and who was involved might make them realise this could be a career path for them. They also realise that each journey is different - it's never linear and there's always ups and downs. Hopefully this will empower them and inspire them, and events like this might just come full circle in the future!"
On set, there's hundreds of people and everyone has a different role and a specific talent - it's incredible! All these people working together to make this film.

Producer Nira Park
Aside from the Into Film Festival, we also attended the 'Set for More Futures' Festival at Pinewood Studios last week, which is Europe's biggest careers event for 14-22-year-olds. Here, we interviewed a range of figures across the industry so look out for that material across our channels very soon.